Contact information
About the company
Type
Company
Members type
innovator

Headquarters
1014 BV Amsterdam, Netherlands
Company size
15
Founders
Martin Jakubowski & Silvestro Caruso
Founded
2014
SDG's
Social

Documents

Company profile
Technology
Investment opportunity
Website
seawindtechnology.com
Alliance member
Seawind Ocean Technology Holding B.V.
---
Our products are floating wind turbine system made of full wind turbine and floating structure. Our technology was initially designed by the NASA and is inspired by the helicopter technology. Our prototype cost, without mass production impact on cost, beats the current market because our technology is simpler than the conventional 3-bladed technology.
Seawind technology can potentially lead to a revolution in the offshore floating wind turbine industry! Differentiation: 1 - While the floating wind sector is only in its infancy today, it represents the largest clean energy source of the future. Seawind has developed a unique turbine technology dedicated for this challenging floating wind energy market. This technology was initially developed by NASA and Hamilton Standard (today UTC) and is inspired by the helicopter technology. 2 - The heart of the Seawind technology is the teetering hinge (sort of Cardan joint) that allows to "de-couple" the rotor from the shaft enabling simpler wind turbine control (no blade pitching) and lower fatigue compared to the conventional 3-bladed technology. The result is translated into not only lower both Capex and Opex but also into electricity prices that do not require subsidies from Governments. Achievements: 1 - The technology is proved at 1.5 MW scale by an onshore prototype. 2 - Seawind has achieved the Technology Qualification delivered by DNV GL for our next turbine systems (turbine + floating foundation) which are Seawind 6-126 and Seawind 12-225 (first figure is capacity in MW, second figure is rotor's diameter in meter). 3 - Signature of €42.5 million funding with a Kuwaiti businessman where the first tranche is expected early November 2019. 4 - Business scale up: We are working with Tier I players for the execution of the manufacturing, construction, assembly and installation of our turbine systems e.g. KPMG, Wood Mackenzie, Wood, WSP, PX Ltd. 5 - We have identified our prototype site options as well as our early production and assembly sites in the UK and in Portugal. We are in the process of securing a collaboration/agreement with these sites. 6 - With our electricity price advantage compared to the 3-bladed technology, Seawind has a huge market potential. We already have expression of interest from series of players both islands (e.g. UK, Mauritius) and power developers e.g. Equinor, EDF, Engie, EnBW.
Offshore floating wind turbine system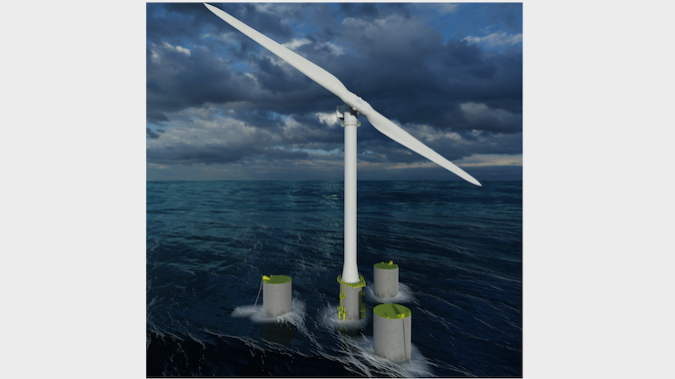 Description
The offshore floating wind turbine system is made of the wind turbine and its floating foundation.
This turbine system is designed not only for offshore floating but also for cyclonic regions. This is a major differentiator compared to the conventional 3-bladed technology. In parking mode, the blades are positioned horizontally with the tip in the wind. The turbine can resist winds up to 325km/h (Hurricane 5) and waves of 20 meters while keeping mechanical fatigue levels in the nacelle that are similar than in normal operation mode. This is possible thanks the teetering hinge and having only 2 blades. The technology is proven at 1.5 MW scale with a project called Gamma 60 in Sardinia. Today the Seawind 6-126 (6.2 MW with rotor diameter of 126 meter) and the Seawind 12-225 (12.2 MW with rotor diameter of 225 meter) have got the Technology Qualification from DNV GL. The Seawind 6 detailed design is ready. This turbine needs to enter the Design Certification phase which includes mockup tests. After the design certification, a prototype will be organised which will require to run for a full calendar year. After pre-commercial and commercial projects can start. The Seawind 12 will follow the developments steps of Seawind 6 by approximatively 1 year. LCOEs are €60/MWh and €25/MWh for respectively Seawind 6 and Seawind 12 where the concrete foundation is good for 50+ years while the turbine part is introduced in the economics with a life time of 25 years.
Available in
Worldwide
Status
Tested implementation
---