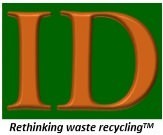 Contact information
About the company
Type
Company
Members type
innovator

Headquarters
Currie EH14 4AS, UK
Company size
3
Founders
Ifeyinwa Kanu
Founded
2016
SDG's
Website
intellidigest.com
Alliance member
IntelliDigest Ltd
---
At IntelliDigest, we are addressing these challenges by developing a breakthrough bio-chemical process/reactor (IntelliAD) and business model.
IntelliAD completely and safely converts food waste to high-value biochemicals and biogas onsite, thereby, enabling users in the hospitality and food sector (HaFS) to benefit directly from clean energy aiming to provide a steady supply of bio-based chemicals sold to chemical companies, Hassle recycling food waste, we will get you lovin it!

IntelliDigest is a biotechnology start-up company. Our product is novel and has earned us the winner of Institution of Engineering and Technology (IET) Innovation Award (Energy), 2017, Investing Women AccelerateHer Growth Award and Royal Society of Edinburgh Enterprise Fellowship. We have been selected for Climate KIC 1 & 2 Awards and mentored by world class entrepreneurial experts. We were finalist at Pitch@Palace8 and supported by Scottish Enterprise wider innovation team.