Guest Post — September 28, 2018
Guest post: "Energy efficiency for all"
Affordable energy efficient solutions for low income households.
At present, rising material costs, land availability, a shortage of skilled workers and general construction industry inefficiencies impede both investment and innovation in affordable energy efficient solutions for the underserved and underperforming low income housing market.
At Fluxus LLC, an impact enterprise committed to bringing aesthetic energy-efficient building designs coupled with prefabrication in highly automated modern factories to low-income housing sector, we capitalize on the counter-intuitive relationship between housing cost and energy efficiency, believing that lower cost homes tend to be far less energy efficient than higher cost ones.
The low income housing sector is huge, if we could address this performance gap by reconstructing the low income housing value chain, it would have a tremendous environmental impact at a significant scale. It is through scale that the net zero energy use and zero emission demonstration homes that we see today will become affordable for the masses.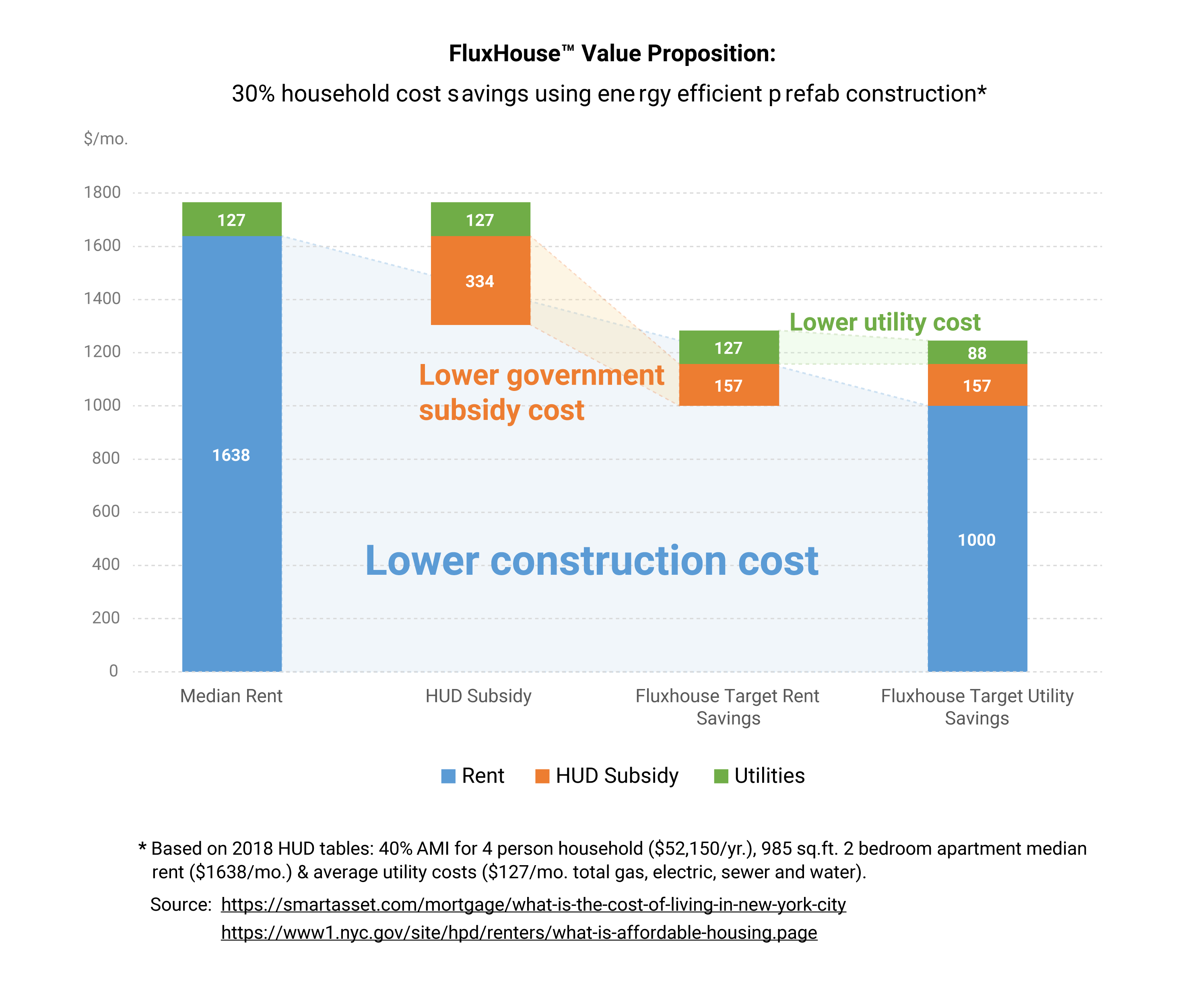 Facts

~40% of all energy use and emissions come from buildings, ~20% from residences.
Since the world's median annual income is ~$10,000, the maximum housing cost is ~$3,000/yr. for half the world. (~$40,000 for home ownership).
There are approximately 1.5 billion households in the world. About 26% are considered "low income".
Higher cost renewable energy technologies such as solar and wind are exceptionally difficult for low income families.
Today's building standards are much more energy efficient. But 70% of all homes were built before 1970 (to much lower standards). Low income families typically live in older, less efficient homes. Typically these older homes are more than 50% less efficient than new homes.
The underserved and underperforming low income housing market
If the place where you live was built before 1980, chances are your energy use is about 50% higher than new one built today. Imagine the challenges faced by low income families. Many live in the oldest and least energy efficient buildings in the world. They lack the financial resources to make energy efficiency investments. Their utility bills represent a much larger percentage of their household budget. The trend toward urbanization has contributed to a worldwide shortage of affordable inner city housing. This in turn leads to much higher rental costs.
Low income households in the US and across the world consume a lot of energy and emit a lot of greenhouse gasses. Most families live in inner-city, multi-family units that are the oldest and most inefficient housing stock nationally. In colder climates, 43% of all public housing have heating units that are over 20 years old. Many use electrical resistance heat which is inexpensive to install but highly inefficient. (1)
The environmental impact is surprisingly large. In New York City for example, multifamily residences account for 23% of all the city's GHG emissions. This figure is 50% higher that all emissions attributed to all vehicles. Buildings constructed before 1980 account for more than 70% of these emissions (2). On a global scale, assuming that residential buildings account for 13% of our global energy consumption (3) and that at least 30% of all households are classified as low income (4), we can deduce that the global low income housing market represents somewhere around 4% of our total energy consumption, approximately 16 quads (quadrillion BTU's). Therefore, simply bringing this sector to current performance standards has the potential to reduce global energy consumption by about 4 quads. Corresponding emissions reduction potential would be amount to approximately 300 million metric tons of CO2.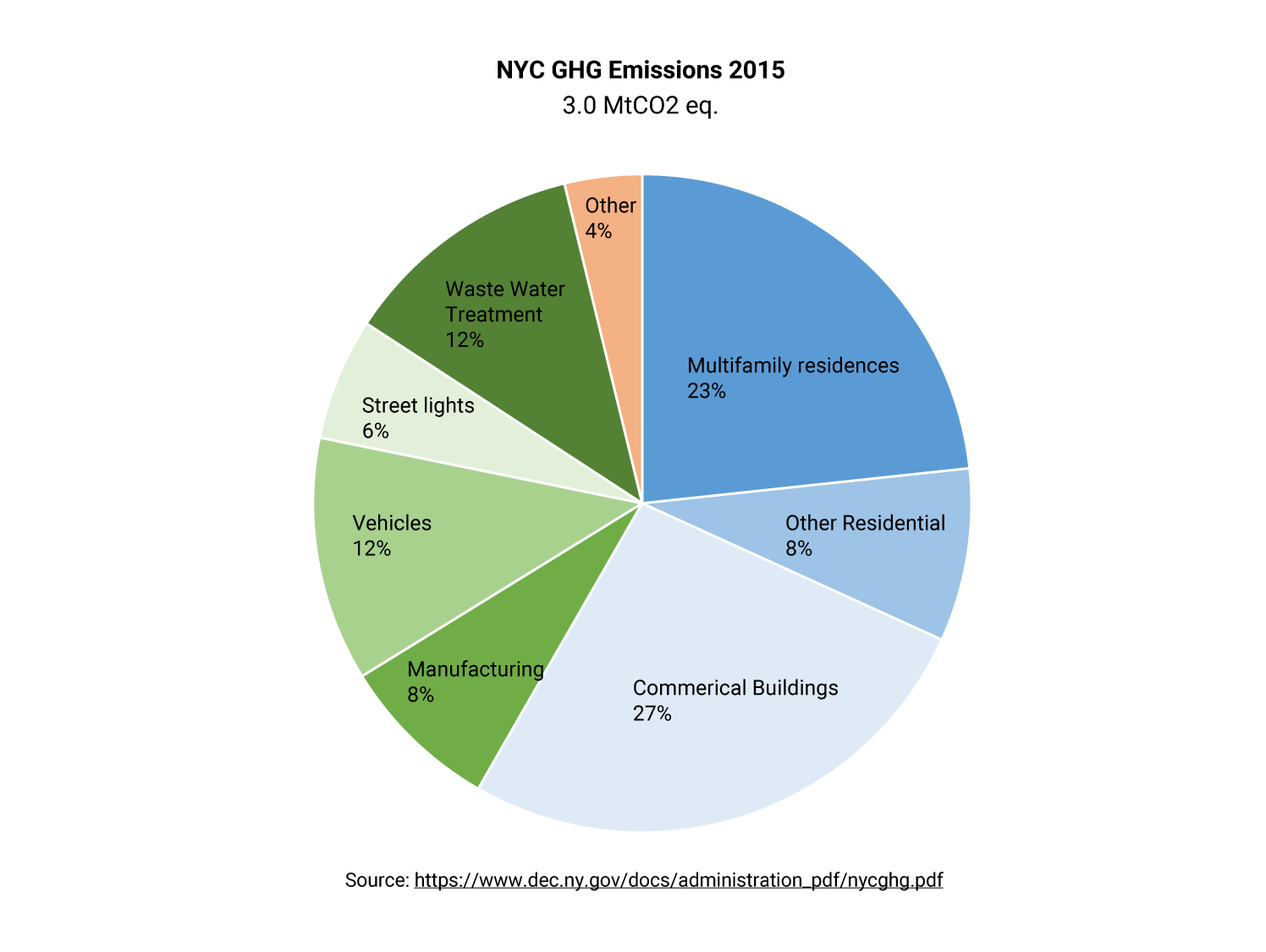 Creative solutions to reduce the costs and environmental footprint of low income housing
Retrofits
The pros and cons of deep energy retrofits of existing building stock are well documented. Many innovative solutions and incentives have been developed through government sponsored programs such as Build America in the U.S. (5), the Energy Performance of Buildings Directive in the EU (6), and others. Unfortunately, adoptions rates of new solutions have been very slow for the low income housing market. Complexity and the lack of viable economic drivers are formidable headwinds to meaningful progress.
New Construction
The new construction low income housing market is an obvious place where progress can be made in a meaningful way. In a May 2018 report, the National Low income Housing Coalition estimates a shortage of 7.1 million affordable and available rental homes for needy families (7). At Fluxus LLC, we have concluded that a new approach is necessary to address this urgent need. At present, rising material costs, land availability, a shortage of skilled workers and general construction industry inefficiencies impede both investment and innovation. We believe however that the overall cost of construction and ownership can be significantly reduced without sacrificing quality by stepping back and reconstructing the low income housing value chain.
Our goal is to build new, aesthetic and energy efficient residences at a price point that is affordable for most low income families. In the U.S. according to HUD statistics, this equates to an average monthly cost for a four person household at approximately $986 per month.
It's a formidable challenge that requires good design, innovative materials and modern construction practices. We leverage the efficiencies gained by moving construction from current site assembled processes to an industrialized setting. While prefabrication isn't a new concept, enabling technologies such as building controls, robotics and digitization can now be inexpensively integrated into the building process with reliable quality and high performance. Building envelopes are designed and manufactured using high efficiency, low carbon footprint insulation materials.
FluxHouse buildings are constructed using only nine standardized prefabricated panels. The panels can be arranged to create a variety of aesthetic, spacious floor plans to abundantly leverage natural lighting, maximize living space and optimize energy efficiency. Because the number of components are dramatically reduced, manufacture is optimized for the factory environment. The panels themselves use high efficiency continuous insulation which exceed current performance standards. Quick connection features simplify installations processes at the construction site.
FluxHouseTM designs can also optionally leverage advances in renewable energy and energy storage technologies by integrating them into the manufacturing process. With many countries reaching grid parity sometime between 2020 and 2030, there is additional potential to reduce the cost of ownership and further reduce GHG emissions. Coupled with intelligent urban planning, we are not far off from envisioning net zero communities within large metropolitan settings.
Summary
Global urbanization trends have resulted in an urgent need for innovation in the low income housing market. We believe that the cost and energy efficiency of low income housing can be dramatically improved through innovative design, industrialization of construction processes and in interdisciplinary collaboration. Successful implementation will have a very significant, favorable impact on our environment.
References
(1) http://nlihc.org/article/national-consumer-law-center-urges-hud-strengthen-its-energy-efficiency- record
(2) http://energyefficiencyforall.org/sites/default/files/ DBLC_Recognizing_the_Benefits_of_Efficiency_Part_B_1.10%20%281%29.pdf
(3) https://web.archive.org/web/20170727110053/https://www.eia.gov/outlooks/ieo/pdf/ 0484(2016).pdf
(4) https://www.prb.org/us-working-poor-families/
(5) https://www.energy.gov/eere/buildings/residential-buildings-integration
(6) https://ec.europa.eu/energy/en/topics/energy-efficiency/buildings
(7) http://nlihc.org/press/releases/9493
Contributing authors
Michael Gallagher, Technology & Business Innovation Executive Advisor
Fanyu Lin, Chief Executive Officer
Harry Stendhal, Chief Visionary Officer
Fluxus LLC
info@fluxus-prefab.com +1 212 564 6392
245 8th Avenue, 255 New York, NY 10011
100 Morrissey Blvd. Boston, MA 02125
---
The views expressed are from the author, and don't necessarily reflect those of the Solar Impulse Foundation.
Guest posts are articles written by our Members, Partners, key industry leaders or experts about clean technology trends and innovations that are interesting for the Solar Impulse Foundation ecosystem.