Contact information
About the company
Type
Startup or self-employed
Members type
innovator

Headquarters
Currie EH14 4AS, UK
Company size
3
Founders
Dr Faisal Ghani
Founded
2019
SDG's
Social

Website
solariskit.com
Alliance member
SolarisKit Ltd
---
SolarisKit is focused on providing affordable, clean heat via solar energy. We have developed the worlds first flat-packable solar thermal collector. Once assembled, the collector will convert sunlight into heat in the form of hot water.
The SolarisKit collector is a  low-cost, simple to install, and easy to transport solar collector that can turn sunlight into hot water for your home or business. Because of its flat-packable design, we are able to substantially reduce the manufacturing cost of the collector. The collector is also considerably easier to ship and transport, it is even possible to transport using a bicycle or motorcycle due to its size and weight. Like an IKEA product, our solar collector can be assembled in approximately 30 minutes without any special tooling and simple instructions. We have developed the solar collector primarily for developing countries where the demand for heat is rapidly rising. In regions like sub-Sahara Africa where there is still huge dependence on biomass, solar thermal technology can be implemented to provide heat cleanly from the sun. Cost has been a significant barrier which we aim to address with our technology.
SolarisKit solar thermal collector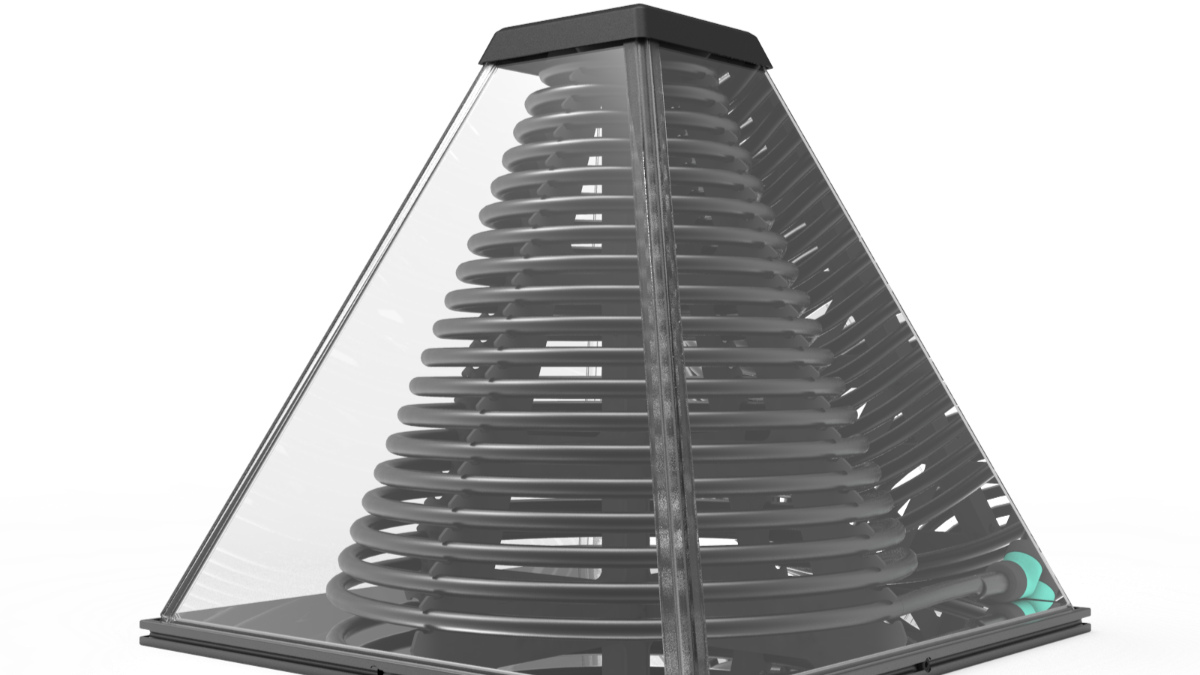 Description
Affordably convert sunlight into heat with the world's first flat-packable solar thermal collector by SolarisKit.
SolarisKit (UK) has developed the first flat-packable solar thermal collector which is able to convert sunlight into hot water. It is sold and shipped as a self assembled kit which can be built in approximately 30 minutes without any technical expertise or tooling. Once assembled, our collector may be positioned on the ground or flat roof, connected to a water storage tank, and used to convert solar energy into heat. Its unique prismatic geoemetry allows the collector to passively track the sun, avoiding the use of expensive tracking hardware. It has been designed to meet domestic hot water needs in the sunny developing countries like Africa, Central America, and South-East Asia. It is also ideal for commercial and industrial hot water applications such as hotels, ecolodges, and any industrial process which would benefit from water heated between 40 and 60 degrees C (e.g. textile, food and beverage, etc.) Due to the flat-packable design, our collector is lower cost to purchase and transport. It's design has been optimised for simple installation and easy use. The SolarisKit collector is UK Patent Pending.
Available in
Worldwide
Status
R&D
---