Contact information
About the company
Type
Startup or self-employed
Members type
innovator

Headquarters
7 Diani Cl, Nairobi, Kenya
Company size
10
Founders
Roger Christen
Founded
2015
SDG's
Affordable and clean energy
Industry, innovation and infrastructure
Sustainable cities and communities
Responsible consumption and production
Alliance member
Solar E-Cycles Kenya Ltd
---
Solar Powered Light Electric Vehicles for empowering people in developing countries while protecting the planet. Pays for itself through revenue generated. Currently $2,50 a day via PAYGo, 60km daily range, up to 35kph, and 200kg. 3 business model concepts in development : Vehicle-in-a-Box (kits) ; On-board power and data management system collecting all KPI for analysis via IoT with 2 way communication. GPS/GSM fleet management. Rapid scaling through remote management of franchises. TAM 10 million vehicles; 10,000 small business units.
We are a start-up initially based in Morocco, now in Nairobi in collaboration on emobility with Strathmore University Business School Energy Research Center. We also have operations in South Africa and Madagasacar and plans for West Africa. In Kenya we currently lease our vehicles as an environment friendly delivery method. Our proposal, the Solar-E-Cycle Empowering People project aims to create basic capacity in English, French and Arabic speaking countries in Africa to develop and run regional business units that source components, package products for shipment in kits and start up remotely operated PAYGo business units with some 50-100 vehicles each. These regional centers can rapidly scale across Africa to popularize solar powered light electric vehicles as a mobility and power solution for energy poor rural populations. We need to do a pilot trial of 10,000 vehicles to start up 100 remote business units. The total adressable market (TAM) is 10 million vehicles a year growing to 40 million by 2099. Usage of the Solar-E-Cycle will enhance mobility for all the family; allow a better access to the market place and a more productive usage of time for value-added activities. Families could use the Solar-E-Cycle to fetch water more efficiently. In the home, power generated from the solar PV panels included in the Solar E-Cycle will enhance quality of life, education and health of all family members. It will impact available time to study or generate revenue, socialize, conduct public affairs and communicate. The power could also be used to pump filtered water from wells or use ultraviolet lamps to kill bacteria for daily water consumption. The project also entails worldwide shipping of "SolarCab" as a human powered electric assisted solar powered 2 passenger taxi. India is home to about 1.5 million battery-powered, three-wheeled rickshaws – a fleet bigger than the total number of electric passenger cars sold in China since 2011. The ultimate outcome of increased mobility and providing power consists in economic empowerment of families and small businesses in off-grid areas. The value of the electricity generated has an economic value 10 times the investment. And there are no carbon emissions. The vehicle is nearly entirely recyclable as it is mostly aluminum, copper. Use of proven technologies ensures reliability and low maintenance costs almost anywhere. Business model involves several concepts. University based e-mobility research and training centers On the example of our work with Strathmore (Kenya) and Hassan 1 (Morocco) University research centers, e-mobility research and training develops capability in Solar PV and e-bike technology, social enterprise and impact investment. Fablabs create DIY capabilities with practical applications. Centers provide basic training in Solar PV and e-bike technology, bicycle and component maintenance, diagnostics, assembly and small business management. Vehicle in a box. An B2C portal. Vehicle designs are open source. The initial vehicle is a conversion of the human powered and electric assisted version of the Asian Rickshaw redesigned by the Asian Development Bank Non-motorized Transport Project to solar power. This project saw the rickshaw/pedicab reinvented from the ground up by Catapult Designs. In the vehicle-in-a-box-concept, structural frame designs are made available to local manufacturers. An open supply approach aims at sourcing off-the-shelf components and locally manufactured parts from different suppliers based on our specifications. Parts are sourced locally as much as possible and delivered to a logistics center in three key locations in Morocco, Nairobi and South Africa where they are packaged as single unassembled vehicles. A web portal will be developed to allow suppliers and customers to offer to sell or purchase components that meet the design criteria. Customers can customize their Solar E-Cycles. Customers and suppliers will get feedback on key performance indicators for components such as power consumption in real life conditions and maintenance frequency, failure rates, etc. On-board Power and Data collection and transmission system for permanent data gathering An on-board data and power management system collecting data from various components such as the Multi Point Power Tracking Device (MPPT) that optimize the performance of photovoltaic solar panels, battery management systems (BMS) that regulate the charging and optimize battery life, motor controllers that operate direct current brushless motors, global positioning (GPS) signal receptors and a collection of sensors and circuits to measure power, current, temperature, acceleration, weight and position. A data logging device such as Arduino collects data and GSM/GPRS-capable cellular phone technology unit allows to send data to and from the vehicle. PAYGo service providers offer devices to control products remotely. There are multiple suppliers of these components today. The project will review the availability of components and the merits of building a system from the ground up. There are potential patent opportunities here. IoT with two way communication for information exchange Software development will be required to store, secure and analyze the data collected from the vehicles and generate information useful for users, suppliers and PAYGo business units. This information has value in component design and selection. Data collected can be used for PAYGo management, billing methods (km, kWh, or driving characteristics such as average speed, acceleration, etc.). Software development will also be required to collect treat and transfer useful information back to users. For example data on energy requirements for different sections of road can be evaluated. Software today collects e-bike data along the route followed. Collecting and analyzing data from various vehicles can build a linear energy profile useful for new users. In addition weather or traffic data can be returned to users to better evaluate their energy needs over specific legs of their planned trips. The data will serve to provide fleet operators with information on the status of vehicles under lease, rental or sharing programs. Speed, position, battery condition or state of other components can be useful to business units in servicing vehicles or in identifying maintenance incidents. Geo-fencing can be implemented. Utilization, availability and usage profiles can be developed for improved vehicle design and business management. Business application development and impact evaluation. The social aspect of this business model covers helping users with identifying and implementing business practices that allow to generate revenue. We intend to inform users on various revenue generating opportunities with Solar E-Cycles. Be it street vending, transportation, selling electricity, media or other business opportunities individuals will learn from us what is needed to establish a business, attract customers, manage profitability. We will monitor how the vehicle is used; track mileage and energy usage; carry out baseline data collection of users; conduct a mid-term review and final field testing. We will develop knowledge on how beneficiaries make use of the Solar-E-Cycle in order to better measure impacts. We will identify vehicle design improvements required including project reconfiguration. We will design a program to review Relevance, Effectiveness, Efficiency, Impact and Sustainability using methodological triangulation where possible. We will pursue our collection of state of knowledge documentation. We will focus on external utility, lessons learned, impact evaluation and cost effectiveness. We will examine case studies of individual families with an ex ante approach or progressive evaluation with decisional purpose. This will pave the way for decisions on the continuation and reshaping of the project. We hope at this stage to refine project program policies, shed light on implementation processes and make specific recommendations for improvement. Outcomes Our target project outcomes are : reducing poverty by improving the lives of rural families. Intermediate impacts are : i) reducing the workload of women and girls; ii) increasing the time available for education for rural children; iii) improving access to potable water; iv) creating economic opportunities in rural areas and in cities; v) increasing family revenues; vi) improving public services. Project inputs are : electricity, transportation and financing. The evaluation process will be a combination of usage, financial and economic data collected as a baseline and reviewed through field questionnaires of users every six months.
Street vending and last mile delivery tricycle.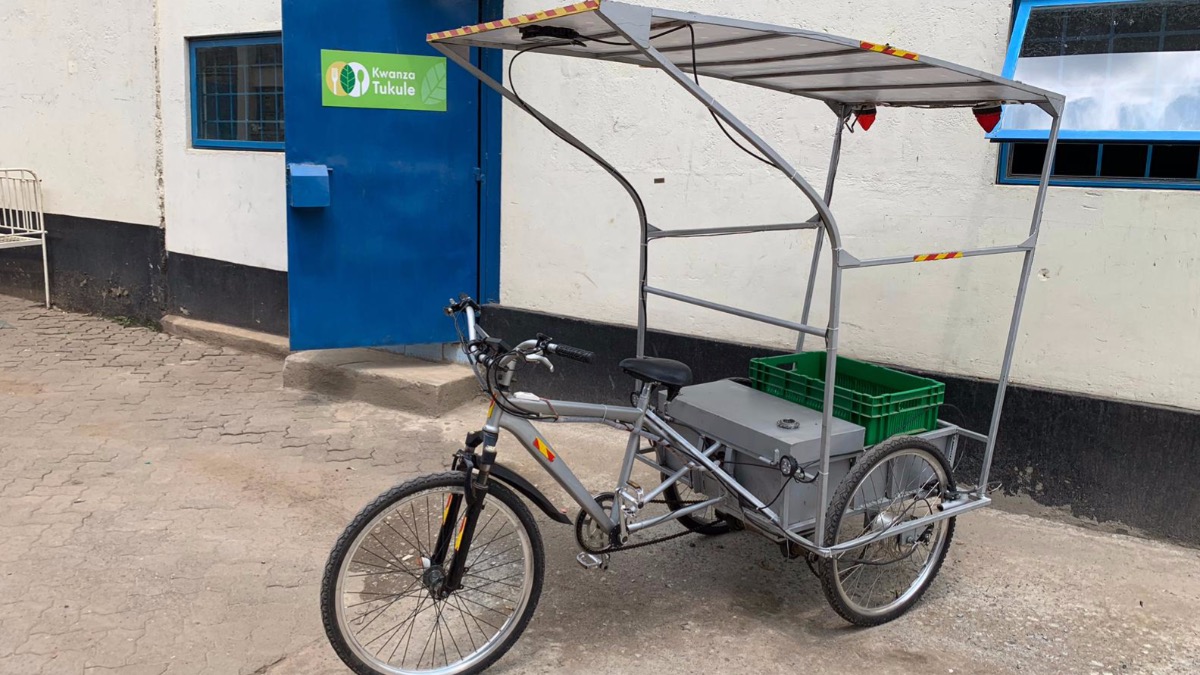 Description
Solar electric 3 wheel cargo tricycle with customized rear cargo area. 300 W solar power, 350 to 1050W motor(s).
The Solar E-Cycle cargo tricycle is solar powered with 300W light PV, 4x12v 30Ah batteries, and 1 to 3 2-speed brushless 48V motors. It can store nearly 1500Wh of electric power for powering a refrigerated storage box or a even coffee brewing machine. It can operate at night on battery power. Ideal for street advertising at media events. Totally autonomous. Can be recharged from the network and can supply 220/240VAC 50hz with our inverter charger (extra)
Available in
Kenya, South Africa,
Categories of application
Affordable and clean energy, Sustainable cities and communities
Sector of application
Clean energy production, Urban and inter-urban mobility
Status
Implemented
---
Solid waste solar powered collection vehicle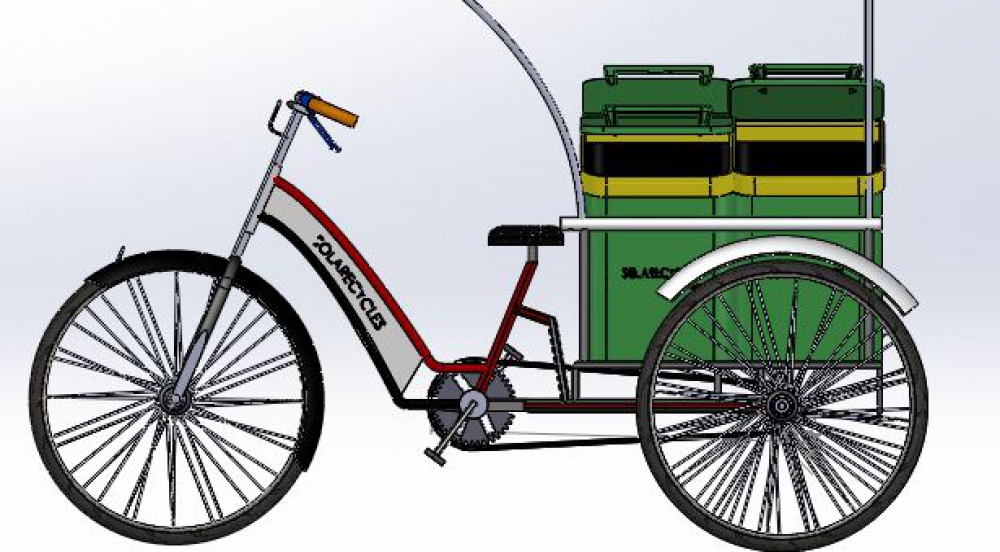 Description
Solar electric rear-loading cargo tricycle. 300 W solar power, 350 to 1050W motor(s).
The Solar E-Cycle rear loading cargo tricycle is solar powered with 300W light PV, 4x12v 30Ah batteries, and 1 to 3 2-speed brushless 48V motors. It can store nearly 1500Wh of electric power for extended range. It can operate at night on battery power. Can be recharged from the network and can supply 220/240VAC 50hz if needed.
Categories of application
Affordable and clean energy, Industry, innovation and infrastructure, Responsible consumption and production
Sector of application
Clean energy production, Freight transportation, Circular economy of solid wastes
Status
Concept
---
SolarCab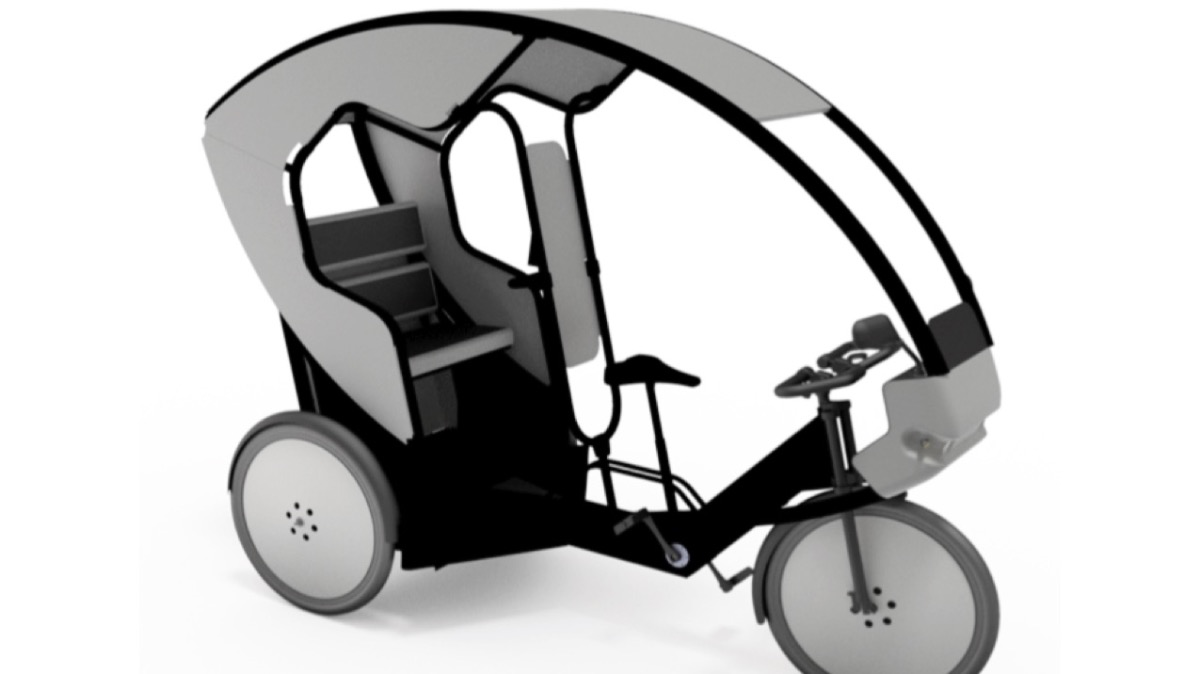 Description
Solar powered electric assist rickshaw- 2 passengers. 75kg. Range up to 100km per day at 25kph. Minimum order 200
This is the reengineered richshaw or pedicab. Human powered electric assisted. Solar powered recharging. 2 passengers. Redesigned for $3m with the support of Asian development bank.
Available in
Worldwide
Status
Tested implementation
---
Solar Home System and Battery recharge station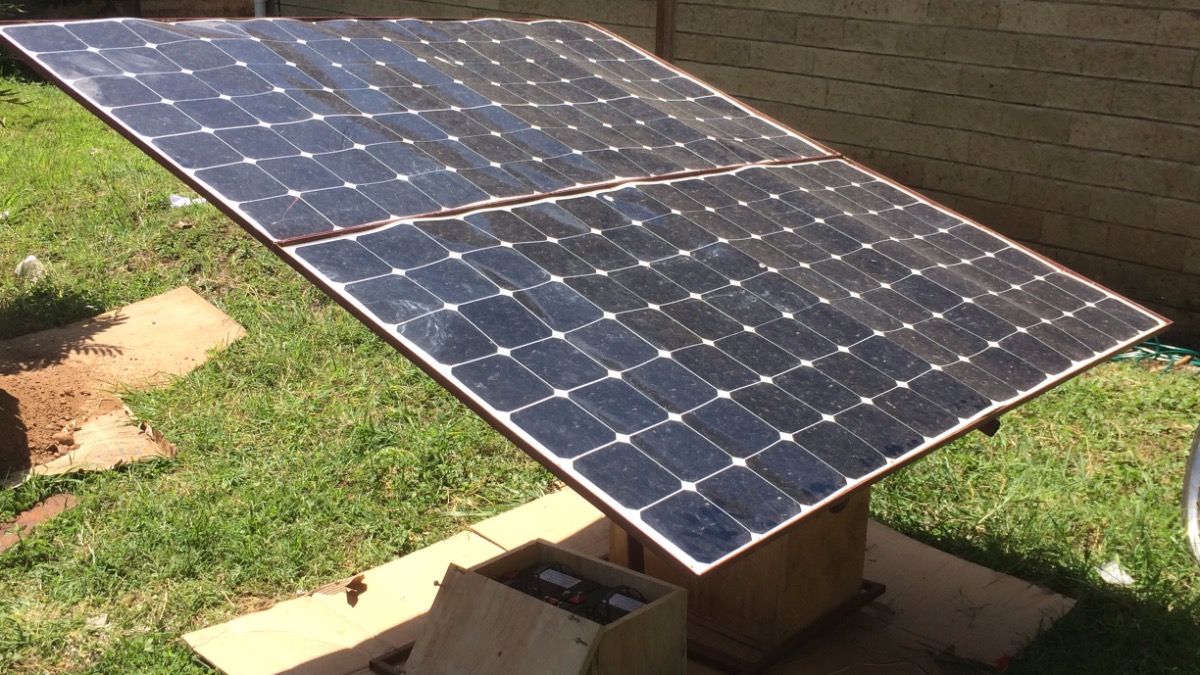 Description
600W solar PV with 1200W inverter for 240V AC.
2x300W PV, 4 or 8 12V batteries (VRLA). 1200 W inverter charger with 240V AC, 12V, USB.
Available in
Kenya,
Categories of application
Affordable and clean energy
Sector of application
Clean energy production
Status
Implemented
---