Contact information
About the company
Type
Company
Members type
innovator

Headquarters
1700 Fribourg, Switzerland
Company size
12
Founders
Christian Fischer & Julien Rion
Founded
2011
SDG's
Industry, innovation and infrastructure
Website
bcomp.ch
Alliance member
Bcomp Ltd
---
Bcomp develops sustainable lightweighting solutions for high performance applications from sports to space.
While one third of the global non-renewable resources are still being used for the manufacture and transportation of manufactured goods, resources are becoming scarce and the need for renewable bio-based materials strongly increasing.
In response to these challenges, EU, US and Chinese authorities have significantly reduced the CO2 emission standards for cars and pushes the use of renewable materials. Accordingly, the entire mobility industry is going through the largest industry shift in decades. One of the major challenges consists of cutting weight in vehicles, to increase their autonomy and/or decrease the battery power.
To address these needs, Bcomp develops and sells game-changing renewable material solutions, increasing performance, decreasing weight, and reducing the environmental impact of its customers' products. The company has developed a novel high-performance renewable material solution offering a unique price-performance ratio to address the strong and increasing need of today's mobility's for light-weighting, with the potential of cutting up to 40 % weight and reducing use of plastics by up to 80%. Potential applications include interior automotive parts, body panels for race cars, or semi-structural parts in aircraft's cabin interior, to name only a few. This combines a massive market opportunity with significant CO2 savings potential. The Swiss high-tech company has ongoing customer development projects with leading automotive OEMs worldwide.
Motorsports customers are producing serial parts featuring Bcomp material, e.g. in one of the most sold race cars, and first large-series automotive applications are expected to go into production by 2021. Thus, Bcomp has established itself as the global leader in natural fibre composite solutions for superior performance, replacing standard engineering materials, cutting significant weight, and reducing the eco-footprint of our customers' products by up to 80%. The company has developed proprietary high-performance solutions for applications ranging from Alpine skis to surfboards, and more recently for lightweight parts in automotive interior- and motorsport body work. Thanks to its innovative products and strong market focus, the company has built a large international customer portfolio and significant awareness within its target markets, as well as proven its capacity to develop products answering to real market needs, and successfully bring them to market. Bcomp is currently part of the European Space Agency's Clean Space Program, where the aim is to develop technologies for cleaner space exploration. While the Sport & Leisure market still represents a significant potential for Bcomp's growth, the Mobility industries represent by far the largest scaling potential. Over the past two years, Bcomp has validated the product-market fit with several key players of this sector and has adapted its organization to its strong ambition of playing a major role in the ongoing mobility revolution. Furthermore, Bcomp is working on projects with major actors in aerospace, within construction and interiordesign. However, regardless the market, our key features always remain: high performance lightweighting solutions from natural fibres.
powerRibs™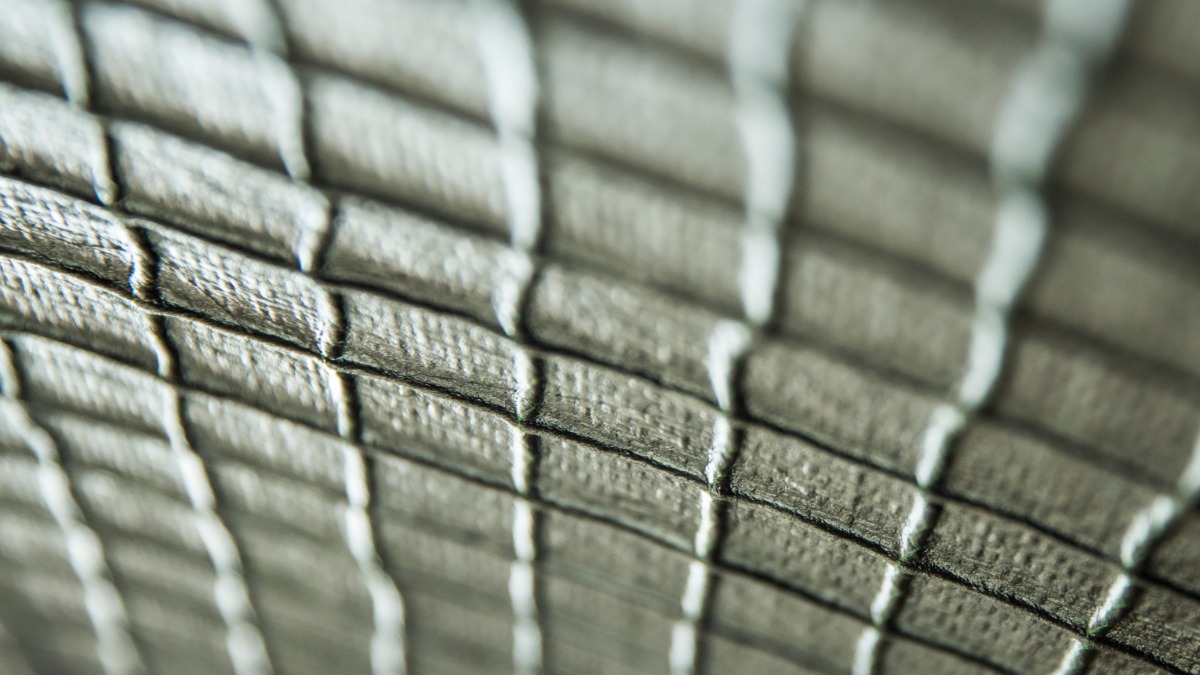 Description
powerRibs™ reinforcement, inspired by leaf veins cuts weight, environmental impact and costs while improving performance
powerRibs™ is an extremely lightweight, high performance natural fibre composite reinforcement grid. The proprietary technology is inspired by leaf veins that give stiffness at minimum weight and is designed to create a rib structure on one side of a thin-walled shell element. Perfect for high-performance applications such as replacing or reinforcing carbon fibre in motorsport bodywork, as well as decreasing weight in automotive interior parts, it is a truly revolutionary technology. Key benefits: * Tripled flexural bending stiffness * Decreased weight, cost and environmental impact * Improved safety with enhanced crash behaviour * Increasing vibration damping properties by up to 250% * Preferably combined with ampliTex™ technical fabrics for a full natural fibre layup, but can also be combined to other engineering materials, such as carbon fibre, glass fibre and aluminium to name a few to improve stiffness, decrease weight and reduce material use.
Available in
Worldwide
Categories of application
Industry, innovation and infrastructure
Sector of application
Materials and chemistry
Status
Implemented
---
Lightweighting solutions for automotive interior panels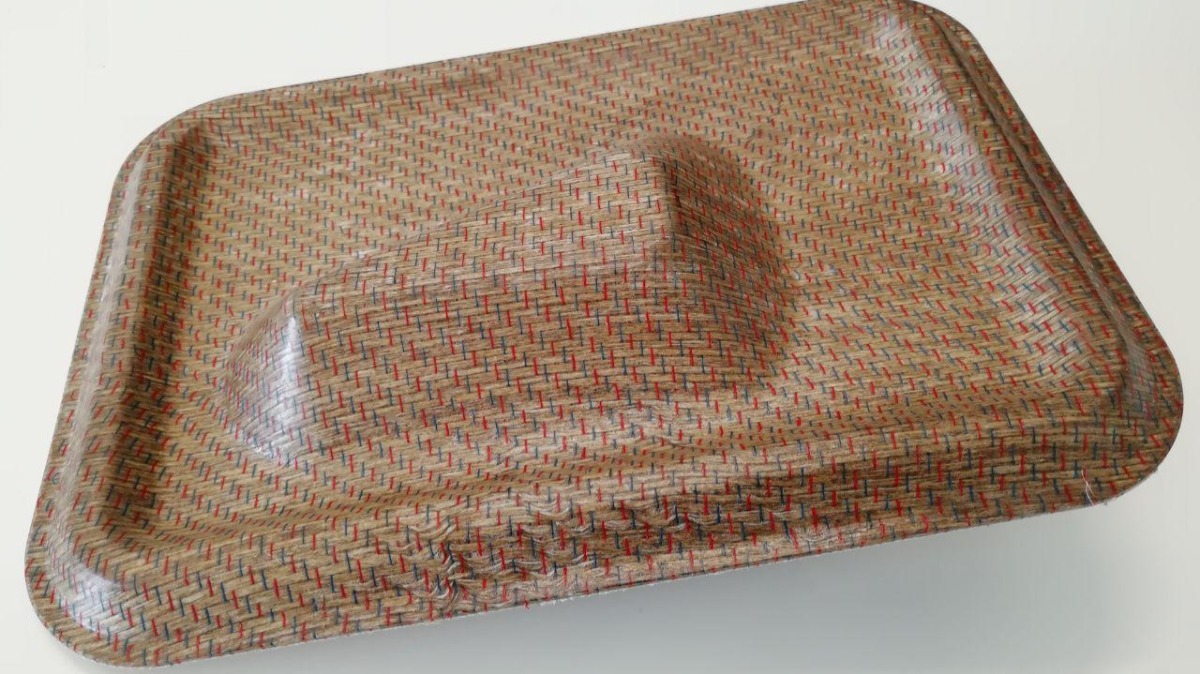 Description
Up to 40% lighter automotive interior panels, using 80% less plastic thanks to powerRibs™ and ampliTex™ reinforcement
Bcomp has developed natural fibre solutions for automotive interior panels that can reduce weight by 40%, thus reducing fuel consumption/increasing reach, as well as reducing the amount of plastics used vs standard parts by up to 80%. Moverover, safety is improved as debris is confined in the event of a crash. Furthermore, the parts manufacturing process is highly efficient and can be integrated in modern high speed production lines and the cost neutral, thus making it viable for OEM to implement. The solutions are currently used in development projects with global OEMs and Tier 1's. powerRibs™ are used on the B-side, creating a lightweight yet stiff reinforcing rib structure, inspired by the vains in leaves. The A-side can have a visual layer of choice, for a full natural fibre layup we recommend ampliTex™ technical fabrics. Bcomp's solution for automotive interiors won the JEC Innovation Award in 2018. Variations of the solutions are also involved in development projects for aerospace and space applications.
Available in
Worldwide
Status
Tested implementation
---
Lightweighting solutions for Motorsports bodywork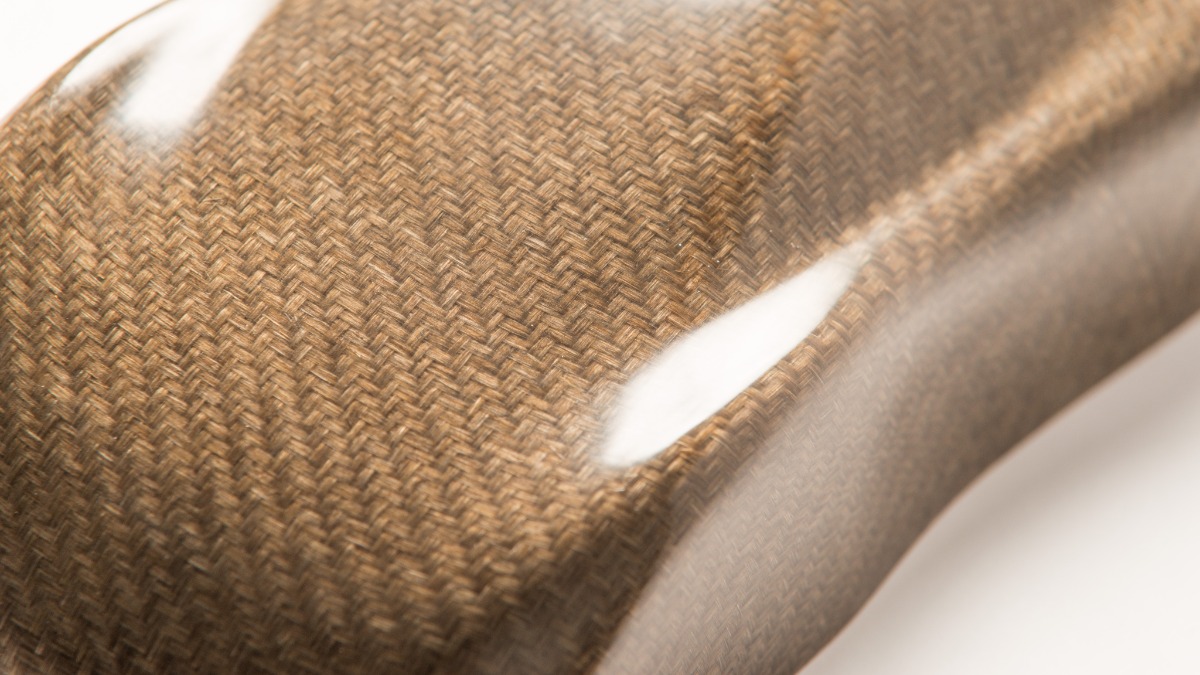 Description
Replace carbon with natural fibres for improved safety, better cost efficiency and up to 75% lower CO2 footprint.
Bcomp's lightweighting solutions for motorsports bodywork makes it possible to replace carbon fibres with natural fibres, thus reducing costs by up to 30%, CO2 footprint by 75%, improving human safety and health without toxic carbon dust and sharp carbon shattering, as well as enabling viable end-of-life options. By using Bcomp's powerRibs™ reinforcement grid and ampliTex™ technical fabrics, high quality bodywork can be produced at serial scale using RTM technology. The products are currently used in serial production for several of the most sold racecars, thus proving the technology. The technology was a finalist for the JEC Innovation Award together with Porsche AG and Fraunhofer WKI in 2019. Motorsports is also a strategic stepping stone to raise awareness and reach large-scale automotive. The products are found on under the tagline #ThisIsNotCarbon across social media.
Available in
Worldwide
Status
Implemented
---