Contact information
About the company
Type
Company
Members type
innovator

Headquarters
Craven St, London WC2N 5NF, Regno Unito
Company size
10
Founders
Betta Maggio
Founded
2008
SDG's
Affordable and clean energy
Industry, innovation and infrastructure
Sustainable cities and communities
Documents

U-earth for Corporate companies
U-earth for Pure Air Cities
Website
u-earth.eu
Alliance member
U-earth biotechnologies
---
Discover the biotechnology of the most powerful air purifier in the world, cleaning the world through Pure Air Zones
U-earth is the first biotech company in the world to deal with air purification in a professional environment, market leader in biological air purification through patents and exclusive proprietary technologies, derived from 30 years of scientific research in the USA and in Europe. Within AIRcel bio-reactors, U-earth system has miniaturized and enhanced the process that the Earth puts in place to cleanse itself through the action of bacteria naturally present in the environment. U-Ox microorganisms used by U-earth are guaranteed harmless, non-toxic, non-pathogenic and non-genetically modified, extracted from clean sources of totally natural origin. Spaces treated with U-earth air purification systems are marked with the "Pure Air Zone" brand name and adopted by the leaders of all sectors for their offices, factories, shops for the benefit of their employees and customers. Pure Air Zone is the latest frontier of green marketing, through the creation of a community formed by companies using the system, united by the goal of actively contributing to making the world a better place. Certified Pure Air Zone Companies increase customers and sales by ensuring in their environments the highest quality of the most important asset for human life, pure air.

Pure Air Zone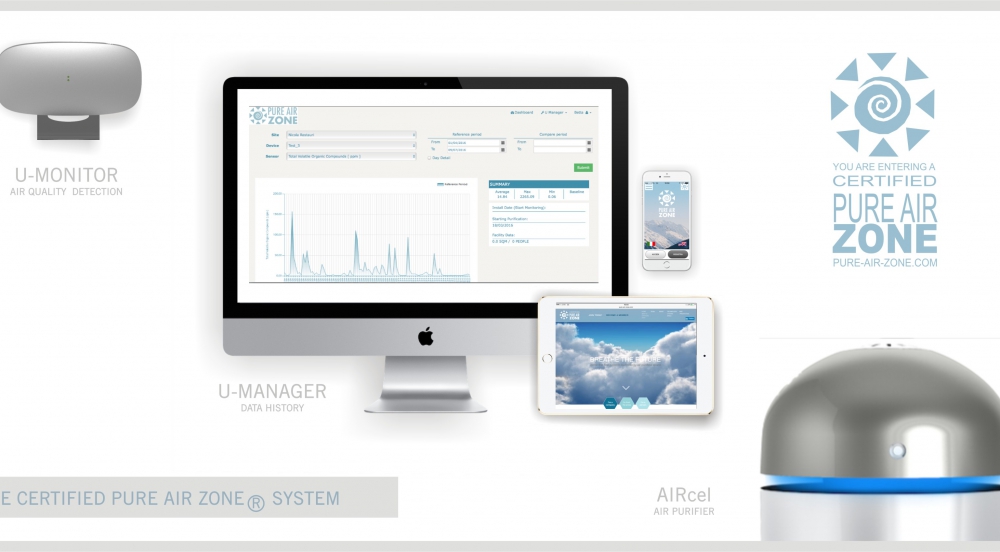 Description
Pure Air Zone for the world
Pure Air Zone is a unique Biotech air purification system. The system applications are for : - Medical ( hospitals, elderly care, dentists and all paramedical facilities ) - Industrial ( automotive, pharmaceutical, typography, waste and trash treatment, etc) - Corporate ( office buildings, gyms, schools, Hotels, airports and trains stations, theatres, public spaces....) - Urban ( shopping areas , training centres and playgrounds, parks, stadiums....). Unlike competitors which offer: - Complex industrial systems, not sustainable and efficient only for specific target contaminants, - Or marketing consumer products, based on the re-proposal of technologies on the market since 20-30 years, inexpensive because inefficient, and therefore can not be used in professional environments, U-earth has created AIRcel, a powerful and innovative plug-and-play system for improving air quality at 360 degrees for all the contaminants at the same time, with no type or size limits. U-earth system for air purification: 1) detects pollution through a unique monitoring device called U-monitor, 2) attract air pollution by electrical molecular charge into the latest generation air cleaners called AIRcel, where water and air constantly flow. 3)the captured contaminants are destroyed by U-Ox, a proprietary formula consisting of a consortium of microorganisms and enzymes which are added periodically in AIRcel bio-reactors, and eat pollution not producing any harmful waste. We are seeking for commercial partners interested in becoming distributors of the solution either for vertical segments or regional markets, corporate clients, public sector adopters, foundations and investors. Everything which can help us brig the solution to the planet with the ai to destroy air pollution faster than its generated, limiting diseases and leaving a better world to than the one we found to the future generations.
Available in
Worldwide
Status
Implemented
---
Pure Air City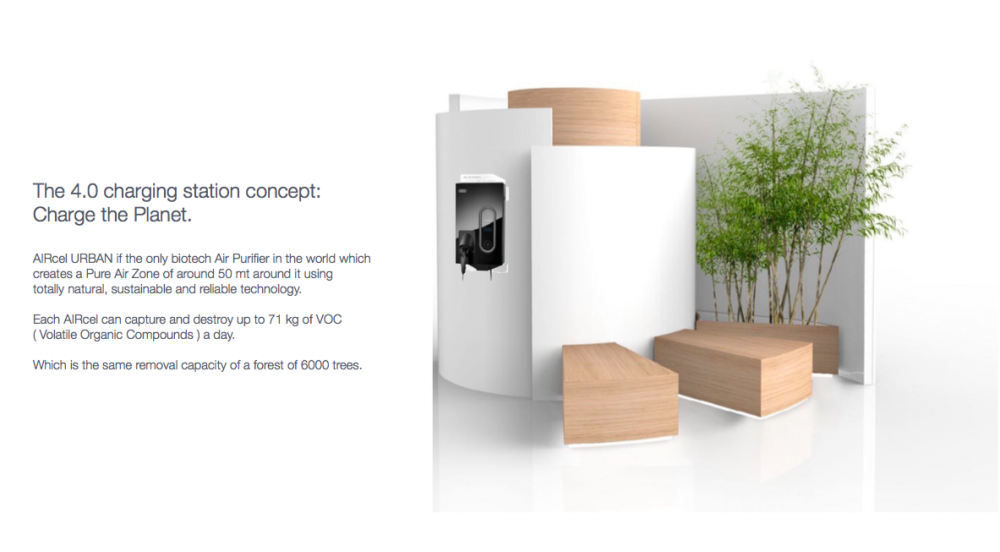 Description
Create areas of mountain quality air within the city where people can safely enjoy outdoor time.
Sadly 95% of the global population is breathing unsafe air. Indoor Air Quality has always been the main concern, however we got to the point that outdoor air is so polluted to recommend people to stay home. Scientists and campaigners – validated by worldwide courts – have been telling us for years that the air we breathe is both lethal and illegal. Since the public segment is still struggling to take action then the private sector should take advantage of this situation and independently adopt world changing policies and solutions like building Pure Air Zones to protect theirs most precious assets: their own health, and the one of their workers, customers and planet. Many companies are doing it. The corporate culture is finally changing to a game changing, solution oriented mindset ( please see www.pure-air-zone.com and www.u-earth.eu ) After all we are nothing without health and nature. Now this solution can be adopted also for outdoor use. Imagine being able to cover children's playgrounds, parks, sports facilities and high street shopping areas, re-qualifying the outdoor experience no matter the extremely poor urban air pollution conditions. The devices can be freestanding, integrated in existing Street Furniture or displayed in U-earth new "Charge The Planet" electric charging stations. Lowering car use in order to permanently reverse air pollution level is still utopian in the short term, and while ( and if ) the whole world agrees on drastic air pollution reduction policies ( which will take 30 years to be in effect in terms of pollution output) we need to protect ourselves and our children from the deadliest plague of our century. Breathing safely in highly contaminated urban centers can be achieved by using a cost effective , natural, super efficient new Biotechnology ready to be installed. Playing , training, reading, relaxing in a clear air environment, without getting sick because of what you are forcefully breathing is a right we all have, without distinction of age, race, nationality, and social status. Each U-earth URBAN outdoor air purifier is able to create a Pure Air Zone large 50-100 meters around it and equals the air pollution removal efficiency of 6000 trees by using only extremely powerful natural media without harmful byproducts. It captures all kinds of air pollutants without limit of size or type creating a clean air bubble around it. U-earth mission is to find companies and public administrations willing to change the world, providing them with tools able to naturally destroy tons of air pollution daily, faster that it's generated. Together we can leave a better world than the one we found to the future generations. Are you the game changers which do not sit and wait for others to make world better, but actively make it happen? If so we are looking for you and you finally found us. Contact us immediately and let's take action to change the way people are forced to breathe providing them with the most precious element we all need for life: Clean Air. And make a difference in their life forever.
Available in
Worldwide
Categories of application
Affordable and clean energy, Industry, innovation and infrastructure, Sustainable cities and communities
Sector of application
Clean energy production, End-of-pipe industrial pollution management, Urban and inter-urban mobility, Communities infrastructures
Status
Implemented
---