Contact information
About the company
Type
Startup or self-employed
Members type
innovator

Headquarters
80807 Munich, Germany
Company size
15
Founders
Michael Baumann, Dr. Stephan Rohr
Founded
2018
SDG's
Affordable and clean energy
Social

Website
twaice.com
Alliance member
TWAICE TECHNOLOGIES GMBH
---
TWAICE supports companies across different industries with predictive battery analytics software based on digital twins
We empower our customers to develop and use battery systems more efficiently and sustainably while making them more reliable and durable. Precise predictions of battery conditions and aging significantly optimize battery development and use.
/Exact determination of current condition also enables certification of batteries for reuse and 2nd life. The digital twin can essentially be thought of as a model-based image of the actual battery. It is continuously updated with measurement data from the operation.
Thus, one always knows the current state of the battery system and can predict the further aging. This knowledge helps in two major areas: developing a battery and monitoring its operation. To determine the health of a battery, the TWAICE software handles many factors that affect its lifespan and performance. Such as the way the battery is charged.
Fast charging, moreover, in the cold, wears the material faster than a gentle charging process. TWAICE was founded in 2018 as a spin-off from Technical University of Munich and is headquartered in Munich. Clients come from industries ranging from e-scooters over automotive to stationary energy storage.
Digital Twin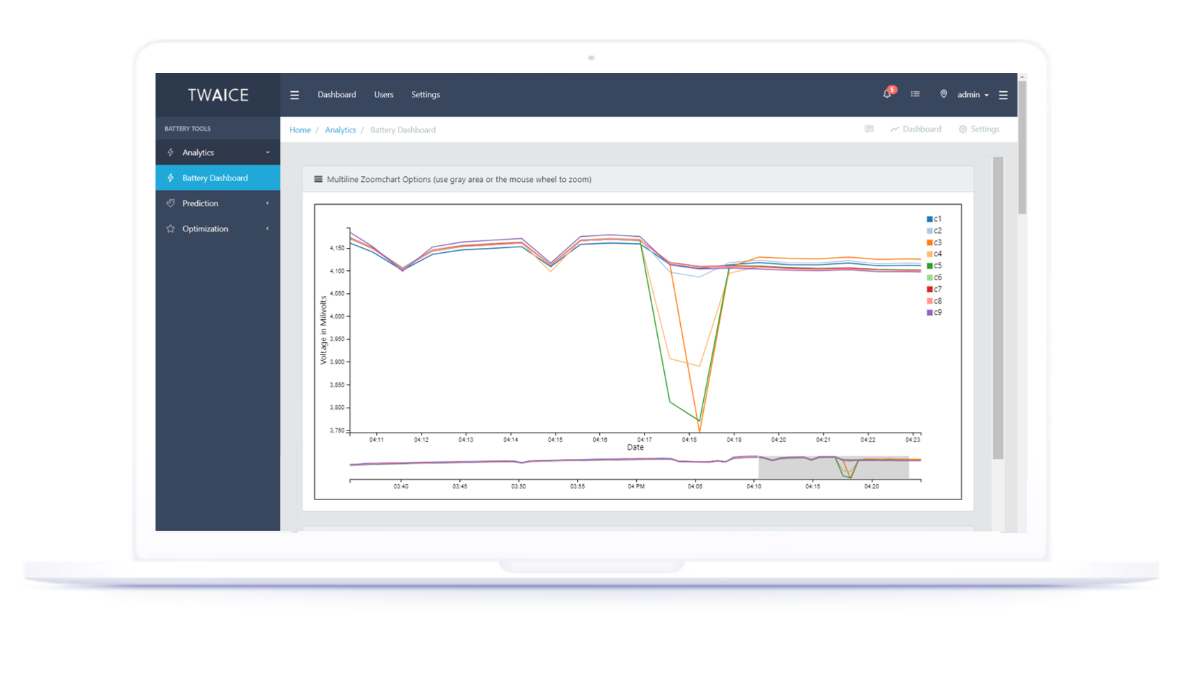 Description
Predictive battery analytics to optimize the development, the operation and the re-use of li-ion batteries
Batteries constitute the most expensive component of electric vehicles. But the value of the battery, driven by the current condition and likely future development (aging behavior), can only be determined with great difficulty and uncertainty (in particular when usage history is unknown). This makes it difficult to optimize the value generated by a battery which is primarily driven by the operating time (and maintenance effort) and residual value. TWAICE underlying technology is an advancement of the concept of virtual expert systems, so-called digital twins. Applying these to batteries, TWAICE merges sensor data and physical as well as data-driven battery models, closing the loop between product development and application. This provides transparency on the current state of health and AI-driven predictions of future development enable customers to open the black box Lithium-ion battery and operate them beyond currently usual timeframes.
Available in
Worldwide
Categories of application
Affordable and clean energy
Sector of application
Energy storage
Status
Tested implementation
---