Contact information
About the company
Type
Startup or self-employed
Members type
innovator

Headquarters
31100 Toulouse, France
Company size
3
Founders
Christophe Campéri-Ginestet & Hervé Le Berre
Founded
2014
SDG's
Website
www.sunwaterlife.com
Alliance member
Sunwaterlife
---
Sunwaterlife believes that water is a universal right. We act to create a future where water is no longer a privilege.
Since 2014, Sunwaterlife, is committed to provide clean water to disadvantaged communities. Thanks to solar energy and its innovative system, the French start up provides clean water in regions where people suffer from severe shortage of water.
Affordable access to clean water for disadvantaged communities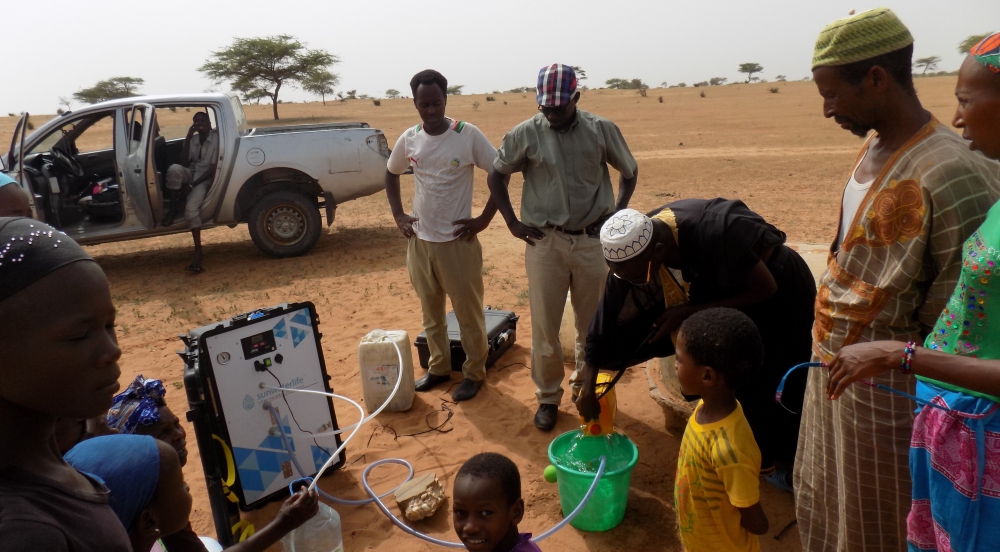 Description
Sunwaterlife develops innovative water purification devices adapted to communities who don't have access to clean water.
Sunwaterlife has developed the Aqualink range, several innovative devices to purify water which are fully self-powered, using solar energy. Sunwaterlife Aqualink's range treats and purifies polluted any kind of water source: wells, ponds, rivers, lakes. Our systems pump up the water, then several filters remove the pathogens (e.g. bacteria, viruses, amoebas or parasites). This process removes the bacteria responsible for diseases such as cholera, hepatitis, gastroenteritis, polio … Our innovative filtration membranes provide clean water whatever the conditions of sanitation, without needing electric power. The Aqualink range is composed of system with several uses and supply capacities: - Our flagship products are Aqualink Trip and Aqualink UF. The filtration system suits in a suitcase, which is easily transportable and mobile. Easy to set up (less than five minutes), it can purify up to 300 liters per hour. - Aqualink Home provides purification system for public network's system, which allows to have clean water at home. - With a bigger capacity, Aqualink Fountain and Aqualink Container can supply higher quantities of drinking water (up to 1200l/hour). There are fully autonomous, equipped with solar panels.
Available in
Kenya, Madagascar, Republic of the Congo, Gabon, Chad, Burkina Faso, Ivory Coast, Guinea, Niger, Nigeria, Senegal, Bolivia, Colombia, Haiti, Indonesia, Cambodia, Laos,
Status
Implemented
---