Contact information
About the company
Type
Company
Members type
innovator

Headquarters
Yarnton Ln, Yarnton, Kidlington OX5 1QU, UK
Company size
90
Founders
Henry Snaith & Kevin Arthur
Founded
2010
SDG's
Website
oxfordpv.com
Alliance member
Oxford PV
---
Oxford PV is the pioneer and leader in the field of perovskite solar cell technology.
Our record setting perovskite photovoltaic technology offers the opportunity to increase the performance of silicon solar, enabling dramatic costs reductions that are critical for accelerating the adoption of solar. The company was established in 2010, as a spin-out from the University of Oxford. Today, we have the largest team globally, exclusively focused on developing and commercialising a perovskite-based solar technology. A research and development site in Oxford, UK and an industrial pilot line near Berlin, Germany enables the accelerated transfer of our technology into industrial scale silicon solar cell production. Oxford PV is currently installing a 250 MW perovskite-silicon tandem solar cell production line, at our Germany facility. Our perovskite-silicon solar cell has achieved a world record certified efficiency of 28% - exceeding the 26.7% efficiency world record for a single junction silicon solar cell. Oxford PV's perovskite-silicon solar cell technology roadmap extends beyond 30% efficiency.
Perovskite-on-silicon tandem solar cells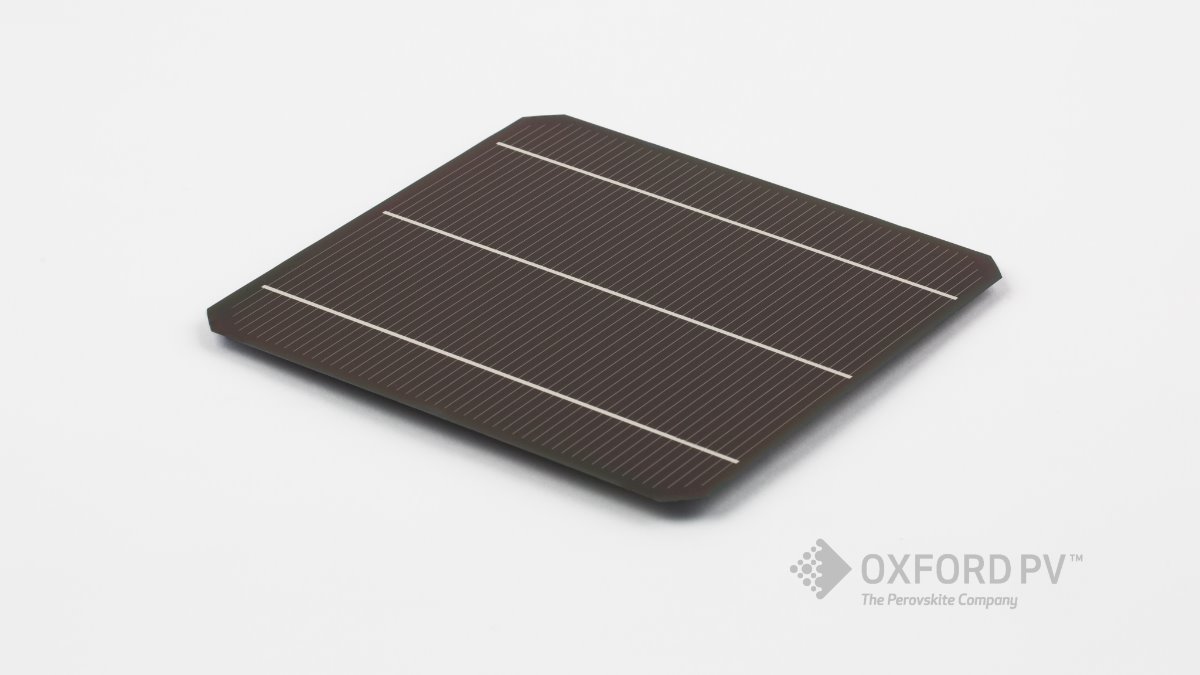 Description
Perovskite-on-silicon tandem solar cells
Key to enabling the growth of solar power globally is high efficiency and low cost. While the cost of generating energy with the mainstream photovoltaic technology – silicon (over 92% of the market) continues to reduce slowly, this is now driven mostly by material cost savings, as the silicon technology is reaching its efficiency limit. By adding Oxford PV's low cost, thin film perovskite solar cell technology on top of conventional silicon solar cells (typical efficiency ~20-22%), in a tandem configuration, efficiency can increase beyond 30% – a performance level not achievable with silicon alone. The high efficiency and low cost of perovskite-on-silicon tandem solar cells will drive down the cost of generating electricity globally using photovoltaics, decreasing the levelized cost of electricity of solar installations. Enabling cleaner, lower cost electricity, fundamental for driving the world toward an all-electric future.
Available in
Worldwide
Status
Tested implementation
---