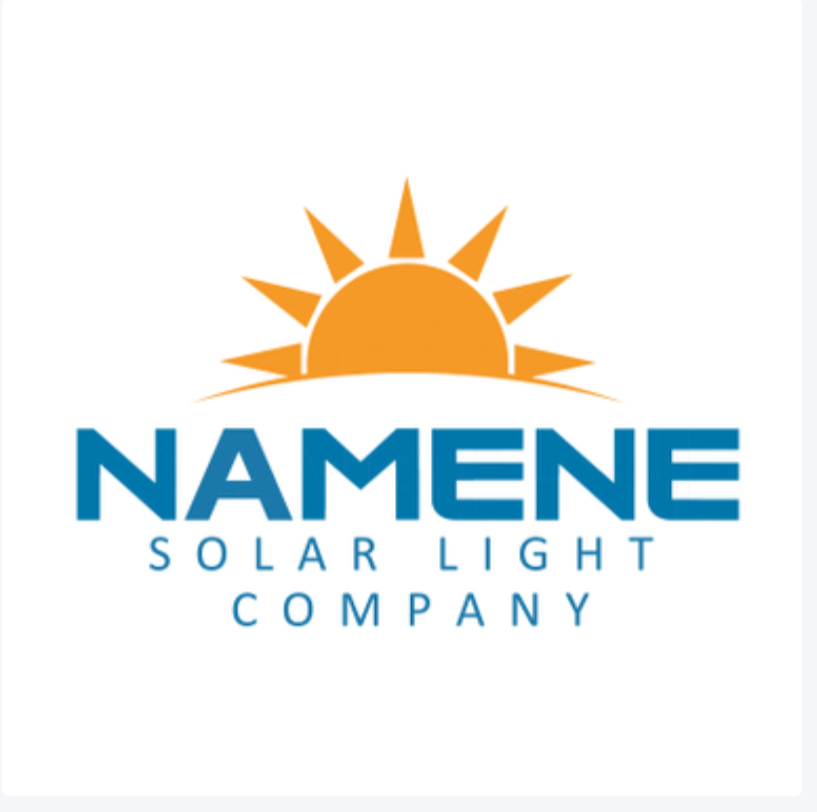 Contact information
About the company
Type
Company
Members type
innovator

Headquarters
Kensington, Londres W8 7NX, Royaume-Uni
Company size
10
Founders
Patrick Lagrange
Founded
2018
SDG's
Affordable and clean energy
Documents

OUR STORY
THE PROBLEM AND OUR VISION
Website
namenesolarlight.com
Alliance member
Namene Solar Light Company Ltd.
---
Empowering people by connecting them to the sun.
Namene Solar Light Company Ltd., a wholly owned subsidiary of Yingli Namene Solar Ltd., produces and distributes one of the most affordable, high-quality entry-level pico-solar lights, the SM100, to people worldwide that live without access to electricity. The SM100 is a multi-functional pico-solar light that meets the basic lighting needs of low-income families living without access to electricity or as a first-response light in the aftermath of humanitarian crises. OUR VISION: We envision a world where no one needs to use kerosene, candles or bio-mass for lighting. We want to change the world. One child's education, one family's opportunity at a time. We have a team of big thinkers and experienced technologists, finance experts and strategists to deliver on our vision. OUR MISSION: Is to deliver pollution-free, sustainable power and lighting solutions to improve the lives of people around the world. Electricity generated by the sun, at affordable prices, with no compromise on performance, quality and durability. OUR APPROACH to fulfill our mission: We design and produce a leading, super affordable high-quality, 'pico' solar light, the SM100. We distribute it worldwide to people living without access to electricity. It can act as a long-term solution or as a first-response light, following humanitarian crises. History: Namene Solar Light Company representative joined a SolarAid Dinner hosted by Jeremy Leggett, founder of SolarAid + former CEO of SolarCentury, when their mission "Eradicate kerosene lamps from Africa by 2020" was set. - SolarAid is an international charity combating climate change and poverty - We were shocked into action by the problem of "kerosene lamps", but inspired by the solution of "solar lights" - In 2011, a strategic partnership was formed between SolarAid and Namene Solar Light Company management team, with a mission to create the most affordable solar light for the people at the base of the pyramid without access to electricity - A number of pico solar lights were already in the market but failed to deliver on SolarAid needs – namely affordability, durability and user experience. - SolarAid's data was combined with NSLC's design and execution skills to drive the SM100. -We offer affordable reliable power and lighting solutions to empower people, homes and businesses -We designed, manufacture and distribute an ultra-affordable quality entry-level solar light -It is a product co-developed in Africa as consumer insights shaped the design, functionality and performance based on more than 30.000 interactions that SunnyMoney had with end-users. -SolarAids social enterprise, SunnyMoney, sold around 2 million solar lights across rural Africa throughout the last 10 years making them one of the biggest distributors of solar lights in Africa. -Our solar light distinguishes itself from other solar lights not only because of its competitive price but because of its innovative features and unique design -It is a light-weighted robust light that uniquely offers strap holes for head torch and bike use -Pocket-size for portability, it can also be used as a desk light, it can be hung on the wall, it can be used off the stand and placed on uneven surfaces due to its rectangular format – a versatile light for individuals -With a solar light, everything changes. These little solar lights are safe, clean and affordable. They give off hours of light in the evening so families can earn, learn and feel safe after dark. Just one lamp can transform the fortunes of an entire family and is the first step on an energy ladder to full electrification. They are not the answer to all of life's energy problems, but they are available right now, and will ensure the very poorest can begin to develop and prosper without having to wait for a grid system that may never come. The SM100 meets 6 of the 17 UN Sustainable Development Goals. The Sustainable Development Goals are the blueprint to achieve a better and more sustainable future for all. They address the global challenges we face, including those related to poverty, inequality, climate, environmental degradation, prosperity, and peace and justice. -SDG 1 – No poverty: After an initial payback of ca. 8-12 weeks, long term savings due to avoided kerosene expenditure of ca. USD 50-100 per annum. -SDG3 -Good Health & Well-Being: Improvement of living space air quality through eradication of kerosene lamps where high levels of black carbon emissions can trigger respiratory and eye diseases. -SDG4 – Quality Education: Improved conditions for home studying and a subsequent increase in study hours leading to pupil grade improvements. -SDG7 – Affordable & Clean Energy: Entry level lighting powered by the sun targeted at base-of-pyramid – affordable, reliable, durable and clean -SDG13 – Climate Action: Eradicating 1 kerosene lamp offsets 370 kg of CO2 per annum (GOGLA standard impact metrics). -SDG17 - Partnership for the Goals: Developed in partnership with SolarAid and working in close partnership with other commercial entities to expand deployment to eradicate kerosene lamps.
An offgrid multitask solar light.
SM100 Solar Light is a high-quality solar light for clean, and safe lighting.