Contact information
About the company
Type
Startup or self-employed
Members type
innovator

Headquarters
38240 Meylan, France
Company size
4
Founders
Alexandre Chureau
Founded
2012
SDG's
Social

Website
enerstone.fr
Alliance member
Enerstone
---
Enerstone supports the energy transition by increasing the lifespan of Lithium-ion batteries, therefore providing an alternative to their obsolescence.
Enerstone designs, manufactures and sells Battery Management Systems (BMS) that prolong the life of batteries and transform them into a key enabler of the Energy Transition. Our objective is clear: we make batteries last as long as the equipment they power, and even longer! In clear opposition to the "replace and consume" model, we designed a simple and elegant electronic card that makes batteries extremely robust and long-lasting. Based in Grenoble, Enerstone is rooted in the culture of Microelectronics, Electrochemistry and Innovation, thanks to its partnership with Grenoble University Laboratories. Enerstone helps customers prolong their battery's life across a wide spectrum of applications. From large renewable energy storage systems to small and swift transportation equipment, every battery deserves to live its utmost potential.
MetaCard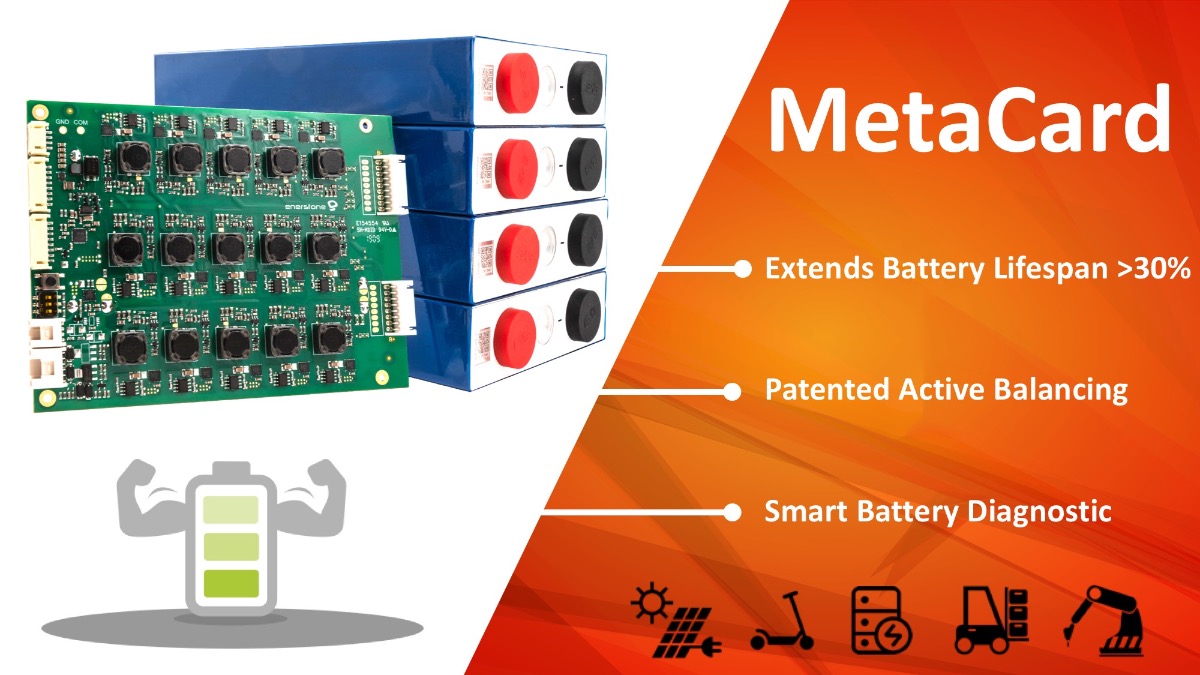 Description
MetaCard is a Battery Management System (BMS) with a life-extension circuit making batteries highly robust and reliable
MetaCard is an electronic card connected to a rechargeable battery that protects the battery from ageing and performs continuous battery diagnostic. Thanks to its patented Active Balancing technology, MetaCard supports the weakest cells of the battery with the strongest ones, during both charge and discharge. This results in outstanding battery endurance and lifespan. Built on a Simplified Active Balancing circuit, MetaCard ensures battery life is prolonged by at least 30% and saves energy every time you charge your battery, while requiring a minimal amount of electronics. Indeed, since batteries are made of series-connected elements, they are highly vulnerable to charge unbalance and uneven ageing. These are caused by thermal stress during operation and slight differences between the cells and interconnects that diverge with time. MetaCard is the brain and balancer of rechargeable batteries. Compared to passive balancing which creates energy losses by heat dissipation at the end of charge only, our energy balancing circuit redistributes energy among the cells during both charge and discharge. This ensures that every cell in the battery gets fully charged and fully discharged all the time. Finally, through active balancing know-how, MetaCard is also capable of manage battery pack which have been reassembled with cells from different ages or even second life cells. It opens a wide range of opportunities for storage systems with a service-oriented and a circular economy vision.
Available in
Worldwide
Status
Implemented
---