Contact information
About the company
Type
Startup or self-employed
Members type
innovator

Headquarters
75008 Paris, France
Company size
2
Founders
Tuan Nghiem VU
Founded
2016
SDG's
Affordable and clean energy
Sustainable cities and communities
Website
techsafeindustries.com
Alliance member
TechSafe Industries
---
TechSafe Industries develops innovative solutions to integrate renewable energy into urban and transport facilities.
TechSafe Industries is a startup created in 2016 and based in Paris. Our activities are focused on R&D, design and engineering of renewable power production devices. We offer a range of multifunctional noise barriers that produce electricity from solar and wind power, to be installed along transport networks. Our products enable to reduce the noise pollution and to bring power production closer to the urban consumers.These installations will integrate smart services for the mobility of the future.
SunScreen - photovoltaic noise barrier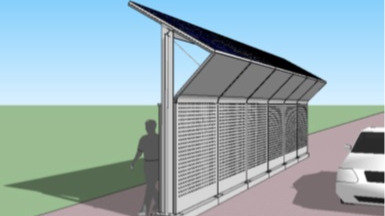 Description
SunScreen is a photovoltaic noise barrier for road and rail transport networks
SunScreen is a photovoltaic noise barrier. Its high acoustic performance reduces noise levels along road and rail transport routes, thanks to its innovative design and absorption capacity. By using the unexploited location and structure of the available noise barriers as a support for photovoltaic panels, our solution makes renewable electricity production competitive, even in urban areas. It offers a low carbon energy with no soil artificialization, a local power production, but also an effective noise barrier abble to solve transport noise black spots and improve the health and well-being of city dwellers. Technical development perspectives : integrates vertical axis wind turbine and smart road services.
Available in
Eastern Europe, Northern Europe, Southern Europe, Western Europe,
Categories of application
Affordable and clean energy, Sustainable cities and communities
Sector of application
Clean energy production, Communities infrastructures
Status
Tested implementation
---