Contact information
About the company
Type
Startup or self-employed
Members type
innovator

Headquarters
54100 Lappeenranta, Finland
Company size
4
Founders
Janne Heikkinen, Alexander Smirnov, Nikita Uzhegov, Teemu Sillanpää
Founded
2015
SDG's
Clean water and sanitation
Industry, innovation and infrastructure
Social

Documents

One pager
Website
www.spindrive.fi
Alliance member
SpinDrive
---
SpinDrive provides turn-key drivetrains with high-speed electrical machines and frictionless bearings for OEMs in HVAC.
SpinDrive commercializes levitation technology. Our passion is to push energy efficiency to the maximum level and promote oil-free solutions in various industries. SpinDrive provides highly efficient turn-key drivetrains, which consist of the high-speed electrical machine, frictionless magnetic bearings, controller and condition monitoring software. We help our customers to significantly increase system efficiency of their solutions, reduce material consumption and simplify an equipment installation process. The SpinDrive team consists of highly educated and experienced specialists with an extensive research background. Team members are co-inventors in the field related patents. Three out of four co-founders hold a doctoral degree in control, mechanical and electromagnetic engineering. Team members have extensive experience in project management of small- and medium-size projects.
High-speed drivetrain with active magnetic bearings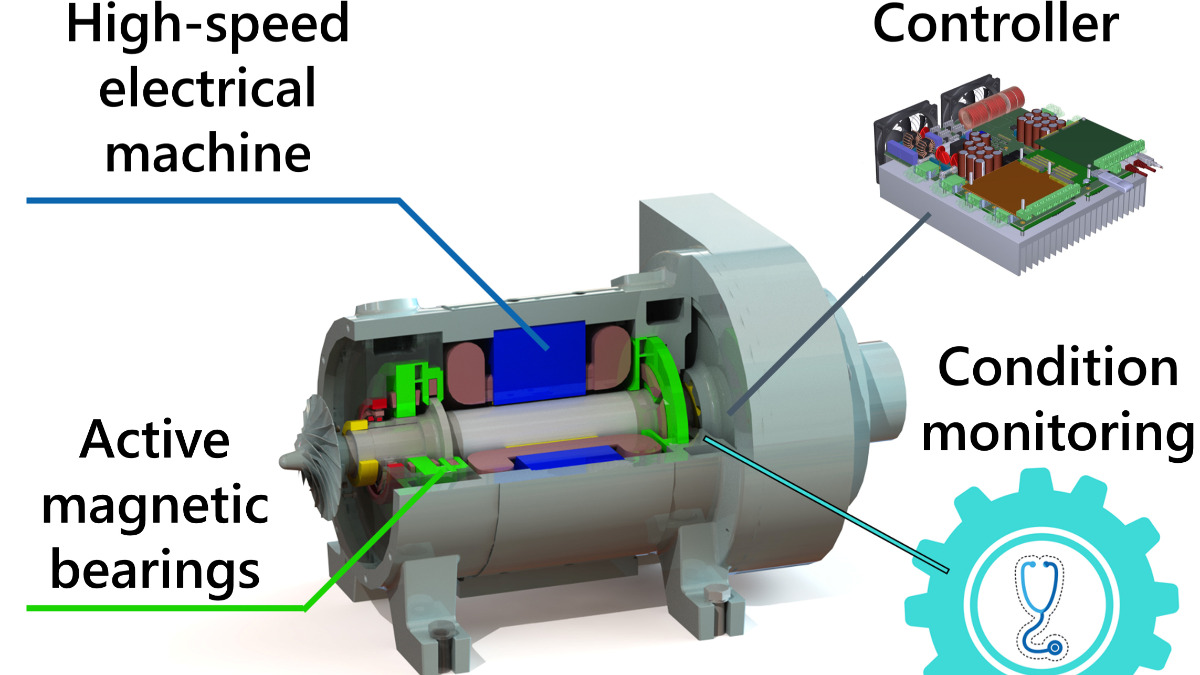 Description
SpinDrive provides high efficient turn-key drivetrains for OEMs, using electrical machine and active magnetic bearings.
SpinDrive provides turn-key drivetrains including the following components: 1. High-speed electrical machines have a special construction and their rotational speed is up to 50 times higher than the conventional ones. These machines enable a direct connection between the machine and the working tool increasing system efficiency. 2. Active Magnetic Bearings (AMBs) are levitating the rotational part of the machine, totally eliminating friction. AMB technology is among the few offerings that can enable completely oil-free compressed air according to ISO 8573-1 Class 0, and the only one that can do that without massive maintenance requirements. Therefore, no lubricant is needed and efficiency is higher. 3. Condition monitoring system with built-in sensors is constantly gathering data about the equipment status and enabling predictive maintenance. Core components in SpinDrive's drivetrain products are a magnetic bearing controller and a displacement sensor, which are the key parts of the AMB system. Magnetic bearing controller constructs of control and power electronics packaged in a compact embedded high-performance device. The controller measures machine operation using a displacement sensor up to 100 000 times in a second and sends suitable control commands to the magnetic bearing coils accordingly. Moreover, SpinDrive's technology provides easy integration with Internet of Things (IoT) services. Our product includes sensors and controller, which can integrate online equipment condition monitoring. The analyzed operational data will allow preventing customer's equipment breakdown and eliminate associated costs.
Available in
Eastern Europe, Northern Europe, Southern Europe, Western Europe,
Categories of application
Clean water and sanitation, Industry, innovation and infrastructure
Sector of application
Water treatment, Industrial processes
Status
Tested implementation
---