Contact information
About the company
Type
Startup or self-employed
Members type
innovator

Headquarters
Winston-Salem, NC 27105, USA
Company size
1
Founders
Ryan Gillespie
Founded
2018
SDG's
Affordable and clean energy
Industry, innovation and infrastructure
Sustainable cities and communities
Responsible consumption and production
Social

Website
sol-mobil.com
Alliance member
Sol Mobil LLC
---
An electric vehicle company, located in the USA, that manufactures custom solar charged electric bikes.
Sol Mobil LLC is a new company, founded in 2018, and located in North Carolina, USA, that is currently engaged in the sales, service, and customization of electric assist bicycles (e-bikes) and mobile solar recharging systems.
Our company's mission is to 1) enable as many humans as possible to experience the environmental, economical, physical health, safety, and mental health benefits that electric bikes can offer, 2) endeavor to keep all existing electric vehicles on the road for as long as possible, and 3) ensure that all electric vehicles are recharged in a responsible way (by solar or other renewable sources).
We manufacture our custom e-bike frames, individual to each customer, in the USA from high strength natural fiber composite materials including locally sourced bamboo, flax, and industrial hemp products.
Our frames offer similar weight to comparable high-performance aluminum e-bike frames, but with unmatched comfort, product longevity, and embodied carbon footprint.
Our line of natural fiber composite solar powered e-bikes will be available to the public (non-custom) starting in 2019-2020 on a limited basis.
Our bikes are "open source," meaning anyone worldwide can learn to understand and repair them, instead of the traditional industry model of OEM-specific replacement parts. These efforts and more ensures that our products are intended to last a lifetime, provide low-cost, off-grid, reliable transportation, and to generally enhance the overall quality of life and well being of the owner.
Look for team Sol Mobil when following the Sun Trip Tour 2019, a journey of over 1,200km of solar powered e-bikes through the Auvergne-Rhône-Alpes region of France, as well as Italy and Switzerland this coming July; the goal, that we share with the Solar Impulse team, is to promote the advancement of highly efficient solar powered transportation solutions through collaborative action, aggressive design solutions, and uncharted adventures.
Solar Powered E-Bikes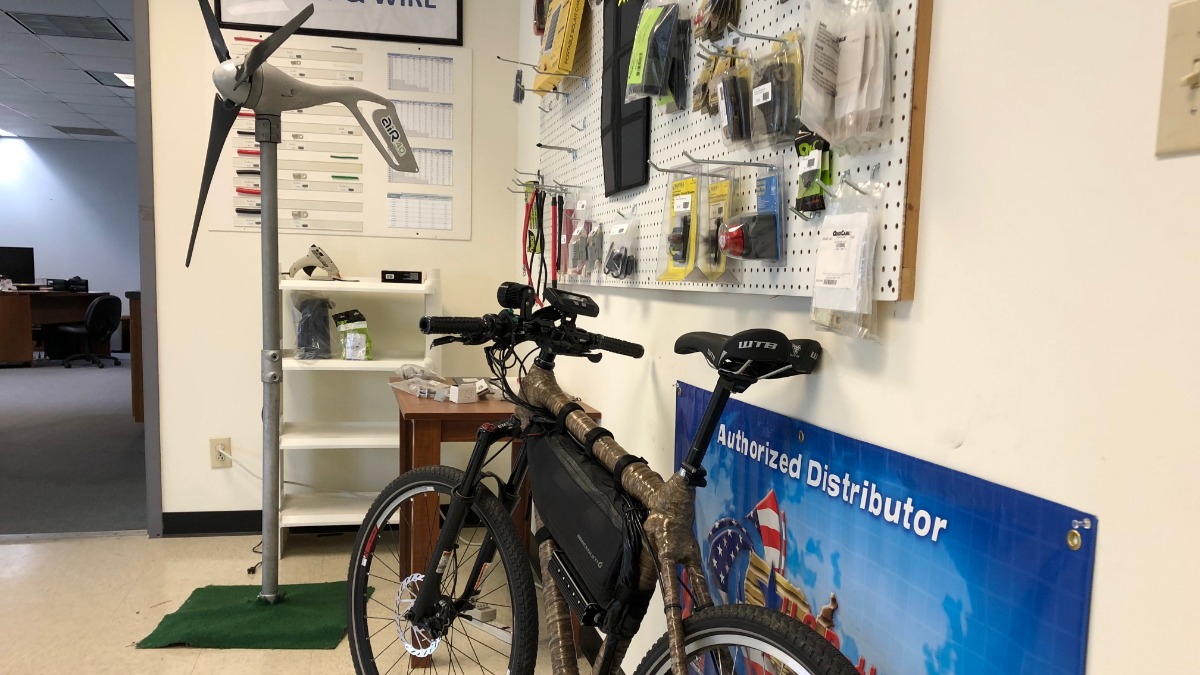 Description
Our custom electric bikes are capable of being recharged directly by off grid electricity sources such as solar or wind.
Our custom, in house line of electric bikes are built one at a time to suit the unique needs, tastes, and frame geometry of each individual customer. All of our custom vehicles are capable of being direct charged by solar energy, thanks to the inclusion of a highly efficient MPPT boost charge controller and integrated monocrystalline solar modules. These components interface perfectly with our 36v lithium battery system, which is sourced and manufactured to very strict standards by Grin Technologies in Vancouver, BC. When combined with our bike's powerful Crystalite 3548 direct drive hub motor, high-strength natural fiber composite frame sets, open source ESC speed controller, and top of the line components from companies like SRAM and WTB, it becomes apparent that while there may be several companies currently promoting a 'solar charged e-bike,' none come close to the quality level, reliability, and utility we provide. We are not necessarily engaged in the 'promotion' of our products, but rather, in the quiet, methodical, and persistent implementation of our technology on a local level, but with a worldwide conscience. Our bikes, when outfitted with the normal sized 240w solar array we offer, gives up to 85 miles of autonomy from solar alone, and up to 130 miles per day when solar and grid charging is combined.
Available in
Worldwide
Categories of application
Affordable and clean energy, Industry, innovation and infrastructure, Sustainable cities and communities, Responsible consumption and production
Sector of application
Clean energy production, Industrial processes, Urban and inter-urban mobility, Primary resources management
Status
Implemented
---