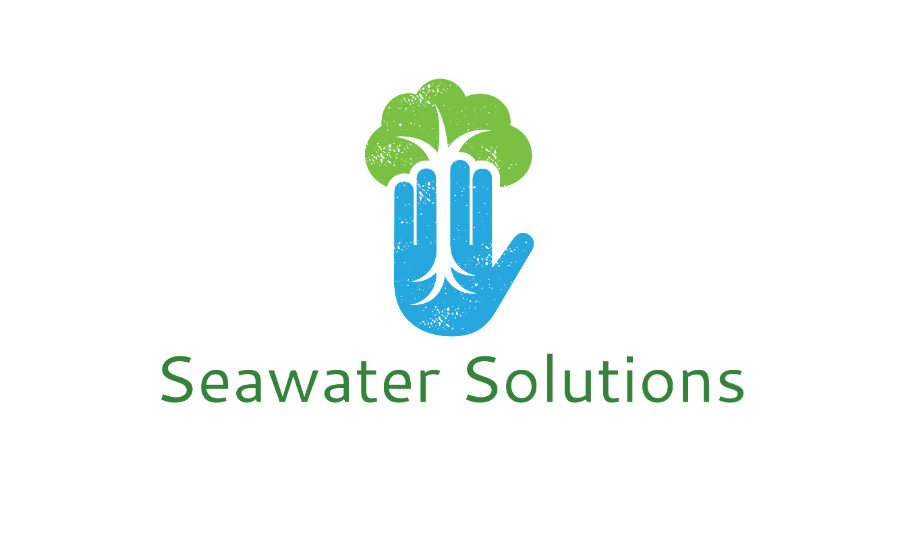 Contact information
About the company
Type
Startup or self-employed
Members type
innovator

Headquarters
Glasgow G1, UK
Company size
3
Founders
Yanik Nyberg
Founded
2018
SDG's
Responsible consumption and production
Website
seawatersolutions.org
Alliance member
Seawater Solutions
---
Seawater Solutions - Rethinking Farming through sustainable agricultural innovation and environmental promotion.
Revolutionising agriculture for climate change resilience. Seawater Solutions is an award-winning, agri-tech start-up, that champions climate resilience by rethinking farming and equipping farmers with systems that tackle the challenges of climate change. Our aim is to promote sustainable agricultural innovation, environmental promotion and rural development, whilst pursuing the sustainability development goals from the United Nations. We use naturally salt-tolerant crops native to saltmarsh ecosystems, also known as Halophytes, and specially-designed irrigation systems to create artificial saltmarsh ecosystems on degraded land. This allows farmers to produce high-value 'superfoods' for local or export markets. We offer our partner farmers a simple license where we redevelop their affected land, set-up our automated systems, and train them to grow crops using seawater. There is no cost to the farmer, and we then buy these crops from them for processing or sale to western markets. We offer three types of products, (a) high-value saline crops produced in partnership with farmers, (b) comprehensive seawater farming systems, which include everything from irrigation equipment to seeds and operational management, and (c) Integrated Seawater Aquaculture Systems (ISAS) which is a comprehensive bio-remediation system with biomass production that provides an alternate source of income, in addition to treating wastewater while negating the need for harmful chemicals in fish farming. Seawater Solutions offer partners: • High-value 'superfoods' (such as Samphire) for domestic and international markets • Increased incomes in a context of diminishing market returns • Increased yields and soil health • Support moving towards organic, no-tillage and regenerative farming practices • Promotion of wildlife through ecosystem restoration/creation • Defence of their coastlines from rising sea-levels • Significantly increased carbon capture potential of their land.
Comprehensive Seawater Farming Systems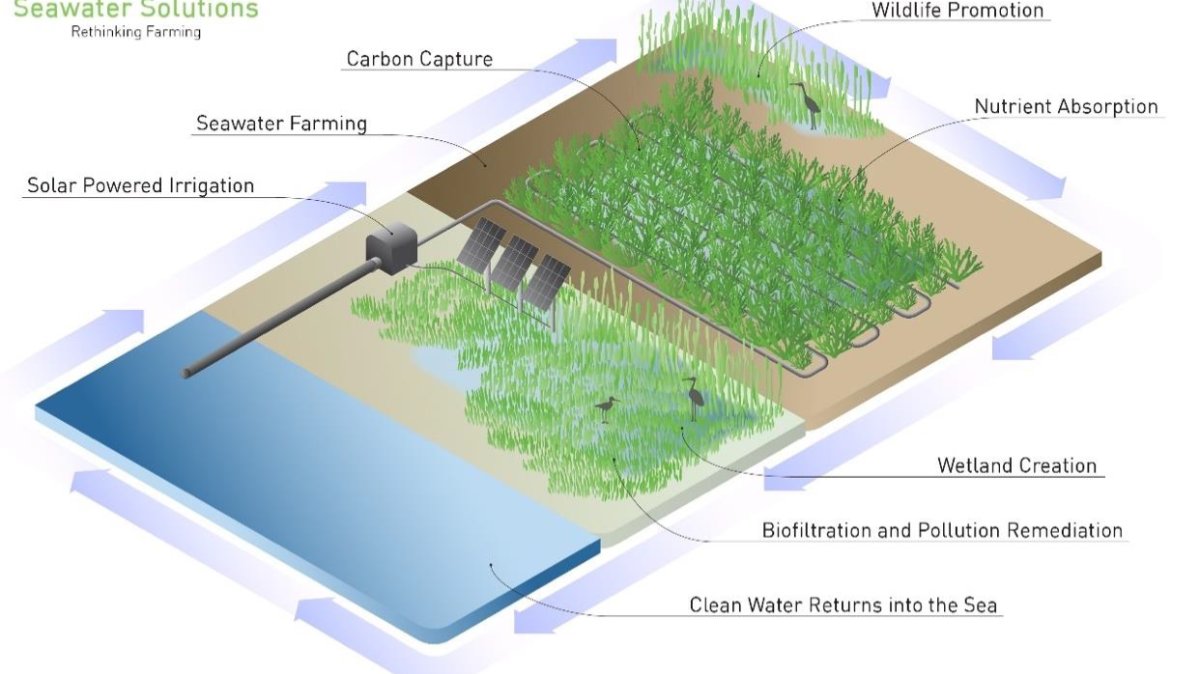 Description
Comprehensive Seawater Farming Systems
We have designed low-cost, automated, and renewable irrigation systems that can be easily installed in remote locations. They are able to deliver seawater, or saltwater, to the crops twice a day in ways that mimic the natural growth of saltmarsh plants. We also provide specialised seeds to farmers, depending on their needs. For example, we can provide species of shrubs for animal fodder, succulents for food or for oil production.
Available in
Worldwide
Status
Implemented
---
Aquaculture Bio-Remediation Systems
Description
Aquaculture Bio-Remediation Systems
Our aquaculture system uses salt-tolerant plants to filter out bio-waste from fish farming which minimises wastewater pollution of the environment, and increases the health of fish stocks. This wastewater fertilises the plants, which can then be used for food, fodder, or processed oils in cosmetic and pharmaceutical industries. Water from aquaculture fish ponds is diverted into artificial wetlands where halophytes are grown and water is remediated. Clean water then returns into the fish ponds. Floating beds on top of fish ponds act as natural habitats for fish and shellfish. These plants also act as fish feed, and research has shown that up to 40% of fish diets can be substituted by saline crops.
Available in
Worldwide
Categories of application
Responsible consumption and production
Sector of application
Agriculture and farming for food production
Status
Tested implementation
---