Contact information
About the company
Type
Startup or self-employed
Members type
innovator

Headquarters
5070 Frick, Schweiz
Company size
8
Founders
Alessandro Medici & Armand Martin
Founded
2015
SDG's
Website
https://www.power-blox.com
Alliance member
Power-Blox Ltd.
---
Power-Blox is an award-winning Swiss company who produces scalable off-grid systems for emerging & developed markets.
Power-Blox has developed a technology which, supported by an algorithm, allows to easily combine different energy sources and battery systems, without the need for configuration and centralized control, enabling an automated and decentralized power regulation. The system is self-learning, autonomous and self-regulating. The nearly endless scalability of the system represents a breakthrough in energy technology. It allows scalable growth based on increasing energy demands, without the need of modifying/replacing existing installations.
Power-Blox 200 Series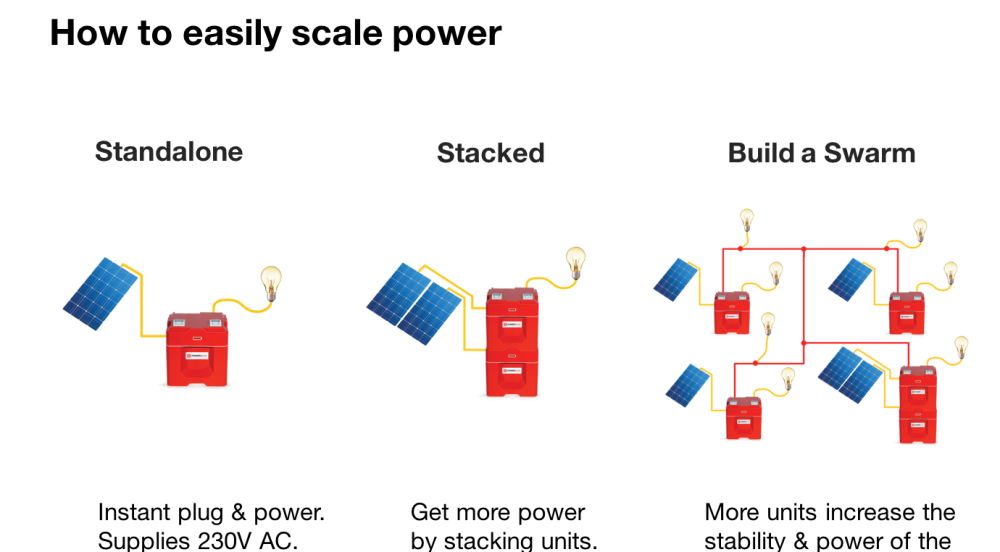 Description
The first decentralized and modular all-in-a-box energy system for generating, storing and distributing 230V AC-power.
The Power-Blox 200 series, the first solar energy system that was developed based on our swarm technology, is a revolutionary modular energy system producing AC power from 370W up to the higher Kilowatt range, which serves as a "portable socket" to off grid energy demands. ​ It is modular and has been specially designed for off grid situations, but can also be used as backup-power to bridge power-cuts of unreliable public grids. Units can be stacked and plugged together. They automatically build a private 230V AC power grid (mini-grid). Its modularity allows it to produce and easily scale electricity - similar to Lego building blocks, by incorporating additional units to the system as energy requirements increase. ​ ​If your power supply needs to be increased, cubes can be stacked to towers and/or walls to create a power grid. ​ Build your personal power station to supply whatever you want. From small business to big workstations, it grows with your demands.
---