Contact information
About the company
Type
Company
Members type
innovator

Headquarters
Montreal, QC H3B 4G7, Canada
Company size

Founders
Jean-Francois Audet, Jean Raymond, Philippe Sabat
Founded
2009
SDG's
Industry, innovation and infrastructure
Sustainable cities and communities
Social

Website
panterogroup.com
Alliance member
Pantero Group Inc.
---
We are developing the next generation of electric and smart urban buses, and particularly trambuses, and urban trucks.
Pantero is a design, engineering and research group specialized in advanced solutions for public transportation and urban commercial vehicles built on more than 10 years of various R&D efforts. At Pantero, we believe that the electrification of commercial vehicles should not be the end result, but the factor of change. There lies a fantastic opportunity to rethink vehicle architecture and to bring new concepts to the table. With existing buses and trucks, many needs are still unserved or underserved. Certain limitations persist today because of concepts defined more than 60 years ago… This is the perfect opportunity to introduce change and innovation. We are creating sustainable mobility solutions aiming of meeting the challenges of the world urbanization.
Next-Generation of Electric and Smart City Buses and Trambuses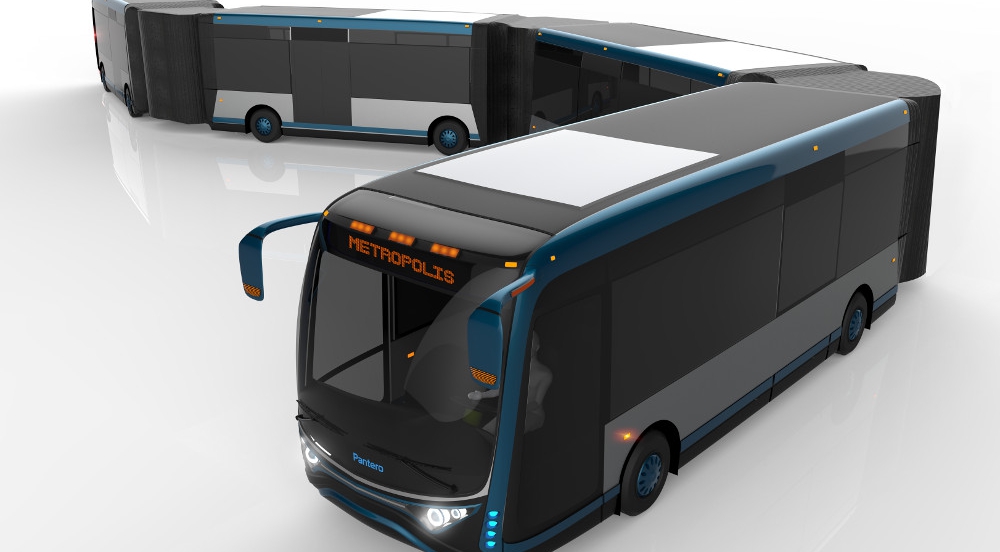 Description
Completely re-engineered city buses for better efficiency and quality of service and game-changing trambus concept
At the heart of the Pantero's project is a new vehicle platform for energy-efficient and lightweight city buses based on more than 20 years experience in bus and rail engineering. Simply, it is a new way to think and build mass transit vehicles. Based on this platform, we are developing a new electric city bus concept, 25% lighter, highly optimized in terms of usable space for passengers including persons with disabilities and reduced mobility, a vehicle much more maneuverable, safer and cost-effective. But we go further. This bus is itself the foundation of the Pantero's most innovative concept. We are developing a unique fully electric, long-range autonomy, 37m trambus with a 300-passenger capacity. Pantero's trambus will be highly maneuverable (all-wheel steerable with advanced smart driving technology) and single-track, perfectly adapted for dense urban zones. The Pantero trambus concept seeks to deliver a level of service and a user experience comparable to light rail solutions, with much more flexibility and without the constraints of rail infrastructure (and years of construction in a typically congested city centre). Project costs are therefore reduced by a factor of ten. The Pantero trambus will have in fact the best cost per passenger-kilometre of any existing mass transit transportation system. Its aim is to become the ideal solution for high-capacity BRT (bus rapid transit) services in all types of urban environments, all around the world. It is also the perfect complement as a feeder system to any existing urban rail backbone.
Categories of application
Sustainable cities and communities
Sector of application
Urban and inter-urban mobility
Status
R&D
---
Low-Floor Electric and Smart Urban Trucks
Description
Cleaner, smarter and more agile medium-duty trucks more adapted for urban operations.
Rather than developing buses from trucks components and platforms, why not following the reverse path… Our new and unique vehicle platform is also a basis for a game-changing concept of an electric urban truck characterized by a low-floor architecture. Pantero is working on the development of a class 5/6 walk-in delivery truck with an exceptional maneuverability (all-wheel steerable) for dense urban zones, having very large side doors on both sides (thanks to our structural floor lowering the constraints on the body construction) with a low-floor architecture for easy unloading at sidewalk level. The vehicle is also integrating advanced driver assistance systems for maximal safety and maneuverability. The idea is essentially to make large delivery trucks more adapted to the urban environment and much more productive in distributing large truckload into a large quantity of small deliveries across the city.
Categories of application
Industry, innovation and infrastructure
Sector of application
Freight transportation
Status
R&D
---