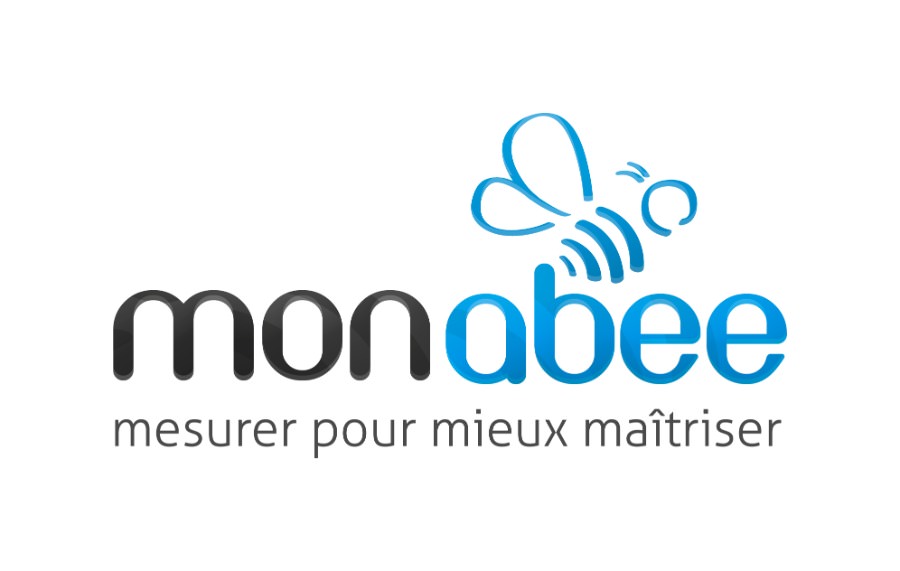 Contact information
About the company
Type
Company
Members type
innovator

Headquarters
69570 Dardilly, France
Company size
35
Founders
Clara Trevisiol, Vianney Fichet
Founded
2012
SDG's
Affordable and clean energy
Sustainable cities and communities
Website
monabee.fr
Alliance member
Monabee
---
Monabee accompanies individuals and professionals towards the control of energies thanks to innovative solutions, entirely made in France!
Monabee is a 100% French solution to optimize energy consumption with unique expertise in the photovoltaic sector.
Our DNA: energy savings and the transition through solar self-consumption.
Our core business is the development of connected equipment in addition to software solutions to meet the needs of individuals and professionals in controlling their energy consumption. We know how to secure the production of solar energy, support and realize each project in photovoltaic self-consumption, automate and optimize the electrical flows to better consume them. Monabee is also and above all a 100% independent company, driven by our daily commitment to green growth.

Optimee'z: hardware and software solution for controlling energy-intensive equipment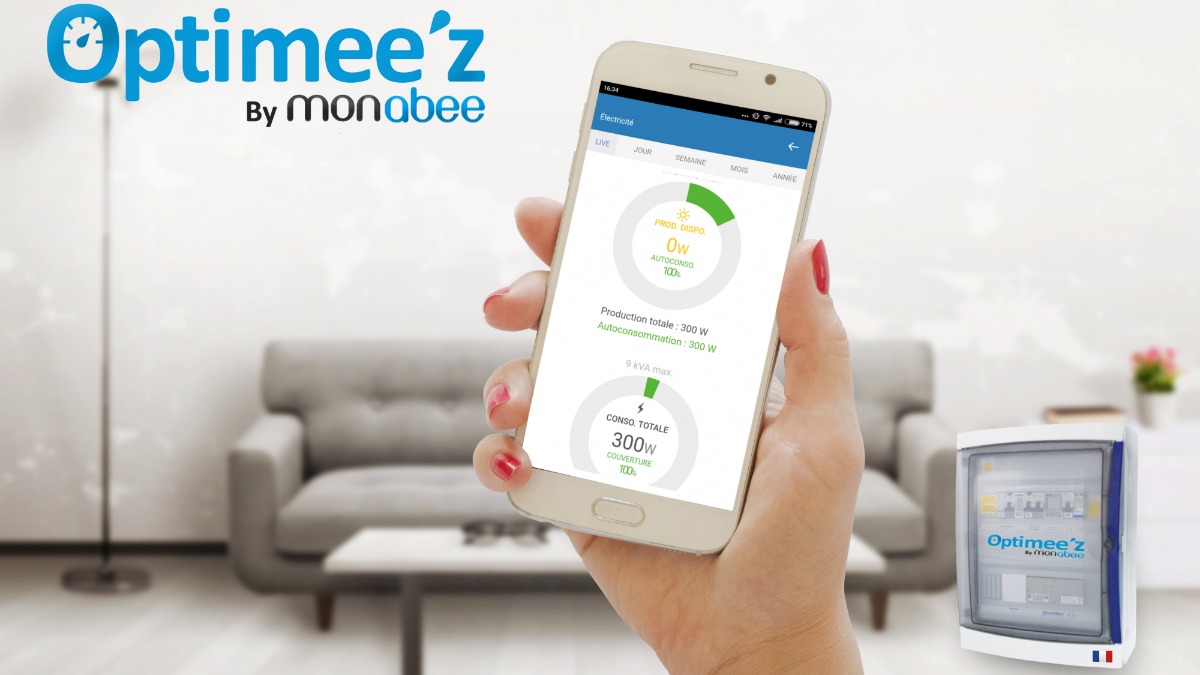 Description
The Optimee'z box is dedicated to photovoltaic self-consumption and optimizes solar production.
An AC protection box is essential to protect a photovoltaic installation, from lightning for example. The Optimee'z box incorporates the AC protections, ie a circuit breaker and a surge arrester. Connected to the equipment of the house, the Optimee'z box integrates a control automaton. The control makes it possible to use the energy available in real time to trigger energy consuming equipment, such as a hot water tank, heating, pool pump or air conditioning. What to use the maximum electricity produced. The Monabee web interface and mobile application allow you to view production and consumption in real time. They are included with the box and accessible from a PC, tablet or smartphone (Android and IOS). A way to control that everything works and to be able to act durably on its consumptions. With Optimee'z, the user can consume up to 80% of its solar output and sell the surplus on the network. With steering and adopting the right reflexes, he can significantly reduce his energy dependence. The goal: buy less and produce more!
Available in
France,
Categories of application
Affordable and clean energy
Sector of application
Clean energy production, Energy distribution & management
Status
Implemented
---
Nanobee: better consume energy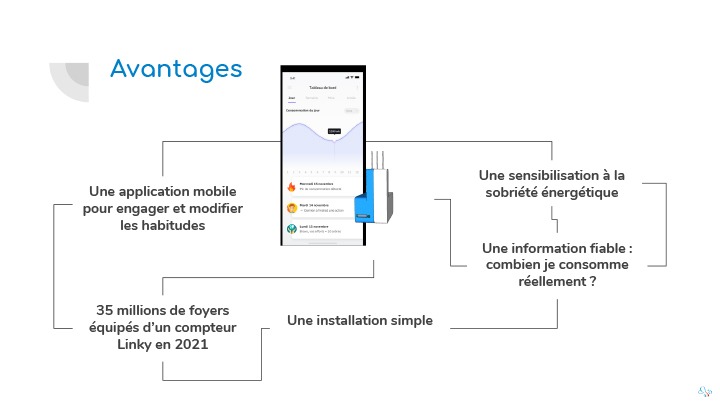 Description
Monabee wants to make human consumption data for individuals and solve precariousness.
In 2018, more than 7 million French households are in a situation of fuel poverty. 30% of households restrict themselves to heating. With this in mind, Monabee, the specialist in the measurement of energy consumption, addresses a hardware and software solution that puts the user at the center of the reflection: How do I live my energy? How do I perceive my consumption and my expenses? I act ! Nanobee is a connected device (ERL) that is manually installed in the Linky meter. The start-up time and availability of the first power consumption data is 5 minutes. A mobile application designed around the human: the user configures his profile according to dimensions that personalize his experience. He can invite members of his household directly from the app (mail, sms ...). The data is accessible to all members of the household at any time. Engaging features: comparison to similar homes, groups of friends ... etc. Daily data accessible to everyone: Each data is processed graphically or symbolically so that everyone understands it instantly. Consumption information is displayed in Euros and Kilowatt hours. Raising awareness of over-consumption: Most consumers are not warned when their consumption is high or beyond their usual average. This affects their bills. Showing a peak in consumption is an effective way to attract attention and awareness. A peak of consumption or an abnormally high average indicates a problem that needs to be solved: change a fuel-consuming device, change a behavior ... etc.
Available in
France,
Categories of application
Affordable and clean energy, Sustainable cities and communities
Sector of application
Energy distribution & management, Building and shelters
Status
Tested implementation
---