Contact information
About the company
Type
Startup or self-employed
Members type
innovator

Headquarters
New Delhi, Delhi 110092, India
Company size
6
Founders
Akshay Makar
Founded
2018
SDG's
Affordable and clean energy
Documents

Website
www.climatenza.in
Alliance member
CLIMATENZA
---
Provides Next-generation Solar thermal Technology ideal for thermal heating and Cooling Applications
CLIMATENZA is an Indo-Chilean based solar thermal company that develops and applies solar CSP technology to generate high-value energy for industrial applications directly from the sun.
CLIMATENZA promotes, supplies and supports Concentrated Solar Thermal (CST) technology for the development of cost-competitive, highly efficient and low-medium temperature industrial process heat systems.
Our core technology is the Parabolic trough solar thermal concentrator and its complementary technologies.
Our vision is to accelerate the deployment of concentrated solar thermal technology.
We aim to mass-manufacture solar thermal concentrators to decrease the cost of fabrication of Solar thermal plants. These technologies can be deployed in stand-alone or industrial-integrated solar thermal projects, with or without storage, or hybridised with gas, oil or other fuels to deliver cost-competitive dispatchable power generation systems. They may also be deployed to provide thermal energy for a diverse range of low-medium temperatures industrial processes such as for processes in food processing Industry, Textile Industries, Chemical and Pharma industry, for desalination, enhanced oil recovery, minerals processing, the production of hydrogen and solar enhanced fuels.
CLIMATENZA Solar Thermal Technology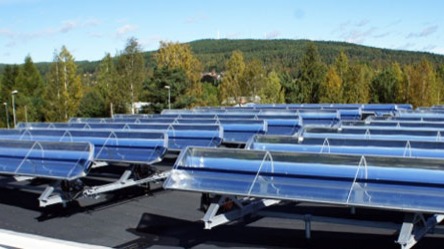 Description
Parabolic Trough Solar thermal concentrator for Industrial and Commercial applications.
CLIMATENZA's solar thermal collectors are small-scale parabolic collectors that have the highest efficiency of 76.6% in the world ideal for providing steam up to 200 degree Celsius and can also be implemented on the rooftop. Our T160 technology has been tested according to the standards EN 12975-1:2010 and ISO 9806:2017
Available in
Chile, India,
Categories of application
Affordable and clean energy
Sector of application
Clean energy production
Status
Implemented
---