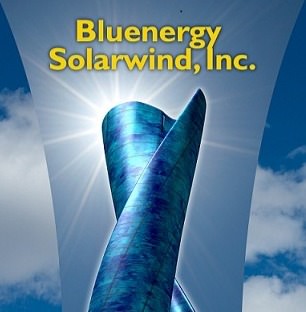 Contact information
About the company
Type
Company
Members type
innovator

Headquarters
Denver, CO 80202, USA
Company size
9
Founders
Joel Goldblatt
Founded
2006
SDG's
Affordable and clean energy
Sustainable cities and communities
Responsible consumption and production
Website
bluenergyusa.com
Alliance member
Bluenergy Solarwind Inc
---
The world's first Solarwind (R) Turbine
For Architects, designers and homeowners, the new Bluenergy Solarwind™ Turbine delivers the optimal blend of quiet, clean, renewable energy in urban or rural settings.
Description
The Solarwind(R) Turbine is a unique integration of both solar and a compact vertical-axis hybrid wind turbine.
Quadruples the output beyond traditional solar PV and wind turbines, in an 18-foot diameter circle using the vertical airspace, with silent, aesthetic power production and energy storage for both on-grid and off-grid innovative applications. Integrates well with many of your current Efficient Solution products; goes where other power solutions cannot go.
Categories of application
Affordable and clean energy, Sustainable cities and communities, Responsible consumption and production
Sector of application
Clean energy production, Energy distribution & management, Communities infrastructures, Agriculture and farming for food production, Primary resources management
Status
Concept
---