02
Klaxit is a French carpooling app focused on commuting, aiming to offer a clean, sustainable, affordable and reliable mobility for all.
More than 325 000 daily rides are processed through the KLAXIT platform. Three ingredients constitute the solution: (i) a cutting-edge mobile app designed specifically for daily carpooling, (ii) an innovative methodology, based on change management, to create carpooling networks within companies, (iii) partnerships with local authorities to expand their public transport networks. Thanks to the development of a multimodal and intermodal API, KLAXIT can be integrated to the local public transport application (i.e. RATP). KLAXIT offers a sustainable alternative to the personal car, reduces the number of cars on the road, and all the negative effects they cause.
03
Key features
•

Total CO2 emissions savings will reach 3 million kg in 2019 (0.15kg CO2 per kg).

•

Partnerships with local authorities to expand the public transport network.
04
Profitability
•

Saves up to 120 EUR per month for the user.
05
Categories of Application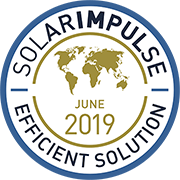 Company Profile

By
Klaxit
Headquarters
75002 Paris, France
SDG's of Application
Maturity Stage
Medium and large scale commercialization
Small scale commercialization
Initial market commercialization
Prototype testing in the real world
Prototype testing 1:1 in the lab
Looking For
Networking Partner
Via iD


With offices in Europe, USA and Asia, Via ID is a business accelerator that supports in the long term startups and projects related to new modes of mobility: daily, smart, sustainable.
The information set out above, is solely for the purposes of information and the Solar Impulse Foundation does not provide any guarantee as to its authenticity, completeness or accuracy. This information does not constitute investment advice or a recommendation to buy into, transact or to enter into any agreement with any of the parties or persons mentioned above. Potential investors or interested parties are solely responsible for their investment or business decisions and for performing any due diligence required by the circumstances.