World Environment Day: solutions to air pollution exist
This year's World Environment Day is dedicated to one of the world's most pressing issue: air pollution.
One morning in March 2015, Parisians woke up to a mysterious scene: the Eiffel Tower had vanished…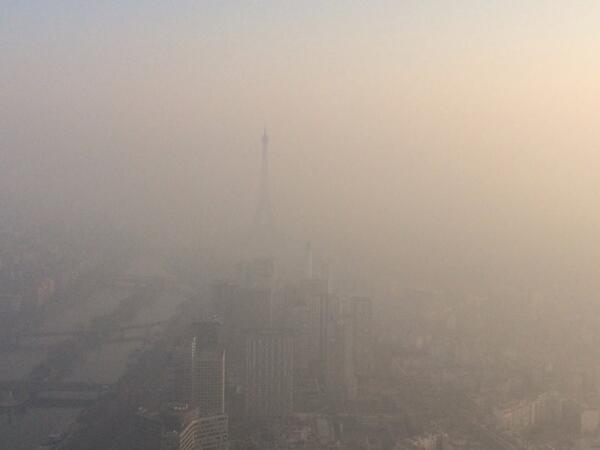 Actually, the emblematic iron tower was hidden by a thick smog which hit the French capital for 10 days. And the problem has repeated frequently since then, with air pollution often exceeding hazardous levels. In 2018, London also suffered a major air pollution episode. Its Mayor, Sadiq Khan, even declared air pollution "a matter of life and death". Just like Paris or London, almost every major city in the world now suffers air pollution crisis regularly (see the list of most polluted cities 2018).
The Mayor of London's warning is by no means an exaggeration. In a 2018 study, the World Health Organization (WHO) revealed that 7 million people die every year because of ambient (outdoor) and household air pollution. According to the same study, 91% of the world's population lives in places where air quality exceeds safe limits.
The consequences of exposure to dangerous levels of air pollution are now well-known: "polluted air penetrates deep into the lungs and cardiovascular system, causing diseases including stroke, heart disease, lung cancer, chronic obstructive pulmonary diseases and respiratory infections, including pneumonia" indicates the WHO. But the causes of air pollution are equally well-known: indoor burning of fossil fuels is the main source of household air pollution while agriculture, industry, transport, and waste are the main sources of ambient air pollution.
As this year's World Environment Day is dedicated to the issue of air pollution, UN Environment has put in place a global awareness campaign - the Mask challenge - and hundreds of events are organized around the world to inform citizens on concrete steps to fight air pollution. The global rallying cry? "Together we can #BeatAirPollution".
But thanks to technology, entrepreneurs are increasingly turning this major problem into opportunities. From a machinery to turn landfill gas into energy, a device to help drivers save fuel, or air pollution sensors… Here is an overview of Solar Impulse Efficient Solutions which have decided to tackle air pollution, in one way or another:
Monitoring air pollution
Ambee
Developed in Bengaluru, this air pollution monitoring solution aims to deploy a minimum of physical sensors in cities and instead build virtual sensors by using machine learning and data science models. To predict ambient air pollution at street level, Ambee uses data from the 100 sensors installed in Bengaluru, combined with weather patterns, traffic data, ratio of diesel to petrol vehicles and also contextual data to build its models.
Hawa Dawa
The problem of air pollution monitoring is often due to the exorbitant price of air quality sensors. Karim Tarraf co-founded Hawa Dawa to build low-cost air quality sensor units which can be deployed as an IoT network. The startup then analyses the data in-house and provides an accurate heatmap of pollution and a sophisticated API that allows city officials to identify pollution hotspots and take action to improve air quality.
Transport
WeNow
This French startup was developed to answer a simple question: while the world struggles to electrify its vehicles (which still represent less than 1% of the market), how can we reduce the impact of existing combustion engines? Eco-driving might be an answer.
WeNow is a small device connected to cars and linked to an app that analyses a driver's behaviour, measures the vehicle's carbon emissions and coaches the driver accordingly to save fuel and emit less.
K-Ryole
While development of public transport is helping get people out of their individual cars, this is not an option of the billions of parcel delivered across cities each year, neither are bicycles. But K-Ryole invented an technology which could free city centers from trucks, avoiding pollution emissions as well as congestion and noise. This smart electric trailer has an embedded sensor, which accelerates when the cyclist pedals and decelerates when the cyclist brakes. As a result, K-Ryole users can carry a up to 250kg without feeling any weight behind them.
Waste Management
Wagabox
Landfills contribute enormously to air pollution. Indeed, open waste burning and organic waste decomposition release harmful pollutants into the atmosphere such as dioxins, furans, methane, and fine particulate matter like black carbon. This issue is even more absurd knowing that waste can be a useful resource to create energy.
Wagabox is a basketball-size plant which upgrades landfill gas into pure biomethane compliant with grid injection requirements. Biogas from the waste of 100,000 inhabitants can supply 3000 households, thus avoiding 4000 tons of CO2eq per year.
Doing your part
Fighting air pollution is not only good for people's health, productivity, and well-being, it is also essential to reduce greenhouse gas emissions and fight climate change. While technologies will be crucial to help us achieve clean air worldwide, everyone can also take part. Whether you're a business manager, government or city official, university or individual, World Environment Day has set up a clear guide of actions to #BeatAirPollution.