1000 Solutions — August 13, 2018
Lactips, a biodegradable alternative to plastic
The story behind Lactips is first and foremost about the encounter of two different worlds and two complementary people. Frédéric Prochazka, a researcher at the Faculty of Science and Technology of the Université Jean Monnet, in Saint-Etienne (France), had developed a breakthrough material: water soluble and biodegradable thermoplastic pellets based on milk protein. But it only when he met Marie-Hélène Gramatikoff, former engineer and strategy consultant, that Lactips was born, in 2014. "His discovery is certainly one of the most biodegradable plastic ever made. I was quite fascinated" recalls Marie-Hélène from their encounter. "We decided to build a company together", even though she had left the plastic industry years before.
Lactips uses a milk protein, casein, which is unused and mostly wasted by the food industry, to make thermoplastic pellets which can then be turned into plastic. This solution is both completely biodegradable and hydrosoluble, which means it dissolutes in both hot and cold water with no residues, making it a much cleaner alternative to oil-based plastics. "This new type of material offers countless industrial possibilities. It is a revolution in the plastics industry" says Marie-Hélène. For now, Lactips has found a first market with packaging of detergent products such as dishwasher tablets and detergent pods, but it could have many more uses in the upcoming years. Lactips could prove to be a great solution to replace tiny beads of microplastics used in exfoliant scrubs and toothpastes, which end up in the sea and in our food chain, according the "Beat the Microbead" campaign. Eventually, Lactips could enter the food industry by offering an alternative to many plastic food packagings.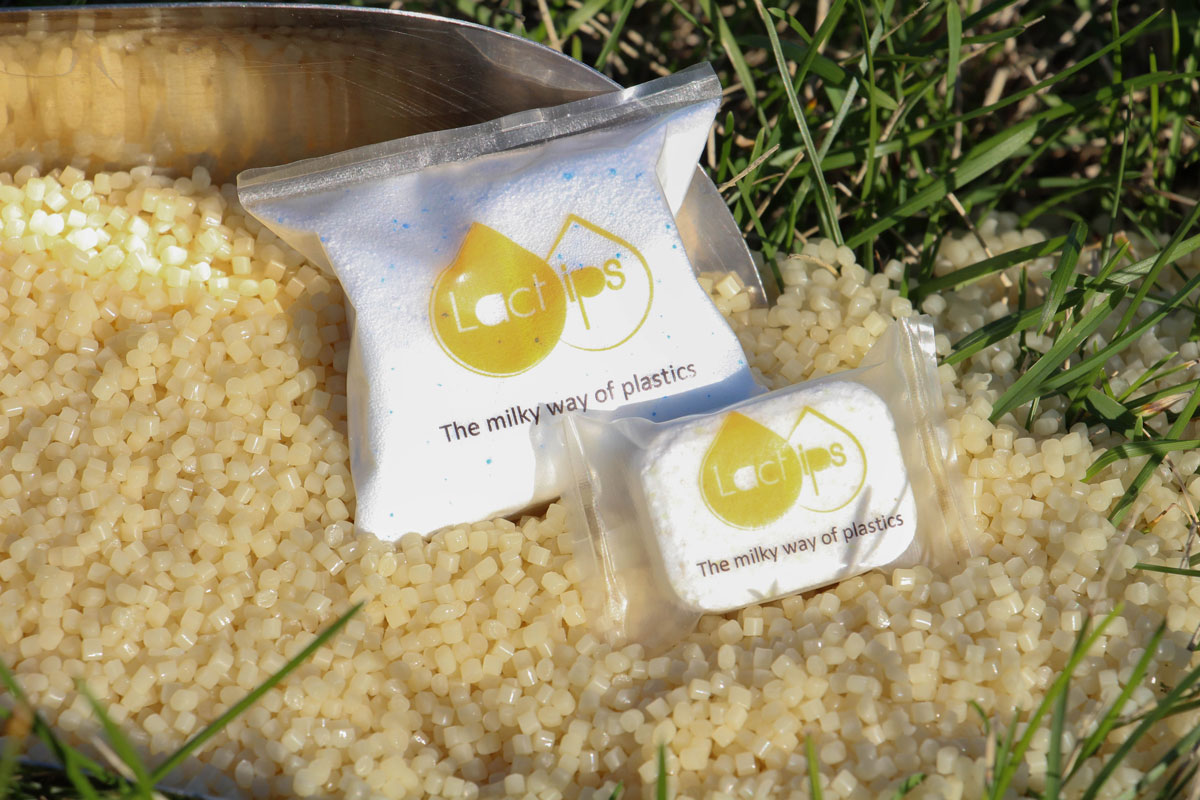 Recently, the company has gained major attention from industrials and investors. In July 2018, it announced a new fundraise of €3.7M signed by Demeter Partners, BASF Venture Capital, BNP Paribas Development, and Crédit Agricole Loire Haute-Loire Capital Innovation. This new funding round aims at accelerating the company's development by investing in the industrialisation, commercialisation and development of their product, as well as recruiting new talents.

Lactips, who was one of the first companies to receive the Solar Impulse Efficient Solution Label, was a no brainer for the experts who made their assessment.
Do you have a solution to tackle plastic pollution? Submit it now to receive the Solar Impulse Efficient Solution Label and show the world that you are clean, efficient and profitable.
Want to know more about Lactips? Check their website.