Climate Nugget — February 07, 2019
It's time for fashion to set bold environmental goals
The industry is being pointed out as one of the main sources of pollution in the World. Materials, processes, a changing and non-traceable value chain, added to our own consumption behaviour are at the origin of a massive problem.
Bold sustainability goals have to be set in order to transform the industry. Things are already starting to move and the first industry-scale roadmaps to reach those goals are on the works.
Why is Fashion polluting?
Firs of all because of our production and consumption behaviours.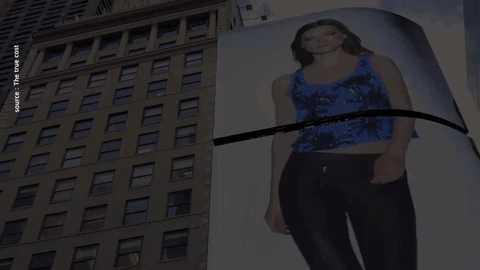 In the past decades, garments have become a disposable item in our closets: the quality of the clothes we buy has decreased, we have lost the skills and we lack the time to mend damaged garments and brands have convinced us of the need to buy into new trends every season.

In the past 30 years, "Fast Fashion", inexpensive clothing produced rapidly by mass retailers such as H&M and Zara, has transformed the whole industry. It has given us the possibility to buy often new clothes for cheap, but it has also influenced the rest of the fashion brands, forcing them to adapt to keep up with the new industry speed.

More recently, a new trend has taken-over the industry: online shopping and free-returns.
The possibility of buying lots of clothes and return them without hassle or additional cost has been widely adopted by consumers. Nevertheless, brands' value chains are not fully prepared to cope with this incoming flow of products, which often end up being thrown away. According to a recent study, in the USA, 40% of all online clothing purchases are returned.
It is difficult to evaluate the environmental cost of returning clothes, but we can deduce the cost is significant. In the USA, transportation overtook power plants as the main producer of carbon dioxide emissions. A quarter of this footprint comes from trucks doing last-mile deliveries, while before they just needed to deliver to one main location (a mall, shopping center, etc).
But things are changing. The incident of Rana Plaza factory collapse, which killed 1,138 people and injured many more in 2013, was a pivotal moment for the fashion industry, sparkling a social movement encouraging millions of people to ask brands #whomademyclothes and demand greater transparency in the fashion supply chain.
Transparency is requested both for the human cost and the sustainable footprint of the items we buy. Google searches for the term "sustainable fashion brands" increased by 25 percent from 2017 to 2018. Documentaries such as "The true cost" (2015) have had a great impact in generating consumer awareness.
Mentions of "sustainable fashion brands" in fashion media have increased by 83% in between 2017 and 2018, and up to 267% from 2016, according to a recent report by Rank and Style.
Socially-conscious shoppers are choosing to buy from independent and sustainable brands they find online or through dedicated platforms like Etsy.
Peer-to-peer clothing rental platforms, such as Rent the Runway, Village Luxe, and Designerex, have emerged and strive. This trend is also influencing the luxury market : in 2018 there was a rise of the luxury rental and resale market. Resale platforms such as The Real Real, an online platform for luxury consignment in the USA, allow consumers to consume less (by reusing products) while being able to renew their wardrobe.
Nevertheless, waste remains a big problem. Our current consumption model generates one garbage truck of textiles every second, according to the Ellen McArthur Foundation. While the Copenhagen Fashion Summit found that fashion is responsible for 92 million tons of solid waste dumped in landfills each year.
But the future is not all gloom, brands are transforming their value chains and governments are setting up funds in order to push for a clean and circular fashion industry.
The Materials we use to make our clothes, are another cause of pollution from this industry.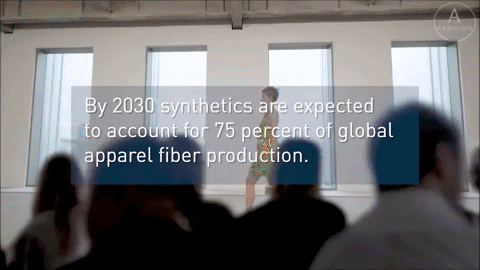 Another problem in the industry is connected to the materials we use to make the garments:

Polyester is one of the most popular materials used to make our clothing.
In the past 20 years, demand for synthetic materials has grown faster than demand for organic ones such as cotton, wool, linen and other fibers. The trend is not slowing down: by 2030 synthetics are expected to account for 75 percent of global apparel fiber production.
Price is the main reason behind the use of synthetics: brands need to use materials that have a natural feeling for a price consumers are ready to spend. A polyester and cotton blend is cheaper than cotton and most of us find the feeling very similar to organic fibers.
The problem? When polyester clothes are washed, they shed microfibers, which are so tiny they pass through sewage and wastewater treatment plants, ending up in water streams and oceans. These materials enter the food value chain endangering aquatic life, while their full impact on humans is not well determined yet.
Solutions to the synthetic fabrics polluting-microfibers are being explored. For example, Textile Mission is a study sponsored by textile brands and Germany's Federal Ministry of Education and Research, aiming to reduce the micro-plastic particles release.
In the meantime, brands such as H&M and Inditex (Zara) have increased their use of organic cotton (which still remains only less than 1% of the World's annual cotton crop consumption).
Another option in order to be more sustainable, is to reduce the use of virgin resources and replace them with recycled ones. For example, Patagonia is the first outdoor apparel company making polyester fleece out of plastic bottles. Last year they also reduced their t-shirt offer to only two options: 100% organic cotton, and a blend of recycled cotton and recycled polyester.
Other big brands are also adapting their production models. Nike, H&M, Burberry, and Gap have all recently signed up to the Make Fashion Circular initiative.
The extensive use of chemicals is also a big reason explaining the pollution generated by the fashion industry.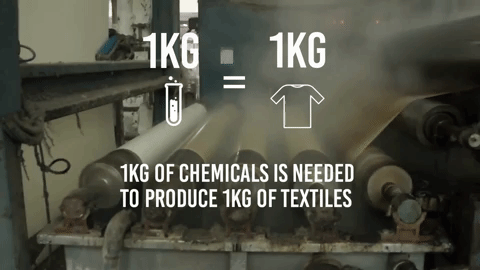 1kg of chemicals is needed to produce 1kg of textiles.
Toxic chemicals are used throughout the garment value chain. They are used for growing cotton crops, but also during fiber production, dyeing, bleaching, and wet processing of each piece of clothing.
Last but not least : fashion is heavy on CO2 emissions.
According to a 2018 study, combined, the global apparel and footwear industries account for an estimated 8% of the World´s greenhouse gas emissions.

Last but not least, fashion is a source of water contamination and massive consumption.
Cotton and organic cotton crops require lots of water to grow and are usually cultivated in dry and hot regions. Fresh water is also intensively used for the dyeing and finishing process of fabric.
Fertilizers used in cotton agriculture end up contaminating the lands, and, in countries where environmental regulations are less strict, huge amounts of wastewater, contaminated by toxic chemicals, are dumped into the rivers.
But things are starting to change. Pulled by consumer demand, brands, designers, logistic companies, NGOs and governments are massively joining the sustainability movement to transform the industry and reduce their environmental footprint.
During the last UN Climate Summit in Katowice (COP24) in December 2018, leading fashion and textile brands pledged to work together with the UNFCCC, to reduce their greenhouse-gas emissions by 30% by 2030 by signing the Fashion Industry Charter for Climate Action.

In addition to cutting their greenhouse-gas emissions, signatories have also committed to using low-impact materials, as well as quantifying, tracking, and publicly reporting their emissions. the fashion industry is realizing that reducing its impact is a necessity, not an option.
Cities & governments are pushing for a clean fashion industry as well. For example, in January 2019, Paris announced its intention to become the "Sustainable Capital of Fashion" by 2024 (year of the Paris Olympic Games). The project is named "Paris Good Fashion", and will gather government and fashion industry stakeholders working together to establish a roadmap to make Paris the sustainable capital of fashion.
What can consumers do ?
2019 might be the year scaling transformation to the whole fashion industry. But, in the meantime, what can you do as a consumer in order to reduce your sustainable footprint and reward sustainable brands?
First - be an informed customer :
Choose organic fibers

Choose sustainable brands

Wash new clothes before using them for the first time

Look for garments with certification label controlling chemical content such as OEKO-TEX®, GOTS, or BLUESIGN®.

Second - when buying online:
Know your size

Group your packages

Buy fewer clothes

Third - when washing polyester products:
Wash less

Fill up your washing machine to the max: washing a full load results in less friction between the clothes and, therefore, less fibers are released.

Use washing liquid instead of powder: the 'scrub' function of the grains of the powder result in loosening the fibers of clothes more than with liquid.

Avoid using detergents with a high pH and oxidizing agents

Wash at a low temperature: when clothes are washed at a high temperature some fabrics are damaged, leading to the release of fibers.

Avoid long washings: long periods of washing cause more friction between fabrics, which supposes more tearing of the fibers.

Dry spin clothes at low revs: higher revolutions increase the friction between the clothes, resulting in higher chances of fibers loosening.

When cleaning the dryer, do not flush the lint down the drain, throw it in the bin

Avoid buying synthetic clothes and look for wool, cotton, linen, silk, cashmere or other natural fabrics.

If you are a sustainable and profitable solution addressing fashion pollution, apply for the Solar Impulse efficient solution label here.