1000 Solutions — November 15, 2019
ClimateSeed, a platform for carbon-offsetting
An easy, transparent way for companies to compensate carbon emissions.
While reduction of our carbon emissions is imperative in order to meet the Paris Agreement and limit global warming to 1.5°C, there are a number of sectors in which carbon emissions are simply unavoidable. In order to achieve carbon-neutrality by 2050, a solution exists: carbon offsetting.
Carbon offsetting is a scheme to allow individuals and companies to compensate their carbon impact by buying carbon credits. "A tonne of carbon is said to be "offset" when its emitter has provided sine qua non support to the capture, storage or avoidance of emission of one tonne of carbon, generally by financing an external program which creates / maintains carbon sinks or avoids carbon emissions that would have taken place otherwise", explains Séverin Fischer, former Head of Environment at BNP Paribas and Founder of One Earth Consulting.
ClimateSeed is a digital platform for voluntary carbon offsetting that connects companies with sustainable projects that capture or avoid carbon emissions. It provides a simple, transparent, and secure solution for organisations to take climate action for the unavoidable greenhouse gas emissions of their business activity, products and services, investment portfolios, buildings, trips and events.
The platform was launched by BNP Paribas in November 2018 at the Global Social Business Summit with Nobel Peace prize laureate Prof. Yunus, following his principles - reinvesting 100% of their profits to maximise positive environmental and social impacts. Since its creation, the platform has grown rapidly and has recently won a gold "Social, Sustainable & Responsible Banking" award.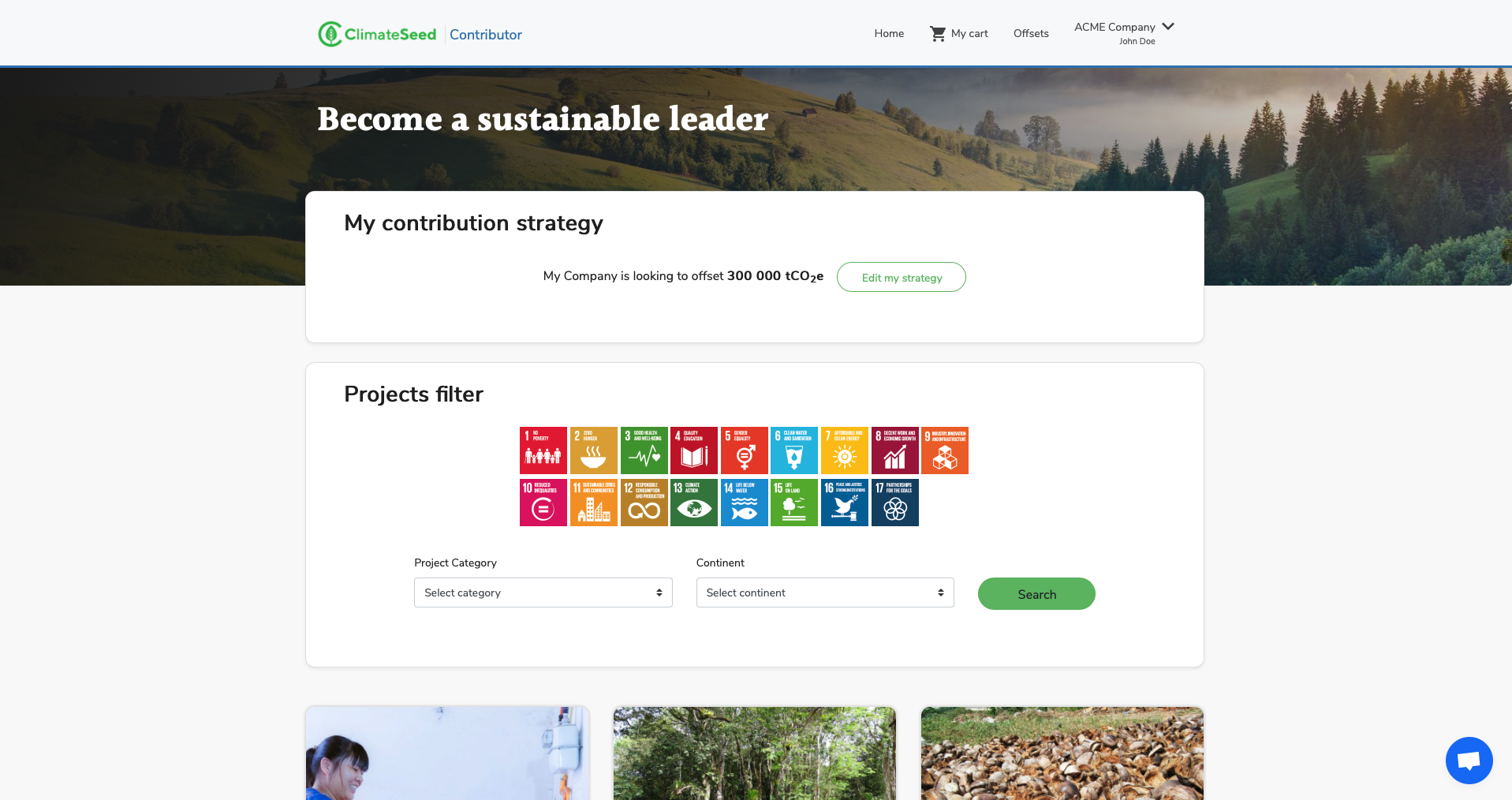 In recent years, many platforms for voluntary carbon offsetting have been created, as environmental consciousness has surged. ClimateSeed centralises this current fragmented voluntary carbon market in a transparent and innovative way. An important aspect of the platform is to assess each offset project through a robust due diligence, with an aim to improve the transparency, security, and efficiency of the voluntary carbon market.
Today, the platform hosts 28 projects which preserve the planet and contribute to the Sustainable Development Goals (SDG) set by the UN, in 20 countries around the world, representing a total of over 5 million tonnes of CO2e avoided or captured - the equivalent of the energy use of 600,000 homes for one year. Through ClimateSeed, organisations can support a wide variety of programmes such as household device replacement in Honduras, renewable power infrastructure in Brazil, or sustainable forestry practice in Congo. The price of the carbon credits is defined by project developers.
Want to offset your emissions? Check the platform here