Upcoming Events
Effective Storytelling Webinar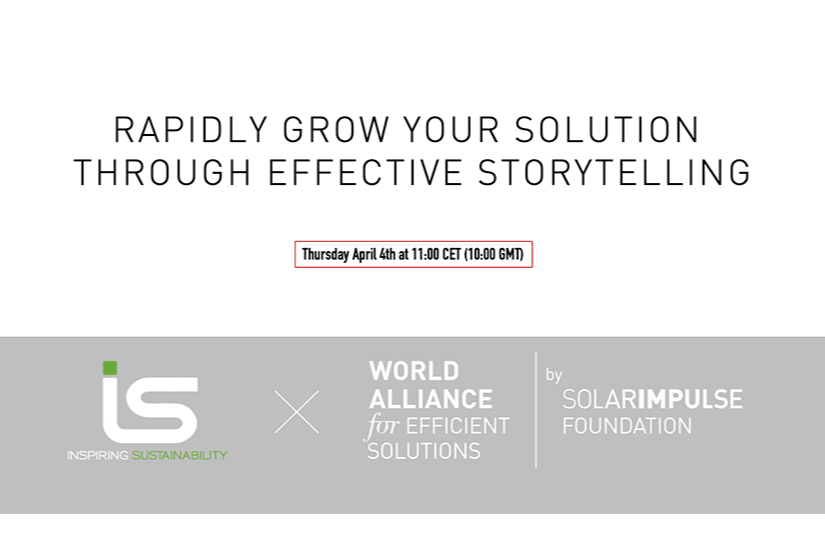 Rapidly grow your solution through effective storytelling, presented by Adam Woodhall from Inspiring Sustainability & the Solar Impulse Foundation
You've done the hard work, you've created a sustainable innovation with huge potential… but have you got the story, the pitch, the narrative that will get people to buy in?
As the world deals with multiple environmental issues, it's clear that becoming sustainable means adopting new ideas. That's why storytelling skills are now critical for everyone trying to make that change happen and grow their impact business.
Join Adam Woodhall from Inspiring Sustainability, for an introduction to storytelling for sustainable start-ups and scale-ups on Thursday April 4th at 11:00 CET (10:00 GMT) for 45 minutes
You will learn how creating a compelling business story will convince key audiences leading you to:
Gain more customers
Win investment and funding
Increase the impact of your sustainable solution
We will give you:
4 step process which will enable you to tell your story, so you can scale your solution
3 common communication fails
5 top storytelling tips
3 case studies
This webinar is perfect for:
Senior leaders at start-ups or scale-ups
Marketing and communications teams
Anyone who has interest in how storytelling can be used to improve their impact
There will be a Q&A at the end of course.
This online event is co-organised by Solar Impulse Foundation and Inspiring Sustainability
SIGN UP HERE AND JOIN THE STORYTELLERS!
ABOUT THE WEBINAR HOST
Adam Woodhall is an expert in storytelling, strategy & sustainability and has a deep understanding of what generates business growth. He is dedicated to helping clients understand their key audiences and develop their narrative so it resonates with these audiences.

Over the last 12 years he's worked with some of the world's largest organisations on their sustainability, but is now 100% focused on the game changers: sustainable, low carbon, circular economy start-ups and scale-ups, helping them tell their story and turn commercial potential into exponential reality.

He has collaborated with over 100 clients in sustainability, delivered hundreds of workshops and trained thousands of people, using storytelling, compelling communications and behavioural insights, generating many testimonials and case studies from customers.

Testimonials from Solar Impulse Foundation World Alliance members:
"Working with Adam really helped develop our business story and growth strategy. We got a deeper understanding of our key audiences and gained a clarity on where we should focus our marketing efforts."
Max Beaumont, CEO, Skytree (carbon capture experts)
"Thanks to Adam we found a very impactful way of communicating our key competitive advantages and switch from a technology centred strategy of communication to a user centric one. I highly recommend Adam, who is both strategic and passionate about our business."
Cedric Francois, CEO, Equium (sound energy specialists)