02
Solar distillation for zero liquid discharge recovers pure water plus dry salts and avoids the generation of contaminating brine.
A system for water re-use, including getting rid of brine, water desalination's unsustainable waster, achieving the closed water loop. SunAqua looks like a huge tent, its configuration allows it to gather the Sun's heat with a high efficiency and to use it to evaporate water. In the case of water desalination, the dominating current alternatives capable of desalinating water only recover a fraction of the water and dump the rest, which is harmful, back to the sea. SunAqua, on the contrary, evaporates 100% of the water, recovering the solutes (ex. commercial salt) following a full waste-to-money philosophy. Whether sea-water, brine or contaminated waters, SunAqua achieves a full separation of water and its solutes, leading to the generation of resources (commercial salt, fertilisers, ...) or an easy and cheap management of the waste in its solid state.
03
Key features
•

Spends 75%-95% less energy than conventional thermal systems

•

Spends 50% less energy than reverse osmosis
04
Profitability
•

Reducing costs by 75% in contaminated water desalination
05
Categories of Application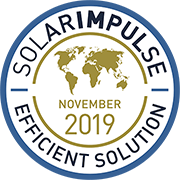 Company Profile

Headquarters
08860 Sitges, Barcelona, Spain
SDG's of Application
Maturity Stage
Medium and large scale commercialization
Small scale commercialization
Initial market commercialization
Prototype testing in the real world
Prototype testing 1:1 in the lab
Looking For
Networking Partner
European Union


The EU, through its funding programmes, supports the development of innovations and technologies that help combat climate change, protect the environment and ensure a sustainable development and growth.
The information set out above, is solely for the purposes of information and the Solar Impulse Foundation does not provide any guarantee as to its authenticity, completeness or accuracy. This information does not constitute investment advice or a recommendation to buy into, transact or to enter into any agreement with any of the parties or persons mentioned above. Potential investors or interested parties are solely responsible for their investment or business decisions and for performing any due diligence required by the circumstances.