02
Innovative solution based on ultrasonic technology to monitor, predict and control algal blooms in large water surfaces
LG Sonic products provide a chemical-free environmentally friendly solution to effectively control algae in lakes, reservoirs, treatment plants, and other applications by making use of ultrasound technology. The LG Sonic MPC-Buoy is a floating, solar powered, platform that combines continuous online water quality monitoring, web-based software, and ultrasonic technology to effectively control harmful algal blooms in large water surfaces, thus preventing possible harm to fish, domestic animals and humans.
03
Key features
•

100% energy self-sufficient

•

Reducing algal blooms up to 90%

•

Chemical-free

•

Real-time insights into the water quality

•

Chemical-free
04
Profitability
•

Reduction in chemical expenses and operational costs
05
Categories of Application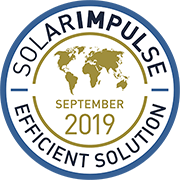 Company Profile
By
LG Sonic
Headquarters
2718 TD Zoetermeer, Netherlands
SDG's of Application
Maturity Stage
Medium and large scale commercialization
Small scale commercialization
Initial market commercialization
Prototype testing in the real world
Prototype testing 1:1 in the lab
The information set out above, is solely for the purposes of information and the Solar Impulse Foundation does not provide any guarantee as to its authenticity, completeness or accuracy. This information does not constitute investment advice or a recommendation to buy into, transact or to enter into any agreement with any of the parties or persons mentioned above. Potential investors or interested parties are solely responsible for their investment or business decisions and for performing any due diligence required by the circumstances.