02
The ELISA technology involves a novel self-floating gravity-based foundation system which integrates an autolift telescopic tower that can be fully assembled at the dock.
The telescopic configuration of the tower brings down the center of gravity during the towed self-floating transport, allowing the bottom foundation platform to temporarily act as a self-stable floating barge over which the complete system can be pre-assembled onshore. This reduces the complexity and risk associated with installing the towers in unpredictable offshore environments. Once ballasted to rest on the seabed, the tower can be lifted to its final position by means of cables and conventional off-the-shelf heavy-lift strand jacks which are used to lift each tower level successively. All works are carried out from a single access platform.
03
Key features
•

30% carbon footprint reduction

•

Solutions for the clear market trend towards increase water depth (>35m) and increased turbine size (5-8MW and 10+ MW coming in the very near future)

•

Can be towed into position using readily-available tugboats instead of scarce and expensive dedicated transportation vessels

•

Low impact on seabed (morphology, sediments), moderate impact on marine ecosystem
04
Profitability
•

30% cost reduction relative to conventional methods: lowers the barriers to entry and makes the cost of equity (COE) more affordable

•

Manufacturing and commercialising offshore wind turbines revitalises industrial sectors and increases employment rates.
05
Categories of Application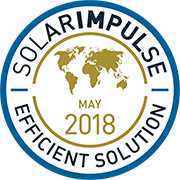 Company Profile

Headquarters
28036 Madrid, Spain
SDG's of Application
Maturity Stage
Medium and large scale commercialization
Small scale commercialization
Initial market commercialization
Prototype testing in the real world
Prototype testing 1:1 in the lab
Looking For
Networking Partner
European Union


The EU, through its funding programmes, supports the development of innovations and technologies that help combat climate change, protect the environment and ensure a sustainable development and growth.
The information set out above, is solely for the purposes of information and the Solar Impulse Foundation does not provide any guarantee as to its authenticity, completeness or accuracy. This information does not constitute investment advice or a recommendation to buy into, transact or to enter into any agreement with any of the parties or persons mentioned above. Potential investors or interested parties are solely responsible for their investment or business decisions and for performing any due diligence required by the circumstances.