02
Cool Green Energy Factory is a cold energy storage (CES) system that uses a redesigned multi-use fire water tank to cover the energy needs of industrial cooling processes in factories.
The innovative energy concept is a financially sound, scalable solution for manufacturing companies wishing to make energy-intensive cooling processes economically and ecologically sustainable. The concept emerged from the innovative idea to adapt a fire water tank and to transform it into an energy storage system. To reduce energy costs and CO2 emissions, companies try to use more and more self-generated green energy, for example, in their production plants. (In this case: A 500 kW PV system on a warehouse roof and two nearby wind turbines.) To store the energy surplus generated, a fire water storage tank required by the insurance company for fire protection reasons has been modified so that it can also be used for CES. As a result, cooling for the production process is powered all year with 100% self-generated green energy.
03
Key features
•

Cooling action required in production runs on 100% green energy.
04
Profitability
•

Costlier storage solutions such as batteries are avoided.

•

A payback period of less than five years.
05
Categories of Application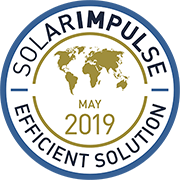 Company Profile

By
Soprema
Headquarters
67100 Strasbourg, France
SDG's of Application
Maturity Stage
Medium and large scale commercialization
Small scale commercialization
Initial market commercialization
Prototype testing in the real world
Prototype testing 1:1 in the lab
Looking For
The information set out above, is solely for the purposes of information and the Solar Impulse Foundation does not provide any guarantee as to its authenticity, completeness or accuracy. This information does not constitute investment advice or a recommendation to buy into, transact or to enter into any agreement with any of the parties or persons mentioned above. Potential investors or interested parties are solely responsible for their investment or business decisions and for performing any due diligence required by the circumstances.