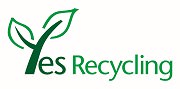 Contact information
About the company
Type
Startup or self-employed
Members type
innovator

Headquarters
Hog Ln, Ashley Green, Chesham HP5 3PS, UK
Company size

Founders
Omer KUTLUOGLU and Turul TASKENT
Founded
2015
SDG's
Social

Website
yesrecycling.org
Alliance member
Yes Recycling
---
Solutions for Recycling Complex Polymer Waste
Yes Recycling provides bespoke, fully-managed recycling solutions for complex polymer waste-streams.
We specialize in film waste which can often be heavily printed, can frequently comprise multiple polymer types, and may contain mineral layers and metallic or thermoset inclusions.
We work in long-term partnership with our clients, both in the UK and internationally, to design, build and operate systems to recycle a wide range of complex polymer waste-streams.

Our solutions are always tailor-made to match clients' individual waste-streams and therefore, regrettably, we do not work with "one-off" batches of material.

Yes Recycling's Directors have significant experience building and running polymer recycling plants, as well as other large-scale industrial operations. They have made several ground-breaking innovations in the field of reprocessing contaminated, mixed-polymer and, between them, hold a number of granted patents.
With a wide-ranging arsenal of know-how and technologies to call upon, Yes Recycling can recover complex polymer waste and turn it back into reusable raw material, suitable for injection-moulding applications.