Contact information
About the company
Type
Company
Members type
innovator

Headquarters
9000 St Gallen, Switzerland
Company size
5
Founders
Lars Willi
Founded
2015
SDG's
Clean water and sanitation
Affordable and clean energy
Industry, innovation and infrastructure
Sustainable cities and communities
Responsible consumption and production
Website
http://www.nexus-center.ch/
Alliance member
WECONNEX AG
---
WECONNEX is dedicated to develop innovative business models to reach the SDG's with entrepreneurial spirit!
WECONNEX has developed the NEXUS Concept. This concept allows the sustainable development of communities in Base of Pyramid markets making social, ecological and economical impact. The core of the idea is the setup of a so called NEXUS Center. This NEXUS Center features basic infrastructure like drinking water purification, renewable energy generation and storage, broadband internet access, space for entrepreneurial activities and much more. The NEXUS Centers are flexible infrastructure hubs which can be adjusted according to the needs of the communities. In Nepal for example, they can be a Center of Agriculture, offering services and products to empower smallholder farmers. That could include a collection point for fruits and vegetables, training spot for state-of-the-art farming techiques, one-stop-shop for modern farming technologies etc. In Madagascar the NEXUS Center offers cold storage facilities to the fishermen, allowing them to develop a cold chain and improve the quality of the fish. The organisation behind the NEXUS Centers belongs to the local communities and to the investors. It will not only train the communities, develop entrepreneurial skills and operate the Centers, but it will also buy the products from the farmers or fishermen and sell it to regional, national and eventually also to international customers. The margins are used to pay back the investment. The value chain can therefore be integrated and profits will be shared between the shareholders. WECONNEX is deploying the NEXUS idea and operating the NEXUS Centers currently in Nepal and Madagascar. We are preparing new projects in Cambodia, Indonesia and Latin America. #foodsecurity #socialentrepreneurship #sustainability #foodwaterenergynexus #climatechange
New business model for rural fishers and farmers
The NEXUS Concept is a business model to sustainably provide rural fisher and farming communities with access to infrastructure and know-how.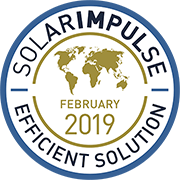 NEXUS Madagascar Company (NEMACO)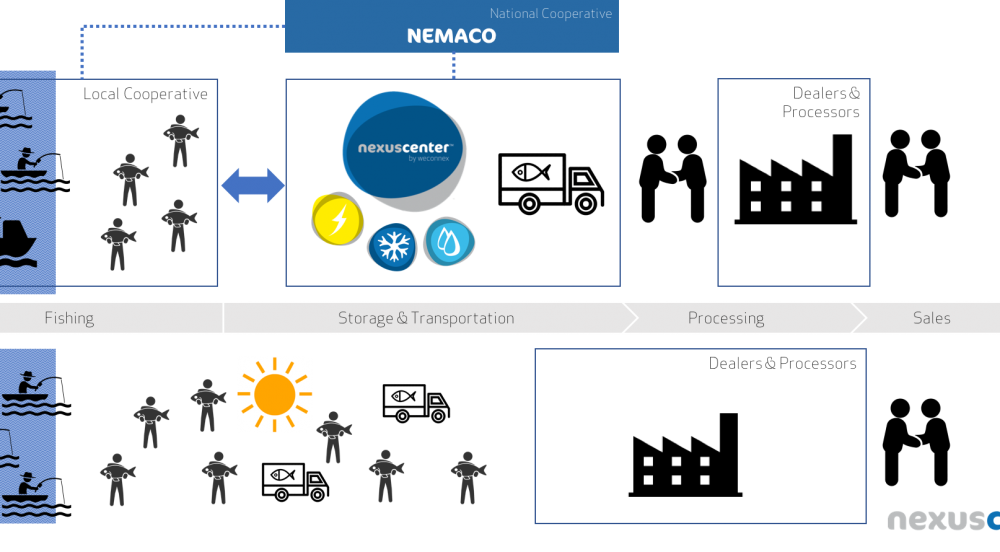 Description
NEMACO enables local fishermen in Madagascar to become more resilient and sustainable in their activities.
NEMACO, owned by the investors, the fishermen and WECONNEX, is currently establishing NEXUS Centers in 50 fishing villages and operates them with a team of local employees. The project develops a cold chain to store fishery products and teaches the fisherman how to use the available resources as sustainably as possible. The centers provide access to infrastructure and orchestrate the logistics. NEMACO further ensures the training of the fishermen and coordinates the market access. Eventually, NEMACO will buy the fish to integrate the value chain. Thanks to better quality and higher market power, significantly higher prices can henceforth be achieved. This margin will allow to refinance the infrastructure. At the same time, the NEXUS Centers will provide access to basic services like safe drinking water, renewable energy, sanitation, communication and more to the communities. Resilient infrastructure development and economic empowerment are going hand in hand in this project.
Available in
Madagascar,
Categories of application
Clean water and sanitation, Affordable and clean energy, Industry, innovation and infrastructure, Sustainable cities and communities, Responsible consumption and production
Sector of application
Water treatment, Water distribution and use, Water production, Clean energy production, Energy distribution & management, Energy storage, Freight transportation, Industrial processes, Communities infrastructures, Building and shelters, Agriculture and farming for food production
Status
R&D
---