Contact information
About the company
Type
Startup or self-employed
Members type
innovator

Headquarters
Themistokli Dervi 24, Nicosia, Cyprus
Company size
16
Founders
Yuriy Vlasov
Founded
2016
SDG's
Affordable and clean energy
Documents

DECK
Product spec
Website
wattsbattery.com
Alliance member
Watts Battery
---
Watts BatteryTeam aspires to make alternative energy sources production and storage of electricity generated by both AES and traditional grid widely accessible as mass market solution.
This will be achieved by offering an affordable, consumer friendly, all-in-one energy storage system. Watts Battery will offer portability, versatility (modular plug-and-play design), and various smart features (remote control/monitoring). The system will ultimately contribute to the increase of solar energy self-consumption and make solar energy mass product.
Universal source of electrical energy, which is charged from the power grid, a generator or PV solar panels. A solution for home and outdoor usage. WATTS gives you not only the simplest way to use Solar power, store it, but also take your Home power any where it's needed. It is Smart AC Battery which include all components of home energy supplying system, including energy storage and management, in one small module with dimensions of suitcase and weight 10kg. Multiplying power from 1,5 kW to 12 kW, storage capacity from 1,2 kWh to 12 kWh. Automatic energy management system choose the sources of energy to reduce electricity cost, peak shaving, increase PV self consumption, remote management is available though mobile app.
Watts Battery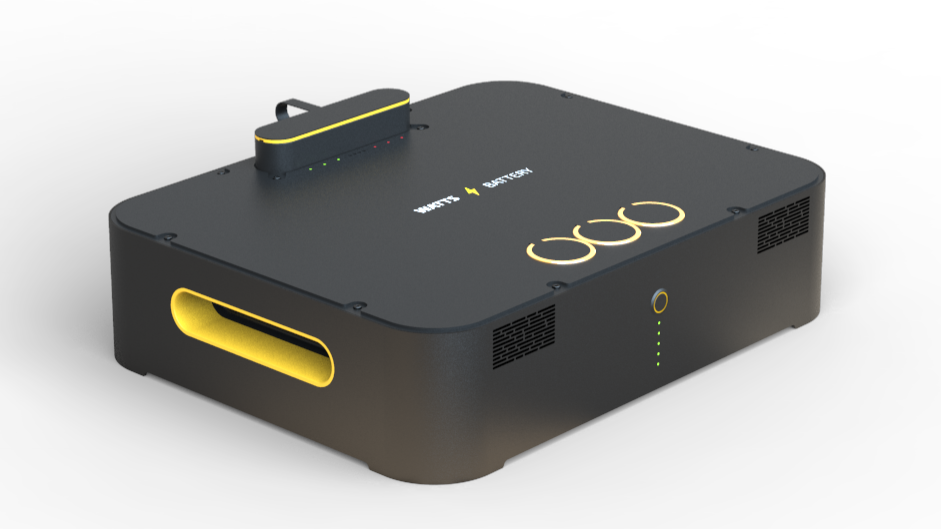 Description
Consumer friendly, all-in-one energy storage and management system for home and outdoor
The product offered by Watts will be a modular all-in-one smart solar energy storage solution, which will allow individuals to effortlessly store, manage, transfer and use their solar power. The product has a small form factor (46cm x 36cm x 14cm) and weights approximately 10Kg. The size and weight of the product is especially important as it makes it more portable and at the same time allows individuals to save valuable space in their environment. The product also allows for easy upgradability, in terms of energy and power capacity, as other modules can be easily added via a plug-and-play connection. At this point, it is worth to mention that the product was developed by having in mind the existing products offered by competitors as well as the future directions of the ESS industry. This has helped Watts to develop an innovative product, which is expected to be highly competitive in terms of price-to-performance. During the early market-presence stage, Watts will give special emphasis to sales of its products to partners (utilities and solar integrators) and to retailers across the EMEA region. Partners will use the product to provide their services such as community energy management, demand forecast and other energy services. Besides selling its product, Watts will produce studies and reports based on data collected in order to provide data and insights to stakeholders for the purposes of decision making. Retailers will sell the product directly to individual consumers. After establishing its brand name, ~2% market share of the EMEA market, Watts will also start selling its product from its website. Watts will follow both a B2B2C and a B2C approach which will focus on providing a hard-to-match buying and aftermarket experience to individual consumers. Watts will sell its product both through its website and through physical locations across the EMEA.
Available in
Worldwide
Categories of application
Affordable and clean energy
Sector of application
Energy distribution & management, Energy storage
Status
Tested implementation
---