Alliance member
Waga Energy
Innovative landfill gas upgrading solution
Waga Energy upgrades landfill gas into pure biomethane compliant with grid injection requirements. Its breakthrough technology - called WAGABOX® - offer three times more energy-efficient than other solution based on electricity generation. WAGABOX® produces clean, local and renewable energy while reducing greenhouse gas emissions into the atmosphere. Two WAGABOX® are operating in France, and a third one is under construction. These innovative units have no equivalent worldwide.
Wagabox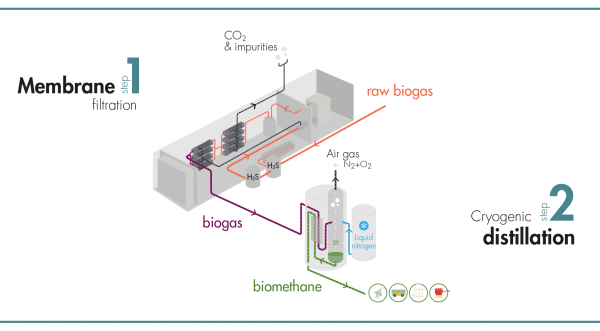 Description
WAGABOX: a breakthrough technology to upgrade landfill gas into pure biomethane
WAGABOX® is the sole solution for efficiently recovering methane from the landfill gas produced by waste. Whatever the raw landfill gas quality, WAGABOX® provides a high methane recovery rate, over 90%, and produces pure biomethane directly injected into the gas grid or liquefied.
---