Alliance member
Mascara Renewable Water
Innovative water treatment and desalination solutions with the use of renewable energy
Mascara's first development phase resulted in the industrialization of OSMOSUN®, a product range of seawater and brackish water solar desalination plants without battery having a daily capacity ranging from 1 to 600 m3 per day. This major patented innovation allows utilities and communities to produce fresh water at an unprecedentedly low cost with no emissions of greenhouse gas.
OSMOSUN® Sea Water & Brackish Water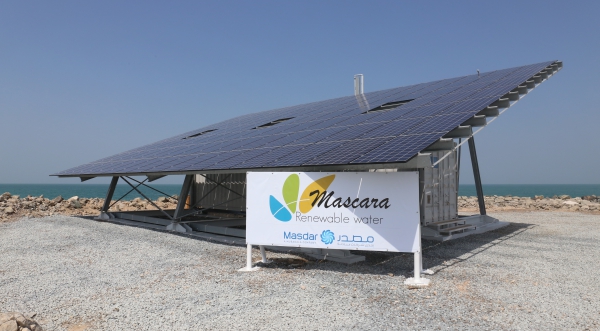 Description
OSMOSUN® is the world's first reverse osmosis desalination technology coupled with photovoltaic solar energy, without battery, supplying everyone, everywhere, with drinking water at a competitive price without CO2 emissions.
The daily capacity of the standalone OSMOSUN® seawater and brackish water desalination units is ranging from 0,6 to 600 m3 using the solar energy only. By combining several units or connecting the units to the grid for a water production besides sunshine hours, the daily capacity can reach up to 10 000m3 per day. The first demonstration unit implemented has proven its high competitiveness in the MASDAR Renewable Energy Desalination Program in Abu Dhabi. That performance drew the attention of the water utility SUEZ which implemented a plant on Bora Bora Island in the Pacific. Another unit is being implemented in Rodrigues Island, and further projects are developed thoughout the Pacific, the Carribbean and Africa.
Categories of application
Water production, Water treatment
Sector of application
Desalination, Filtration
Status
Implemented
---