Contact information
About the company
Type
Startup or self-employed
Members type
innovator

Headquarters
Seattle, WA 98104, USA
Company size
10
Founders
Eric Weaver
Founded
2018
SDG's
Industry, innovation and infrastructure
Responsible consumption and production
Website
transparentpath.com
Alliance member
Transparent Path
---
Transparent Path is focused on reducing risk and waste in the food industry by providing real-time visibility for food.
We are a food visibility startup utilizing IoT, 5G, blockchain and AI to track food in real-time, reducing waste, risk, fraud and food-borne illness. You can see our vision here: http://j.mp/tp-conf-deck-june2019 The environmental impact of food waste and food packaging waste due to systemic inefficiencies and poor or missing data is ridiculous and completely irresponsible. We currently have the technologies to reduce the water, labor, and energy impacts from food production (including reducing the 300M barrels of oil wasted annually in the US alone on farm-to-landfill food). The primary obstacle is resistance to change and a lack of industry leadership. Our Mars mission is to bring together the technologies and vision to upgrade the entire industry. We're big believers in the UN Sustainable Development Goals and have leaders from Walmart, GS1 and the US organic food industry on our board.
ProofPlatform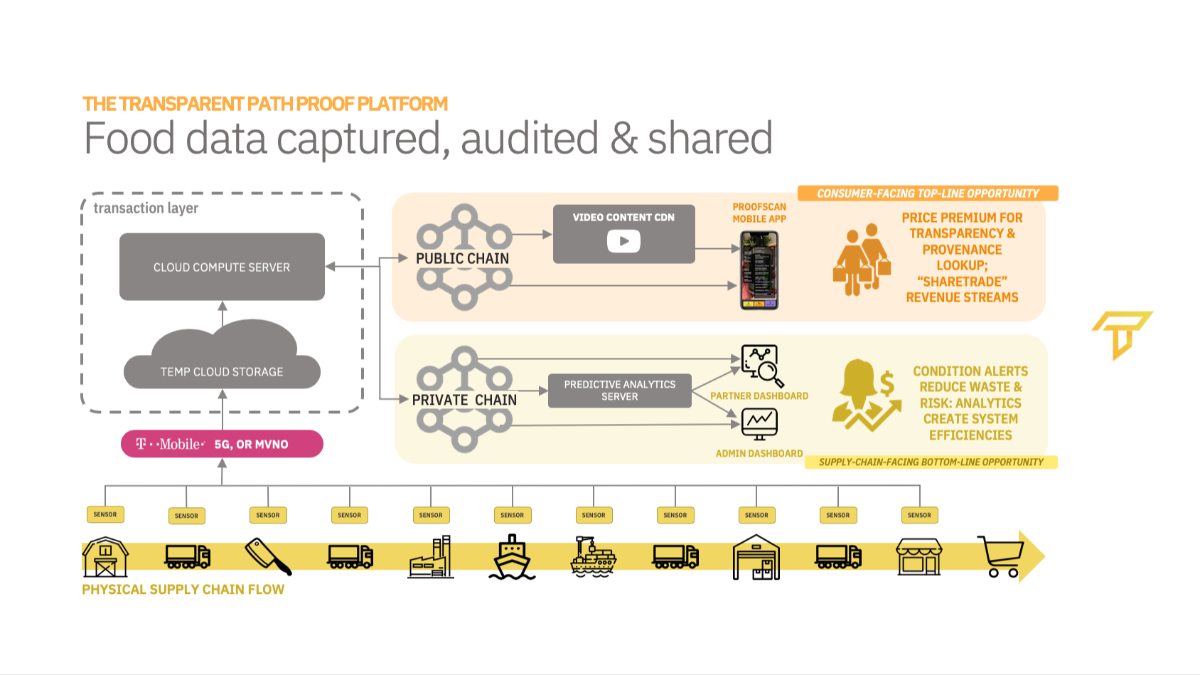 Description
Printed IoT sensors upload food origins and logistics to a shared blockchain ecosystem,
Food traceability and safety can't be solved by one technology alone. Inexpensive IoT sensors must be able to provide cold-chain information along the entire route. This data must be shared with all members of the supply chain in order to provide shared benefits to all parties, such as temperature violations, expiration violations, etc. Such a system allows for both supply chain efficiencies, reduced waste, reduced energy, and faster recalls, as well as a top-line revenue opportunity via a price premium for "transparent food."
Available in
Worldwide
Categories of application
Industry, innovation and infrastructure, Responsible consumption and production
Sector of application
Industrial processes, Freight transportation, Agriculture and farming for food production
Status
R&D
---
ProofScore™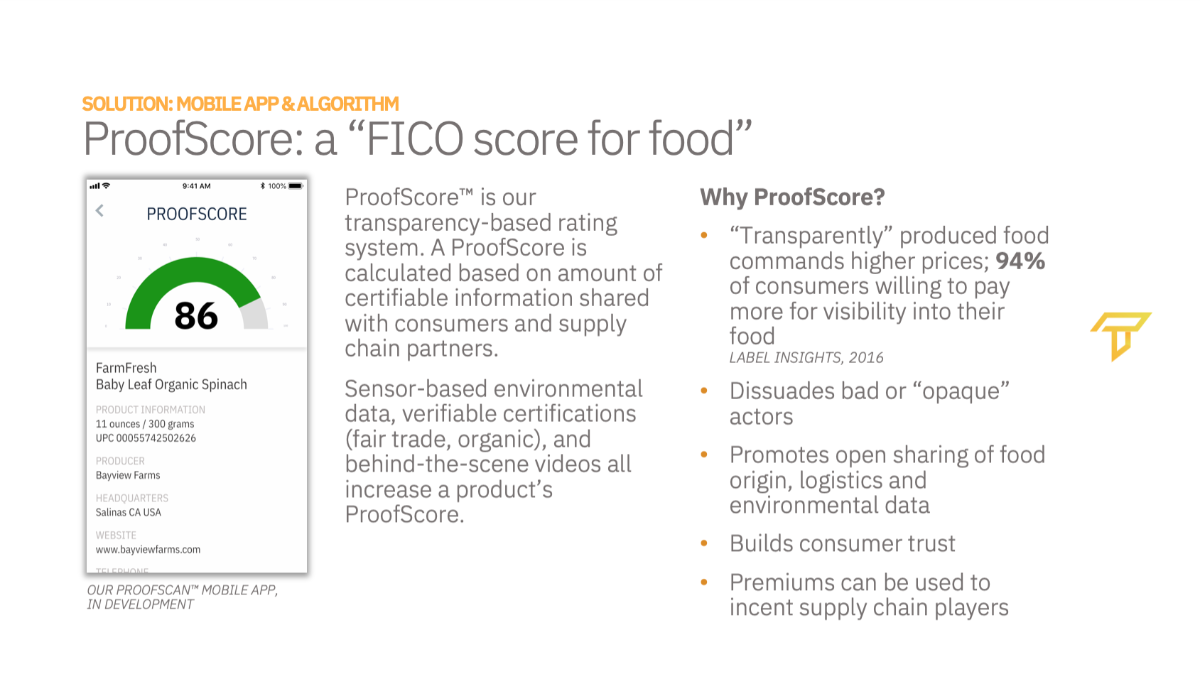 Description
ProofScore is a "credit rating for food," where food industry players are rewarded for data transparency and sharing.
ProofScore™ is our transparency-based rating system. A ProofScore is calculated based on amount of certifiable information shared with consumers and supply chain partners. Sensor-based environmental data, verifiable certifications (fair trade, organic), and behind-the-scene videos all increase a product's ProofScore. Why ProofScore? "Transparently" produced food commands higher prices; 94% of consumers willing to pay more for visibility into their food. Such a system dissuades bad or "opaque" actors, who will be penalized for not being transparent. It also promotes open sharing of food origin, logistics and environmental data, thus building consumer trust. Finally, price premiums generated through high ProofScores can be used to incent supply chain players financially.
Available in
Worldwide
Categories of application
Industry, innovation and infrastructure, Responsible consumption and production
Sector of application
Industrial processes, Freight transportation, Agriculture and farming for food production
Status
R&D
---