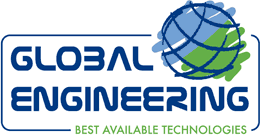 Contact information
About the company
Type
Company
Members type
innovator
investor

Headquarters
20124 Milan, Metropolitan City of Milan, Italy
Company size
-5
Founders
Claudio Terruzzi
Founded
2000
SDG's
Social

Website
www.globalengineering.info
Alliance member
Global Engineering Spa
---
Center of international excellence that operates in the field of services for the construction of large infrastructures and for the improvement of environmental quality.
The continuous commitment in the field of technological innovation of the Company and the diversified managerial experience of its founder Claudio Terruzzi , have allowed Global Engineering to impose itself with totally innovative solutions and products. Thanks to his activity Claudio Terruzzi won the "Angel of the Year - Environment Category" award for the year 2004-2005.
The company works in the engineering of construction, in ICT and, thanks to the ability to identify well ahead of new strands of innovative development, today it places itself on the market as an international leader in the research, production and marketing of photocatalytic products and systems that reduce air pollutants. The particular skills developed in the photocatalytic applications sector in the environmental sector, currently allow Global Engineering to offer local administrations and companies a complete system of knowledge and skills that contribute to the renewal and growth of infrastructures with a view to development economic and social sustainability.