About the company
Type
Company
Members type
innovator

Headquarters
20125 Milan, Metropolitan City of Milan, Italy
Company size
10
Founders

Founded

SDG's
Affordable and clean energy
Sustainable cities and communities
Social

Website
https://www.solarteg.it/en
Alliance member
SOLARTEG srl
---
All in one solar and roofing: a building element (for roof covering, sun shading) + an energy generation component fully customizable that looks like a typical roof.
SOLARTEG is a company focused on the production of construction components able to combine photovoltaic technology with traditional roof tiles. Our goal is the perfect blend of technical performance and elegance.&nbsp
Solar Tiles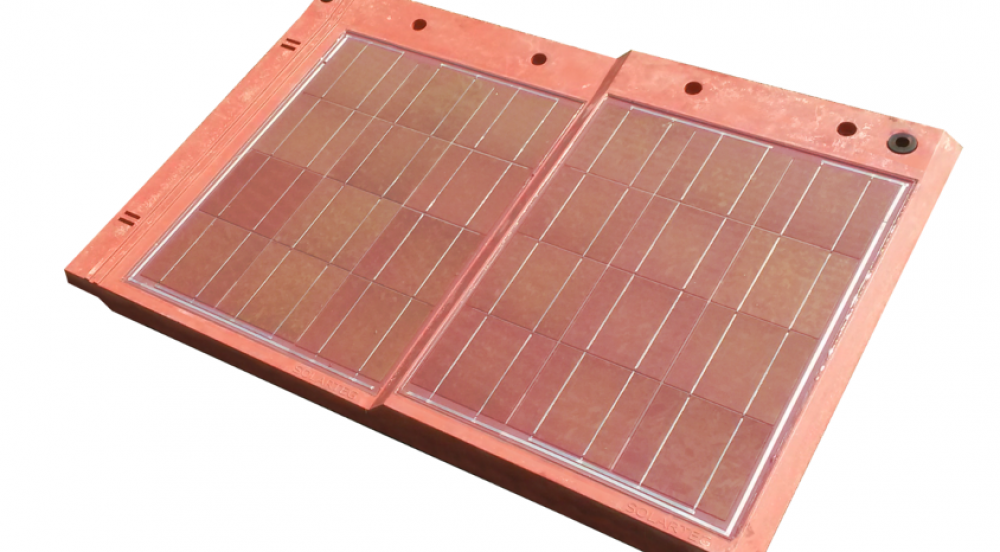 Description
All in one solar and roofing: a new technology solution for roof covering, sun shading + an energy generation component (SOLARTEG® licensed patent for Italy, Europe and RoW).
SOLARTEG product, the solar roof tile GTFV100, is made of a 1.2x0.8m (3.9'x2.7') SMC frame + 2x50 W polycrystalline 6"red cells PV modules + a patented "plug&play" copper-made connector for the cable-less electric connection between tiles, which represents the key component enabling simple and fast installation of the tiles. The frame holds up to 400 kg/sqm and its color is fully customizable. The solar roof tile interlocking provides a watertight surface, resistant to hail and any weather attack. SOLARTEG performs the acquisition of high quality customized components, the solar roof tile production, the quality control, and develops the marketing and communication strategy, and implements sales, warehouse management, logistics and R&D. SOLARTEG GTFV100 solar roof tile is already commercially available since May 2016 and several installations are already in place, productive, and remotely monitored.
SOLARTEG main advantages
1. Aesthetic and embeddable solution: thanks to his red coloration for solar cells and frame, the tiles produces the same architectonical effect as the traditional ones.
2. Safe: the patented connector is integrated into the tile, without wires (patent EU13818439.5). The absence of cables and the presence of integrated connectors, allows to save money because they don't require to do electrical maintenance.
3. Walkable and waterproof area: the SMC (Sheet Molding Compound) frame is fireproof, crushproof and ecofriendly. With its high mechanical resistance, the tile is a walkable area which can sustain 400 Kg/m2 (snow, etc..).
4. Easy to install: an interlocking system with just four fixing points and an electric connection without cables, allows a faster and cheaper installation with respect to the classical PV modules.
5. Customized: the standard colors are red and orange. Slate or other colors can be custom-made.
6. Lightweight: the tile weight around 15 Kg/tile and it is adapted to sismic zones.
7. Hight efficiency: the frame unique design optimises the space to make solar energy
8. Long life expectancy, more than a typical roof
Categories of application
Affordable and clean energy, Sustainable cities and communities
Sector of application
Clean energy production, Building and shelters
Status
Implemented
---