Contact information
About the company
Type
Startup or self-employed
Members type
innovator

Headquarters
8044 Zürich, Switzerland
Company size
3
Founders
Jean-Louis Roux Dit Buisson
Founded
2012
SDG's
Social

Website
neocarbons.com
Alliance member
NeoCarbons
---
We want to: 1. Fight global warming by taking excess CO2 off the atmosphere 2. Do the above in an astute way so that the carbon chains built from CO2 are competitive against substitutes from fossil origin (oil, gas, coal)
NeoCarbons™ has patented an equipment that will recycle CO2 into carbon chains for the chemical, foods, feeds industries: 1.Real time on an industrial scale 2.Competitively against substitutes from fossils 3. Profitably for operators 4. In fullr espect of principles of sustainable development The key to the patents lies in the management of energy transfer efficiency, which leads of a 2.5 fold improvement in productivities (per m2 footprint, per m3 reaction volume, per unit time) and thus a low manufacturing cost position. Real time.
NeoCarbons low cost microalgae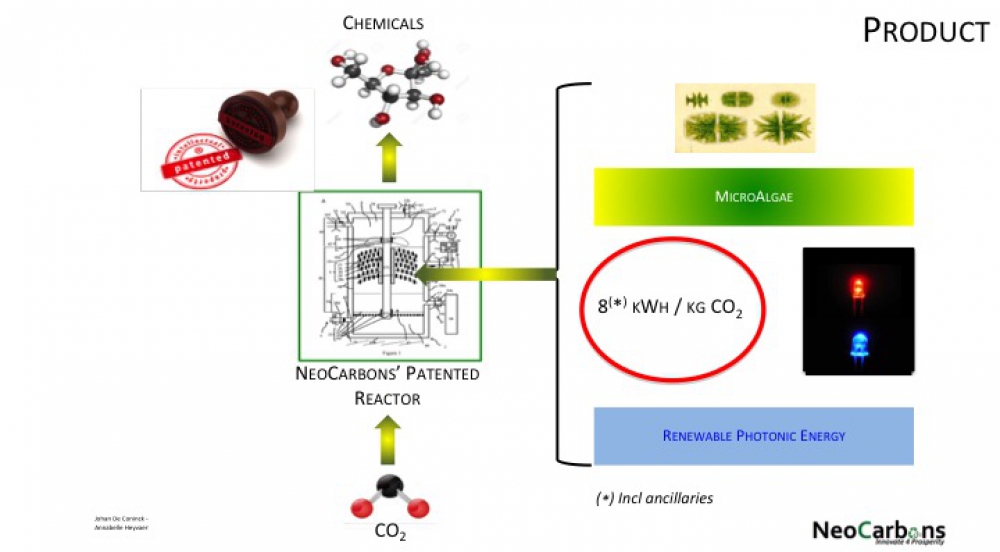 Description
With NeoCarbons patented equipment your microalgae will cost €1,- per kg biomass,you ll produce 35 tons per m2 footprint
NeoCarbons patented equipment is designed to deliver low cost manufacturing for microalgae. In addition it saves on water evaporation and handling , and has a 30 tons annual production per m2 footprint. It is designed for those who want to serve the foods feeds industries and contribute to EU's objectives of independence in protein production. The low manufacturing costs wll allow the early birds to reap market shares in the growing segments.
Available in
Eastern Africa, Middle Africa, Southern Africa, Western Africa, Northern America, Eastern Europe, Northern Europe, Southern Europe, Western Europe, Sudan, Algeria, Egypt, Western Sahara, Tunisia, Libya, Morocco,
Status
R&D
---
NeoCarbons 100% CO2 capture & transformation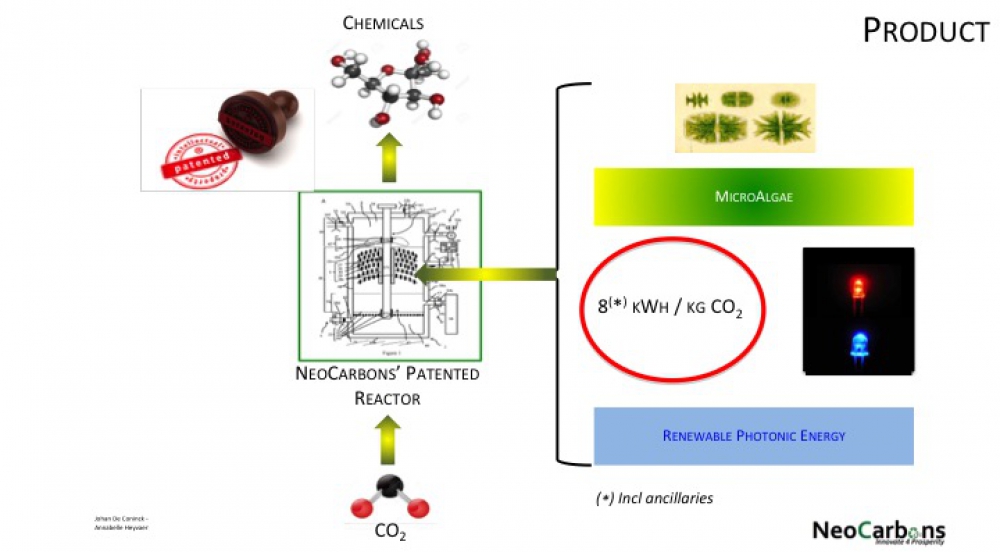 Description
The patented equipment is designed to absorb CO2 real time in an industrial, competitive and profitable way
NeoCarbons has patented an equipment that will transform the upcoming CO2 liability into a profit. The equipment is designed to handle the CO2 effluents in real time. It is designed to have low capex (invest € 0,15 per kg CO2 name plate capacity) and opex (produce biomass at 1/20th of the cost) so that the revenues on products manufactured the equipment will warrant profitable operations, a 5x credit on CO2 captured and transformed, and a contribution to migration from fossils, global warming, and growth in peace.
Available in
Eastern Africa, Middle Africa, Western Africa, Northern America, Eastern Europe, Northern Europe, Southern Europe, Western Europe, Tunisia, Libya, Morocco, Sudan, Algeria, Egypt, Western Sahara,
Status
R&D
---