Contact information
About the company
Type
Startup or self-employed
Members type
innovator

Headquarters
8005 Zurigo, Svizzera
Company size
16
Founders
Manuel Seiffe, Gregor Nau, Michael Eschmann
Founded
2017
SDG's
Affordable and clean energy
Website
mpower.africa
Alliance member
MPower Ventures
---
MPower finances and distributes affordable solar kits in emerging markets via a B2B partnership model.
Via a highly scalable B2B partnership model, MPower provides connectivity and affordable, reliable solar products to off-grid and under-electrified households and SMEs in emerging markets, starting with Sub-Saharan Africa.
We do so by partnering with local entrepreneurs and providing them with sourcing support, state-of-the-art software and micro-financing solution.
We enable our customers to power their homes and businesses independently from the electricity grid or fossil fuel-based electricity production systems in Sub-Sahara Africa. Our product portfolio is aimed at households and small and medium enterprises in the retail and agricultural sectors. Households and businesses can use MPower's solar systems to power their radios and TVs, charge their mobile phones and light their homes.
We offer our valued customers mobile payment solutions as well as "lease-to-own" financing of up to 24 months. MPower's business is based on local partnerships: We are scaling-up by partnering with local entrepreneurs and businesses offering them a powerful combination of software, hardware and finance.
MPower identifies, qualifies and finances local business partners enabling them to grow their business while solving critical energy issues in their communities. With an MPower partnership everyone gains: Local partners can grow their business, end customers get access to clean affordable energy and MPower can bring its solution to more clients.
MPower's solar kits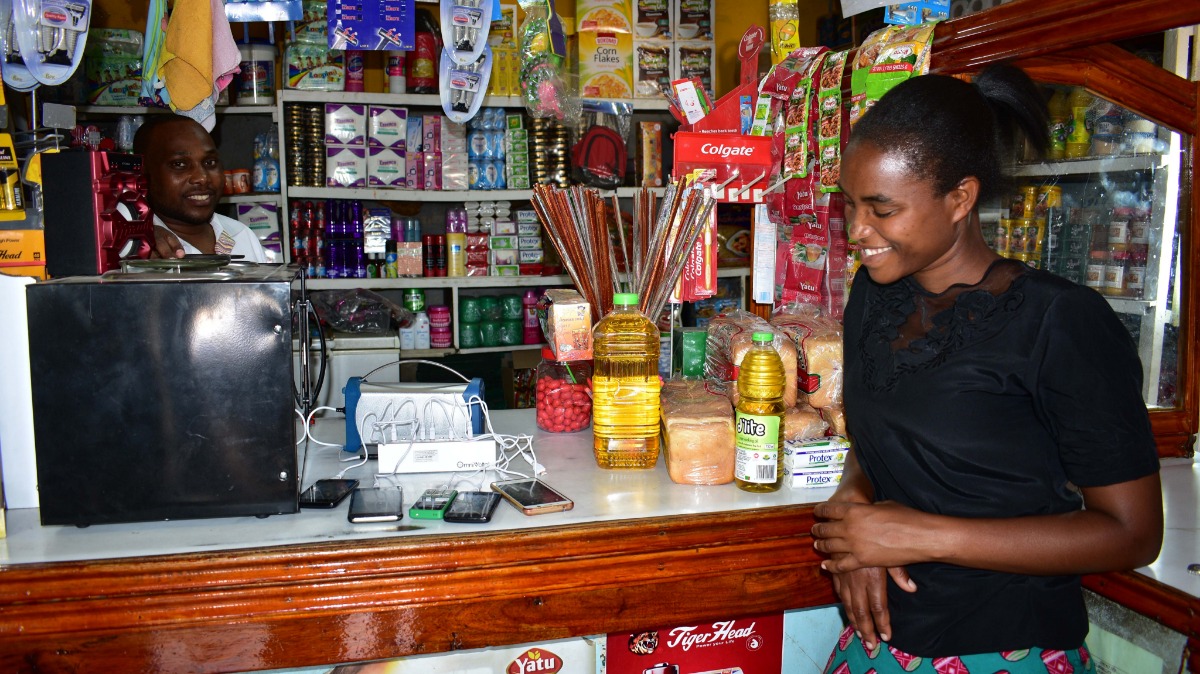 Description
We finance & distribute solar-powered lithium batteries and energy efficient appliances for domestic and productive use
MPower's portfolio consists of affordable and high quality solar bundles (solar panel, lithium battery and energy efficient appliances). Solar kits of different sizes cover different market segments, from BOP lighting-only to productive use appliances (e.g. SmartSprayer, solar pumps, etc). To ensure affordability, Mpower's products are sold together with a lease-to-own solution, for which end-users can pay for the system in regular instalments up to 36 months.
Available in
Zambia, Cameroon, Togo,
Categories of application
Affordable and clean energy
Sector of application
Clean energy production
Status
Implemented
---
MPower's innovative software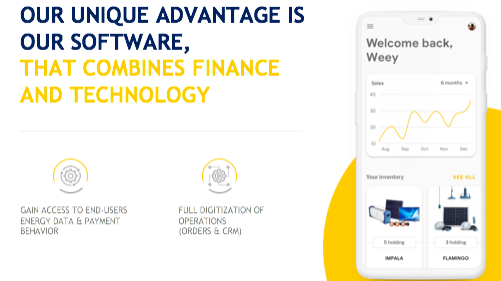 Description
MPower's software allows for full digitization of operations and reduces credit risk
In order to fully unlock the potential of solar energy, MPower needs to combine finance and technology. Through this software, we fully digitizes our partners' operations (CRM, orders) and allow for scale-up. In addition, the software collects relevant data on end-users, which will be used to a) manage credit risk and b) improve their financial inclusion by allowing them to access a bank account
Available in
Zambia, Cameroon, Togo,
Categories of application
Affordable and clean energy
Sector of application
Clean energy production
Status
Implemented
---