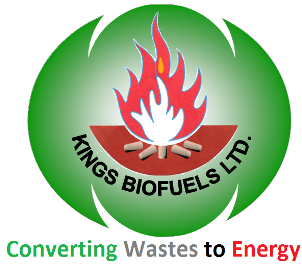 Contact information
About the company
Type
Company
Members type
innovator

Headquarters
city clock, Parliament Rd, Nairobi, Kenya
Company size
10
Founders
Festus KM.Ngugi
Founded
2012
SDG's
Social

Website
www.kingsbiofuels.co.ke
Alliance member
Kings Biofuels
---
Kings Biofuels LTD specialises in manufacturing and distribution of non carbonised/Eco-friendly green energy biomass briquettes made from renewable sources of waste materials.
The briquettes are used as alternative or substitute in institutions, schools, hotels and households for cooking and industries/factories for thermal generation.

KBLs was incorporated in Kenya in 2012, founder been Festus KM.Ngugi. KBLs Factory is located at the end of Thika Super Highway 60km North of Nairobi along Nairobi/Nyeri Highway in Kenol Town within Muranga county. The main mission of the company was to produce and promote use of low-cost environment friendly and high quality briquettes made from bio-waste products for use by both domestic and commercial industries. ADDRESS:PO BOX 278-01020 Kenol.