Contact information
About the company
Type
Startup or self-employed
Members type
innovator

Headquarters
94300 Vincennes, France
Company size
2
Founders
Manon Sennechael & François Chartier-Kastler
Founded
2019
SDG's
Responsible consumption and production
Website
inoffplastic.com
Alliance member
InOff Plastic
---
InOff Plastic's ambition is to accelerate the transition to a world without plastic waste.
Convinced of the power of collaborations to tackle plastic waste, we have created InOff Plastic. We are dedicated to support multinationals in the FMCG and cosmetic sectors in achieving their engagements on plastic waste in the developing countries that are the most at risk on this topic. These developing countries abound of local players who have created profitable and impactful waste management solutions (collection, sorting, recycling), reuse systems and alternative materials that aim at growing commercially by gaining new clients. Therefore, our value proposition consists in three key aspects: 1. Analysing the social and environmental impacts of local waste management and alternative packaging projects and companies in SEA. 2. Sourcing the most impactful local commercial partners multinationals can engage with to find concrete solutions to support their ambitions. 3. Enabling multinationals to create impactful collaborations with local partners through a dedicated workshop to develop operational pilot projects addressing plastic waste (plastic collection, recycling, alternatives to plastic).
Sourcing of local partners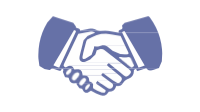 Description
Enabling MNCs to source local potential partners who have developed solutions that tackle plastic waste.
Enabling big groups that have taken strong engagements against plastic waste to source local potential partners who have developed solutions that tackle plastic waste. The sourcing service guides firms in their selection of commercial local partners to deploy operational pilot projects that tackle plastic waste in the developing countries where they are are the most at risk. InOff Plastic sources local actors (SMEs or NGOs) which raise awareness among communities, collect, sort out, sell plastic waste in an open or closed loop, deploy reuse systems, develop packaging made of alternative materials.
Available in
Indonesia,
Categories of application
Responsible consumption and production
Sector of application
Circular economy of solid wastes
Status
R&D
---
Impact analysis
Description
Accompany firms in the identification, measurement and communication of their social and environmental impact
InOff Plastic enables firms to ensure the sustainability of their strategy by analysing the impact of their activity of projects. This analysis leads firms to identify, measure, improve and communicate their social and environmental impacts based on the Sustainable Development Goals's (SDG) framework. This analysis is based on the methodology developed in collaboration with the Impact Management Project. The contribution of a firm's activity / project to the Sustainable Development Goals (SDGs) is analyzed by linking each impacts to a SDG, to a corresponding target and to an impact Key Performance Indicator (KPI). Each impact KPI is measured in regards to the commercial and macroeconomic environment.
Available in
Worldwide
Categories of application
Responsible consumption and production
Sector of application
Circular economy of solid wastes
Status
Tested implementation
---