Contact information
About the company
Type
Startup or self-employed
Members type
innovator

Headquarters
75004 Paris, France
Company size
6
Founders
Pierre-Emmanuel Casanova, Vincent Lôme
Founded
2015
SDG's
Affordable and clean energy
Social

Website
hysilabs.com
Alliance member
Hysilabs
---
HySiLabs proposes a liquid hydrogen carrier to facilitate hydrogen storage and transportation.
By using renewable energy sources to charge the carrier and centralizing its synthesis, HySiLabs introduces a unique and efficient power-to-liquid solution and a means for long-term renewable energy storage. The carrier is then distributed and hydrogen is produced on-site with no energy input required, drastically reducing the installation and operating costs. Due to its stable liquid and non-explosive nature, the HySiLabs hydrogen carrier is easily transported and stored at standard conditions while employing well-known liquid-handling logistics and already-existing infrastructure. Since its handling is similar to that of conventional liquid fuels, the mass-scale deployment of HySiLabs technology is quick and straightforward.
HydroSil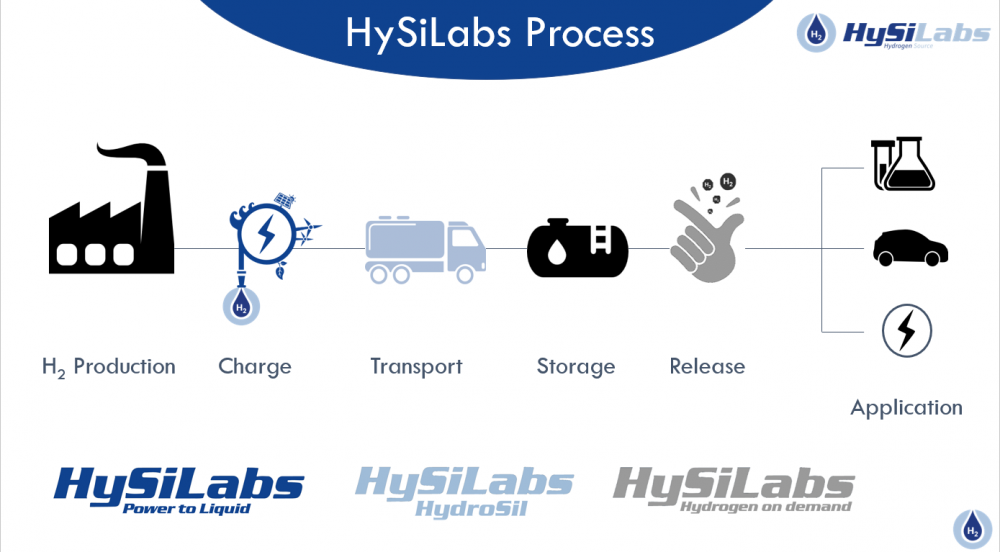 Description
HySiLabs proposes a unique carrier facilitating the transport and storage of hydrogen-emission free and easy to handle!
HySiLabs introduces its expertise in the hydrogen mobility sector with its liquid hydrogen carrier unique solution. The know how of HySiLabs is built from two innovations : the "Renewables-to-Liquid" solution which enables to synthesise a liquid hydrogen carrier from renewables. This liquid is stable at ambient conditions and safe, with a similar handling (logistics and infrastructures) as existing fuels. The second innovation " Hydrogen on demand" enables to release hydrogen from this liquid on demand, on site, without energy input and without emissions. Our technology maintains the advantages of an energy-dense hydrogen vector without any storage or transportation issues encountered for gaseous hydrogen.
Available in
Worldwide
Categories of application
Affordable and clean energy
Sector of application
Renewable fuels, Energy storage, Energy distribution & management
Status
R&D
---