Contact information
About the company
Type
Startup or self-employed
Members type
innovator

Headquarters
1080 Sint-Jans-Molenbeek, Belgium
Company size
-16
Founders
Thomas Poelmans
Founded
2018
SDG's
Website
hydrobox.africa
Alliance member
Hydrobox
---
Hydrobox sells reliable and affordable electricity in rural Africa through smart, containerised and sustainable hydro power plants.
Hydrobox is a Belgian company developing hydro power plants that harvest the power of running water. The hydroplant transforms it into electricity to provide an affordable, reliable, sustainable and scalable source of electricity to rural households in developing countries in Africa. The hydrobox is a standardised, containerised & remotely controlled power plant equipped with smart sensors, using artificial intelligence to enable efficient & transparant operations. Hydrobox plans to develop & operate 6 power plants in Kenya over the next 4 years, selling affordable electricity directly to households, businesses and the national electricity grid (Hydrobox as a SERVICE). In addition, the Hydrobox will be sold as a turnkey power plant (Hydrobox as a PRODUCT) to businesses and institutions in need of a sustainable power source or looking to make an investment.
Hydrobox as a Product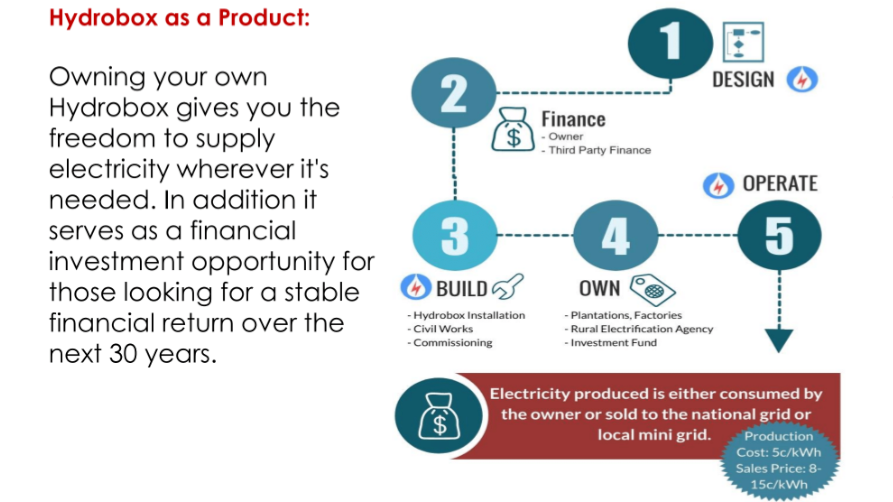 Description
Have access to reliable, affordable and sustainable renewable energy, through your own small-hydro plant.
Owning your own Hydrobox gives you the freedom to supply electricity wherever it's needed. In addition it serves as a financial investment opportunity for those looking for a stable financial return over the next 30 years. In short as the image explains it: Hydrobox designs, builds and operates the plant. You finance the plant and own the electricity produced. One can either sell this green electricity to the national grid or have your own personal mini grid for your plantation or factory.
Available in
Kenya, Democratic Republic of the Congo, Cameroon,
Status
Tested implementation
---