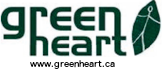 Contact information
About the company
Type
Company
Members type
innovator

Headquarters
Vancouver, BC V6T 1Z4, Canada
Company size
20
Founders
Ian Green
Founded
2002
SDG's
Social

Website
greenheart.ca
Alliance member
Greenheart Canopy Walkway Company
---
Greenheart promotes and preserves the world's rainforests by the creation of sustainable and profitable aerial trails.
We have a world of experience working to draw attention, provide education and create sustainable employment that supports parks and protected areas across the world. Greenheart is growing a network of conservation based aerial trails (canopy walkways/zip-lines) that allow visitors, the local community and host country the chance to experience and benefit from growing sustainable nature based tourism while conserving nature.
As a private company Greenheart is focused on creating nature based attractions in forests that demonstrates that investing in nature is the smartest investment one can make. We have established aerial trails in Guyana, Brazil, Peru, Belize, Rwanda, Haiti, Malaysia, U.S.A. and Canada. Our aerial trails play a key part in creating revenue, employment and education to support biodiversity conservation plans for small, medium and large scale forest conservation. Greenheart is based at the University of British Columbia in Vancouver B.C. and has developed a unique lightweight aluminum aerial trail system and non invasive suspension system that can be installed into a forest without the use of heavy equipment or damage to the host forest.
Greenheart's contribution to the overall "solution" is to provide trails that attract and educate people into forests while creating a positive impact. The unique opportunity to walk thru the treetops of a forest with a local guide/educator allows us to showcase the importance of working with nature and ensuring the solutions nature has in place to maintain a healthy planet are promoted, preserved and supported; so that we may all enjoy the benefits of a healthy forest. Greenheart works with like minded individuals organisations, and governments who place value in the work that nature does and wish to continue to ensure we all benefit form the fresh air, clean water and the healthy climate our forests provide.