Contact information
About the company
Type
Startup or self-employed
Members type
innovator

Headquarters
Unnamed Road, Kumasi, Ghana
Company size
4
Founders
Matrix Norte
Founded
2016
SDG's
Industry, innovation and infrastructure
Website
ghana20-20.com
Alliance member
Ghana20-20
---
Recycled Housing
Recycling plastics into quality afordable self-build housing construction materials, creating sustainable employment and dealing with the waste disposal & pollution problems of Ghana.
re-blocks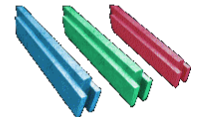 Description
recycled plastic building blocks
The "re-blocks" and "re-tiles" will be available in any colour of your choice, have five times the strength of concrete, be considerably more durable, lasting at least 250 years, require no maintenance, have far superior thermal and acoustic tolerances and retail for, at least, 50% below traditional products on the market today . In addition they will be fire-proof, exhibit naturally occurring insecticide properties whilst helping to lessen the world-wide impact of plastic pollution.
Available in
Worldwide
Categories of application
Industry, innovation and infrastructure
Sector of application
Materials and chemistry
Status
R&D
---