Contact information
About the company
Type
Startup or self-employed
Members type
innovator

Headquarters
12305 Berlin, Deutschland
Company size
3
Founders
Volker Korrmann
Founded
2011
SDG's
Clean water and sanitation
Affordable and clean energy
Social

Website
www.irrigationnets.com
Alliance member
Irrigation Nets
---
Offers a solution for farmers dealing with salinized groundwater problems or who wish to use sea water to provide freshwater to their fields.
Our product enables farmers who are affected by droughts and other climate change impacts to maintain production at full level. It can be used for most types of cash crops and sylviculture.
The technology we use converts seawater or salinized groundwater into foggy drizzle-freshwater that is spread over a large area and thereby directly supplies plants with a constant flow of cool moisture. The installation can be turned on and off as needed to meet the water needs of various crops.
The cooling effect will lead to less water loss due to evaporation and reduce stress for the plants. Over a period of time our product will restock groundwater levels and thereby prevent further seawater intrusion into coastal freshwater aquifers.
Our product is a highly cost-efficient alternative to desalination plants and enables farmers to become independent of outside freshwater supplies.
To find out how our technology can enable you to enter the next stage in agricultural irrigation contacts us for an individual assessment of your needs.
Salt free seawater cooling for PV-power plants and agriculutre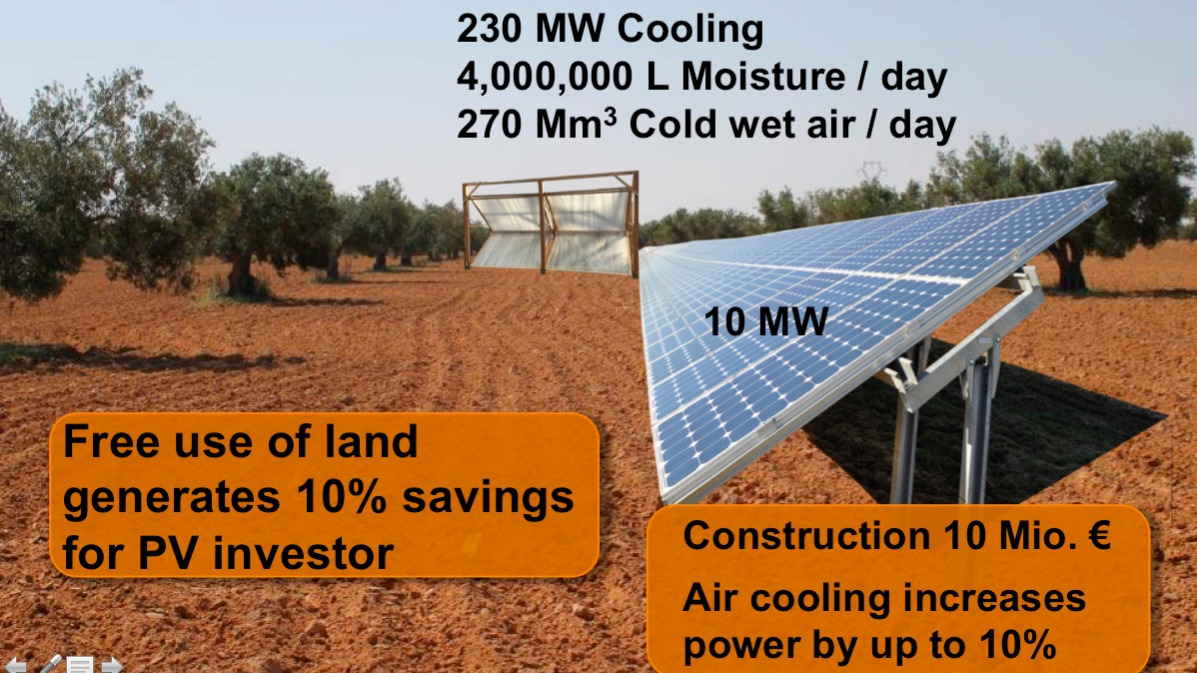 Description
We use seawater to cool pv-solar power plants (salt free), generate more energy and support agriculture.
For a 10 MW PV-solar power plant near the sea we offer a 230 MW cooling device. We use seawater to generate 270,000,000 m3 cold wet air a day. Cooled PV-modules generates up to 20% more energy and lifetime of the PV-modules extend to 50 years. This is a active adaption to climate change for agriculture. There is net 10% more energy production and at least 30% more production in agriculture in a area of more than 100 hectares.
Available in
Central America, Rwanda, Somalia, South Sudan, Tanzania, Burundi, Djibouti, Eritrea, Ethiopia, Kenya, Madagascar, Mauritius, Mozambique, Sudan, Tunisia, Algeria, Egypt, Western Sahara, Libya, Morocco, Namibia, South Africa, Peru, Paraguay, Uruguay, Venezuela, Argentina, Brazil, Chile, Ecuador, United States, Turkmenistan, Uzbekistan, Pakistan, India, Iran, Portugal, Spain, Gibraltar, Greece, Italy, Malta,
Categories of application
Clean water and sanitation, Affordable and clean energy
Sector of application
Water distribution and use, Water production, Clean energy production
Status
R&D
---