Contact information
About the company
Type
Startup or self-employed
Members type
innovator

Headquarters
20099 Hamburg, Germany
Company size
10
Founders
Marc Schmitt & Peter Lindqvist
Founded
2014
SDG's
Industry, innovation and infrastructure
Website
evertracker.com
Alliance member
Evertracker GmbH
---
Evertracker is a German startup based in Hamburg specialist in rendering logistic transparent for its clients.
Evertracker is one of the first artificial intelligence for processes within supply chains and logistics.
Our Artificial Intelligence learns processes and workflows of supply chain and logistics managers and is thus unique in the market.
In order to control processes, the entire parameters must first be learned, understood and evaluated. This is done by our software. This not only gives our customers more control over individual processes, such as transports but in particular better control over the upstream and downstream processes, such as orders and their processing.
With the help of our solution, work steps can be precisely controlled and time windows significantly minimized. Our customers use our products to respond more quickly to deviations, to better plan processes and to eliminate risks almost completely.
Evertracker Control Tower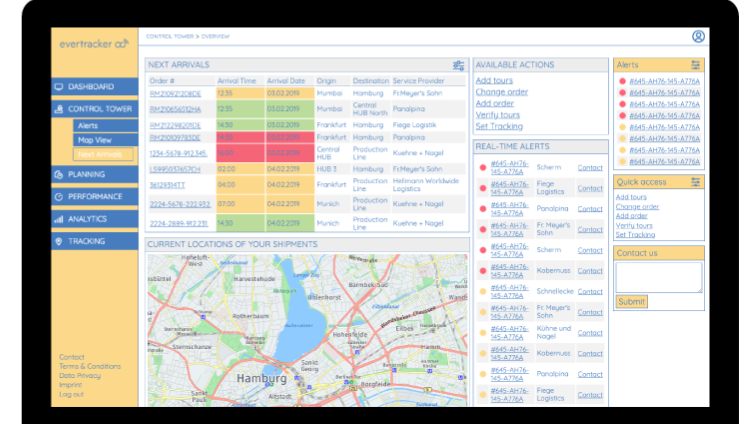 Description
THE FIRST SMART AND NEUTRAL CONTROL TOWER FOR YOUR GLOBAL SUPPLY CHAIN
Evertracker control tower provide our clients with full predictability and visibility along their entire global supply chain with almost one click. We've developed the FIRST SMART and NEUTRAL CONTROL TOWER for and with leading corporations and have partnered with some of the best companies in the world. Evrertracker Control Tower enable our clients to monitor directly any delays and a better understanding of their operation and supply chain. this enables them to predict any delays and deviations in real-time.
Available in
Worldwide
Categories of application
Industry, innovation and infrastructure
Sector of application
Freight transportation, Industrial processes
Status
Implemented
---