Contact information
About the company
Type
Company
Members type
innovator

Headquarters
Montreal, QC H4E 1A2, Canada
Company size
40
Founders
David Arsenault, Dany Fouquet, Benoit Lacroix
Founded
2006
SDG's
Industry, innovation and infrastructure
Sustainable cities and communities
Social

Website
effenco.com
Alliance member
Effenco inc.
---
Upfit and Retrofit Hardware and Software Solutions to Reduce Operational Cost and Emissions of Commercial Vehicles.
Effenco offers it's electric hybrid Active Stop-Start technology, a system that allows reducing fuel consumption and GHG emissions of heavy trucks by 30% and a SaaS that provides insights on how to optimize vehicle efficiency.
Effenco was started in 2006 with data collection on heavy vehicles. Since then it and around data, it has developed hardware and software to optimize commercial vehicles costs and energy.
Active Stop-Start System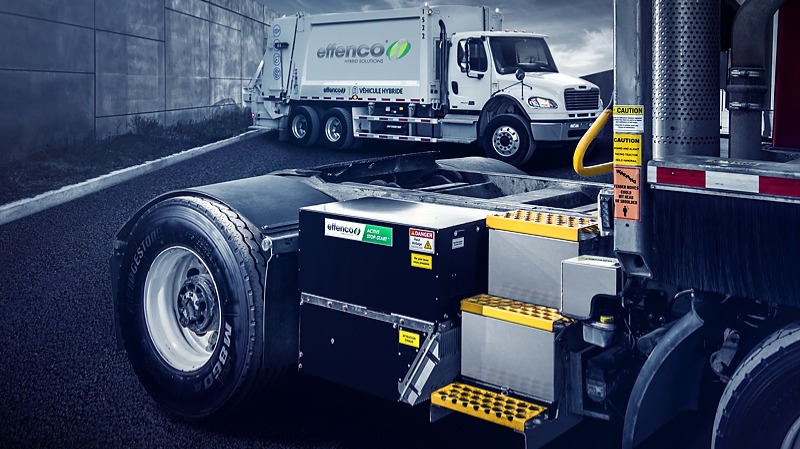 Description
Upfit or Retrofit Hybrid System for Class 6-8 Vocational Vehicle
Effenco's Active Stop-StartTM technology is an electric system designed to shut down the engine of vocational trucks when they are stationary and to provide electric power to the vehicle equipment, cab and chassis accessories including the HVAC system. Since these vehicles spend a large proportion of their operating time immobile, the Active Stop-StartTM technology creates value by reducing engine operating hours and corresponding fuel consumption, emissions, noise and maintenance.
Available in
Worldwide
Categories of application
Industry, innovation and infrastructure, Sustainable cities and communities
Sector of application
Freight transportation, Urban and inter-urban mobility
Status
Implemented
---